Real Taste of food additives
Have you ever felt a craving for soda? CNN Health reported the other day that diet soda can be addictive. Moreover, recent research in rats showed that "eating sweet non-caloric substances may degrade" the ability to predict caloric contents of the food, "leading to increased food intake and diminished energy expenditure" (A Role of Sweet Taste). Are these the goals that are on your mind when you drink diet soda? Let us start with Coke Zero and take a close look at what is inside.  
On a 2L bottle of the Coca-Cola Zero you can read in large-font letters: "Real Coca-Cola Taste and zero calories." Now let us equip ourselves with a magnifying glass and read, in a much smaller font, what the essence of the "Real Taste" is: "carbonated water, caramel color, phosphoric acid, aspartame, potassium benzoate (to protect taste), natural flavors, potassium citrate, acesulfame potassium, caffeine. Caffeine content: 23 mg/8 FL OZ".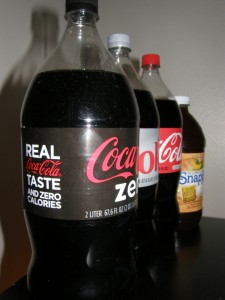 What you're drinking is a diluted solution of phosphoric and carbonic acids accompanied with a number of other non-nutritional additives! So what does this mean? Coke Zero is truly nothing else but heavily CONTAMINATED water. Is this what you really want in a zero calorie drink?
What our body needs is a variety of nutrients, WATER and oxygen. That is the basis of our nature and we should pay respect to it if we want to stay healthy. Unfortunately, our dietary preferences often ignore the essentials of our bio-chemical nature. Yes, we can choose, once in a while, to drink beer, soda, coffee, etc., in place of water. Once in a while we can choose to eat a food full of non-nutritional additives in place of nutritional food. We also can choose to breathe with smoke in place of air and our body will somehow handle that for a while. But if we make sodas, food surrogates and smoke for part of our life for many years then we have to be ready for the consequences, intended or not. Please see USA TODAY report on diet soft drinks.
Yes, it is that simple: We are what we eat and what we do on a regular basis. By persistently choosing surrogate food (the "dye diet") we agree to deviate from our body's original nature to a sort of a surrogate one and, hence, our life becomes a surrogate too. So if one deliberately chooses this then no complaints should be filed later on. Cause and effect works equally for everyone without exception. And yet it is still our free choice what we want to do with our health and our life. For this reason we want to be as well informed of what is in our food and what risks we take with it.
Let us see what the DyeDiet Risk Scores (DDRS)  are for the Coca-Cola products and why.
Zero Coke Risk 
Dia

gram: DDRS ~

52

First we need to assign the DyeDiet Risk Factors (DDRF) to each ingredient. The only nutrient (green segment) in Coke Zero is carbonated water which, in fact, is carbonic acid and therefore its DDRF is 2, not 1 as is assigned to pure water (see "Food and Risk").  Other DDRFs are explained below.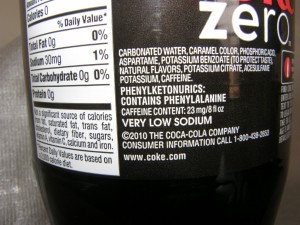 Here is the "Dyegram" full of red and yellow segments displaying risks posed by the non-nutritional chemicals.
Diet Coke Risk 
Dia

gram: DDRS ~

44

While lacking acesulfame potassium makes this beverage a little less risky it is still diluted "rust removal" of ZERO nutritional value. Indeed, from my five day long experiment I have found out that the Diet Coke successfully removed most of the rust from a piece of rusty metal.

Furthermore, for some strange reason, Diet Coke has 35% higher caffeine content of 31 mg/ 8 FL OZ totaling ~ 250 mg per 2L bottle. New research adds even more disturbing alerts for the Diet Coke drinkers:
Diet soda drinkers are at 48% higher risk of heart attack and stroke versus those who drink no soda at all. And yet we read on the bottle: "Join Diet Coke in support of women's heart health programs" and on the opposite side: "Participation by Coca-Cola does not imply endorsement by HHS/NIH/NHLBI." You decide what to believe.
Diet Coke may develop addiction in people.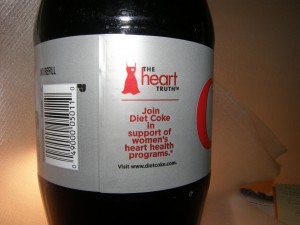 Here is Diet Coke risk diagram which is still mostly red:
Please find more to read on diet soda here.
Classic Coke Risk 
Dia

gram: DDRS ~

32

Even less foreign additives are in the Classic Coke. For some reason, this time there is no need "to protect taste" with potassium benzoate! However with every drink of Classic Coke you get ~ 5 teaspoons of sugars in the form of High Fructose Corn Syrup (HFCS), a major contributor in the US population obesity increase, to cardiovascular disease and diabetes. In addition it has been reported recently that fructose may help tumor cells to proliferate.

So when you drink Classic Coke please watch you daily sugar intake.
SNAPPLE Peach Tea
Dia

gram: DDRS ~ 16

Now look at an alternative, Snapple Peach Tea made from green and black tea leaves. This was the only beverage without HFCS and sugar substitutes I could find on the "soft drinks" aisle at Walmart. DDRS is half of that of Classic Coke due to absence of phosphoric acid, caramel color and caffeine. Snapple Peach Tea contains 71 mg of natural antioxidants (as tea polyphenols) per 1 cup serving of 240 ml and natural peach flavor.
Coca-Cola vs Snapple Peach Tea comparison
 
Zero Coke
Diet Coke

Classic Coke

Snapple Peach Tea

Price per 67.6 FL OZ (2L)
$1.25
$1.25
$1.25
$2.09 (a
Caffeine added per serving (8 OZ)
23 mg
31 mg
23 mg
none (b
Sweetener
Aspartame, Acesulfame potassium
Aspartame
HFCS, ~ 5 teaspoons per glass
Sugar, ~4 teaspoons per glass
Stated value
Zero calories coke
Diet coke, heart health
Very low sodium coke
All natural peach tea, zero sodium
True value
Zero nutrients chemically contaminated water
Zero nutrients chemically contaminated water
Very low sodium, fructose sweetened acidic water
All natural peach tea, zero sodium

Dye

Diet

recommendation

NO

52


NO

44


NO

32


Yes

16


 
a) Recalculated from the original price of $1.98 per 64 FL OZ bottle; b) According to a database there is 21 mg of intrinsic caffeine per 8 OZ in the Snapple Teas
Please keep in mind that pure water has "zero calories" too and it is a superior nutrient over many beverages because it is NOT chemically contaminated!
The
Dye

Diet

Risk Score Labels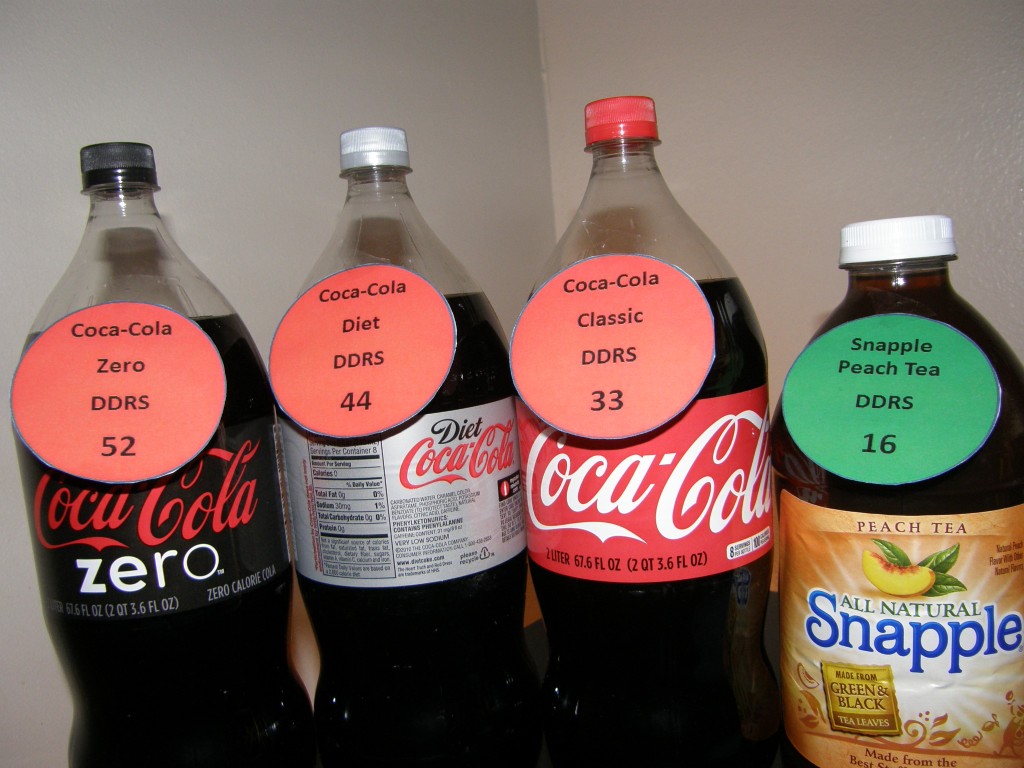 With this information in mind you may want to decide to stop drinking corrosive Coca-Cola's phosphoric acid cocktails in favor of Snapple. Enjoy the Peach Tea! Just watch carefully your daily sugar intake.  However, as always, the freedom of choice is YOURS!
Category: American diet, Diet drinks, Soft drinks, Zero calories