Soda is a variety of sweetened sparkling fun drinks. But life cannot be just continuous pure fun. Your body is very serious about it: It needs water to function correctly, to keep you healthy, active and productive. Of course, you can have fun of drinking sugary soda once in a while but if you totally replace pure water by naturally or artificially sweetened soda (so called "diet" soda) your sweet life is not going last too long before you will have to pay your increasing medical bills. Here is simple universal truth to always keep in mind: ANYTHING IN EXCESS IS TOXIC! It's even worse when a number of biochemically hostile food additives are added. Take a look at Jolly Rancher Green Apple soda:
DyeDiet Doesn't Buy It!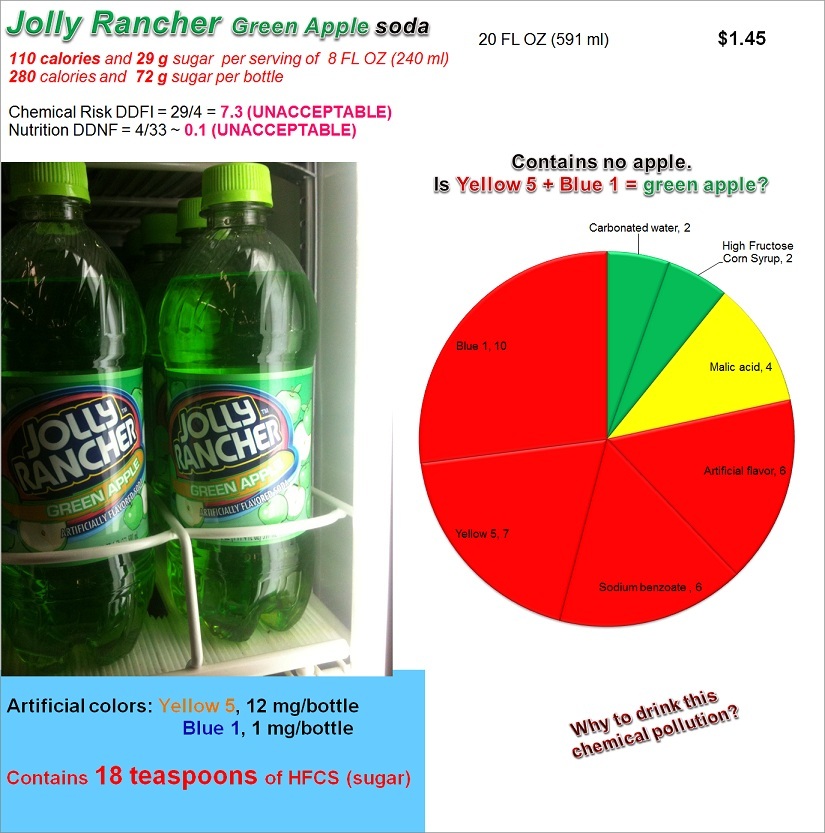 Four anti-nutritious chemicals (red segments) are to blame for the UNACCEPTABLY high health risk of DDFI = 29/4 = 7.3 you take and ridiculously low nutritional value: DDNF = 4/33 ~ 0.1 you receive with infamous HFCS and water.
Food additives to avoid:
Isn't it amazing how easy they make millions in beverage industry? Into a huge stainless steel tank they pour water, add HFCS to make it lusciously sweet, add artificial colors Yellow 5 and Blue 1 to make it look green, add another chemical to make the sweet swill resemble taste of apple, and… here you go! You are ready to throw your bucks for this "green apple" chemical waste! But this is NOT all you pay! This is only a little down payment for you to join the "club." Your major purchase is postponed for later time: Your medical treatments.
A man on 11 drugs
The other day I was running by a lake where I have met a local guy who is 53, three years younger than I am. From the conversation I have found out that he routinely takes 11 drugs for treatment a variety of his health issues included back pain, arthritis, etc. Needless to say, he couldn't run. Pushed by curiosity I have asked him what he normally drinks on daily basis. His respond was: "Soda, since I was a kid…" When I asked him if he drinks water, he just has made wry face in respond. I have explained to him my point of view; he had listened with genuine interest and promised to look into the Dye Diet when his computer is fixed. I have told him that I would stay away from soda and take fish oil instead of ibuprofen. Then I have wished him good luck and continued with exercises by making my routine 70 push-ups.
Bottom line. When adults excessively drink alcohol, usually they are prepared to deal with the consequences. When children regularly drink Jolly Rancher Green Apple soda, allowing each time 18 teaspoons of sugar (HFCS) and a tens of milligrams of artificial food colors into their blood and brain, they believe that the adult people would not offer anything harmful to children. Unfortunately they are making deadly mistake. You better try Juicy Juice diluted with water 1:1 or Welch's 100% Grape juice diluted with two parts of water to mitigate negative  effects of "sugar bomb" on your health. Remember however that only pure water is 100% healthy natural zero calorie drink.
Category: Food Dyes Exposure, Food Terrorism, Soft drinks