Recently DyeDiet reported similarity in the ingredients of Skittles and Blue Bell frozen confections. Blue Bell composition, in turn, was found very similar to Kool-Aid Bursts and various Kool-Aid Bursts were found identical to each other.  Sadly, High Fructose Corn Syrup (watch an educational video on HFCS), citric acid, artificial flavors and dyes is what it takes to create deceptive diversity in the US beverage and candy market.
Here is another soda "clone", Crush of DR Pepper/Seven UP, Inc. which is almost entirely identical to Fanta of Coca-Cola: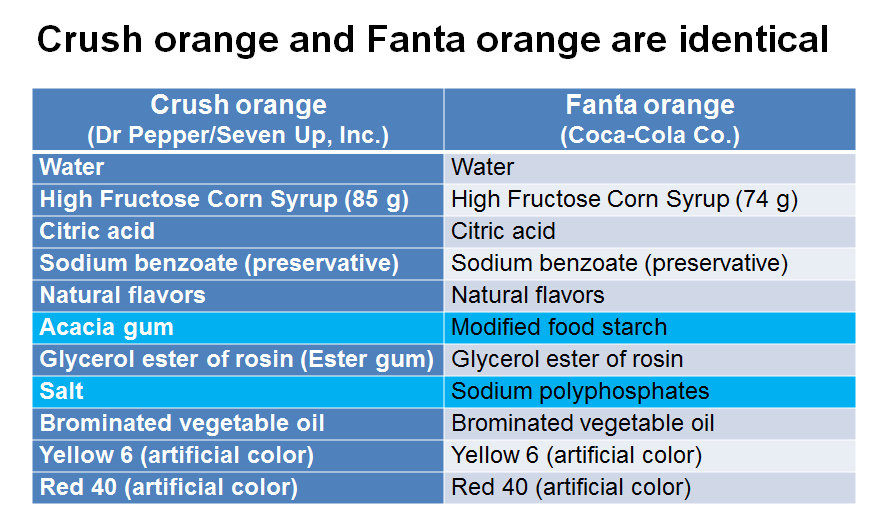 Even food dye content, high risk score and miserable nutritional values are all the same.  Why the names are different?
Dye

Diet

DOESN'T BUY IT!
Brominated vegetable oil is much more dangerous than hydrogenated vegetable oil because it is capable for alkylation and splitting of bromide in the body. See Toxic Effects of Brominated Vegetable Oils. Besides, Orange Crush carries about 60 mg of the combined Yellow 6 and Red 40 artificial food colorants (azo dyes) per bottle. Read the Feingold Association's report: Behavior, Learning and Health The Dietary Connection. Even Nigeria is now concerned about toxicity of the azo dyes: Toxicity of azo dyes.
Blue Raspberry? Watch this: Blue Colon at Autopsy.
Don't be fooled, "grape" typically means a combination of Red 40 and Blue 1.
Red DyeDiet "Dyegram" points on the high risks and low nutritional value. See the diagram explanation. If you drink the whole bottle, 50 mg of Red 40 will be distruibuted in your bloodstream. Read CSPI report: Food Dyes: A Rainbow of Risks. Also read the document about UK studies in ADHD and diet link: Southampton University ADHD studies.
Dye

Diet

RECOMMENDED

:
This mineral water available at Wal-Mart stores is an excellent thirst quencher superior to the above sodas as well as to Gatorades and Powerades. No sugars, no brominated fats. Enjoy!
Category: Food Dyes Exposure, Soft drinks