What exactly is in your favorite candy?
Yes, Skittles are a rainbow of the food dyes.  And the dyes are a rainbow of health risks (see Food Dyes: A Rainbow of Risks). Years of watching the US food market has led me to an observation that most of the soft drinks and candies in America are very unhealthy. Besides, the products of the two industries are often produced with the same or very similar ingredients.
This puts Americans in a vulnerable position where chronic exposure to the artificial dyes (see Studies on Dyes), flavors, sweeteners, preservatives and huge amounts of sugar and HFCS has become the inevitable evil.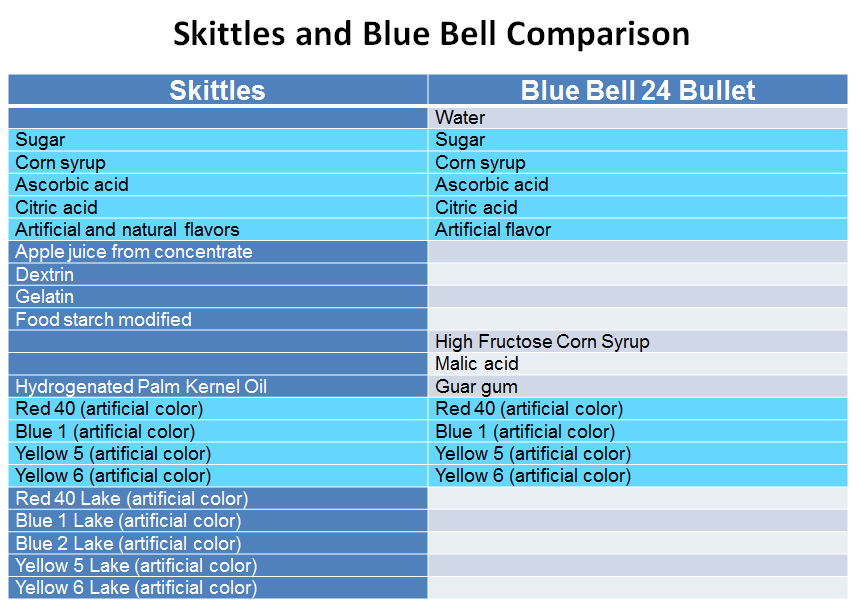 As you can see from the above chart, Skittles and Blue Bell frozen confections have similar compositions with greater number of the food dyes added to Skittles. With Everything Added to Food in the United States exceeding 3000 compounds, it is very difficult to keep tracking of what exactly you and your children consume unless you are a professional chemist, a biologist or a nutritionist.
Palmitic acid is main constituent of the Hydrogenated Palm Kernel Oil. WHO states that there is convincing evidence that palmitic acid consumption contributes to an increased risk of developing cardiovascular diseases.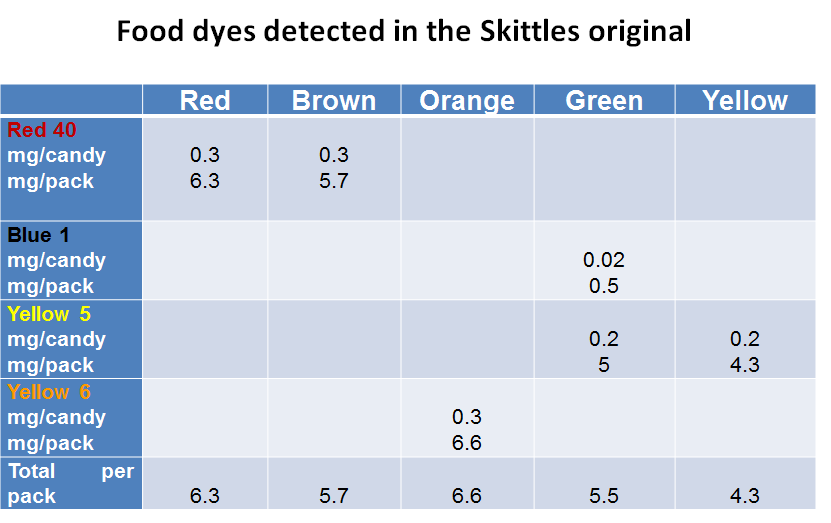 While Blue 2 is listed among the ingredients we were unable to detect it in the candies. Combined amount of the food dyes found in the Skittles was 28.4 mg per 113 g pack. Looks like not a lot and certainly less than the FDA ADI values. But no one can give you a guarantee that the ADI values are safe for the children.
According to the Feingold Association "The recent UK studies found that normal children eating 20, 30, or 62 mg of mixed food dyes had a measurably lower attention span." See also European Food Safety Authority (EFSA) report: Assessment of the results of the study by McCann et al. (2007) on the effect of some colours and sodium benzoate on children's behaviour.
As to the Blue 1 food dye, there were a couple of reports indicating that Blue 1 may be accumulated in the human's abdominal organs. See the report: Blue Colon at Autopsy.
The FDA Public Health Advisory followed; Subject: Reports of Blue Discoloration and Death in Patients Receiving Enteral Feedings Tinted With The Dye, FD&C Blue No. 1
"In addition to the possibility of systemic toxicity, Blue 1-tinted enteral feedings may interfere with diagnostic stool examinations, such as the hemoccult test.
Other blue dyes, such as methylene blue and FD&C Blue No. 2, may have similar if not greater toxicity potential than Blue 1 and would not be appropriate replacements."
Furthermore, unlike the other food dyes, Blue 1 is able to cross Blood-Brain Barrier that is to color your brain blue (read the report Blue 1 crosses the Blood-Brain Barrier).
Skittles Risk Score, DDRS ~ 115
With Skittles you get high foreign additive risk, DDFI = 84/23 ~ 4 and a very low nutritional value, DDNF = 23/92 ~ 0.3.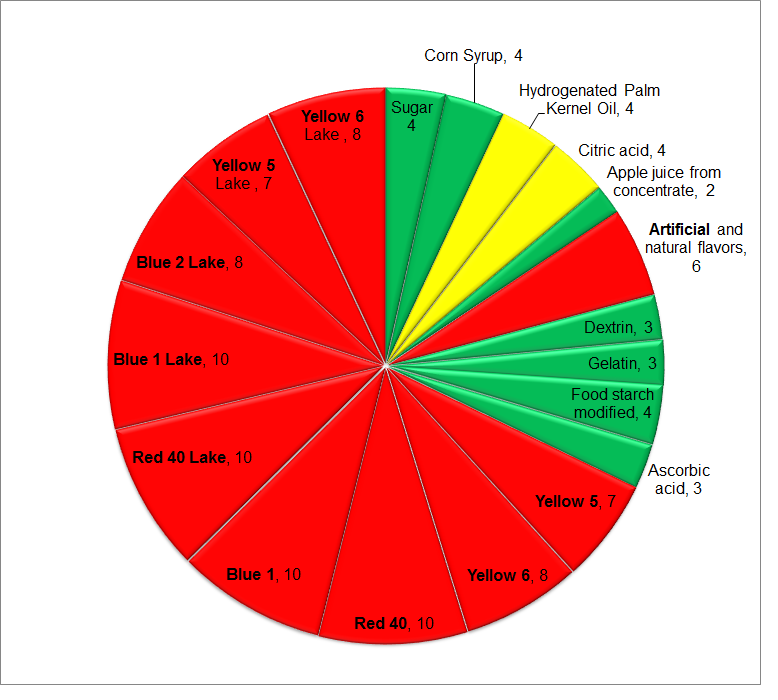 DyeDiet suggestion is to label Skittles with Risk/Nutrition label so it would be easy for the consumers to see the real value of the product without need to read the ingredients list: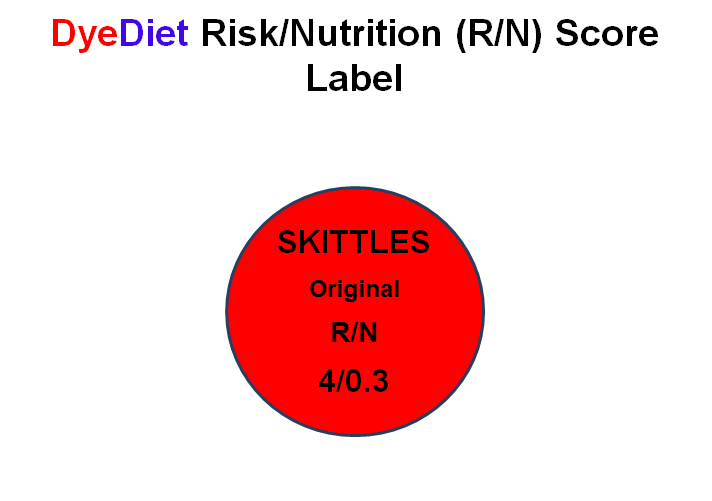 I see dried fruits as a healthy alternative to a variety of the wasteful big brands of candies. I thought that Farmer's Fruit Mix or SunTree papaya chunks were the good choices. But I was WRONG! Surprisingly, they add Yellow 5 and Yellow 6 food dyes to the dry fruits too! We will see shortly how much: I will write a special report on the dyed dried fruits topic as soon as possible.
Let us vote the Skittles, M&Ms, Kool-Aid, Mountain Dew, Blue Bell bars (and the like) out of the stores by not buying them!
Category: Candy, Candy and snacks, Food Dyes Exposure