The Kraft Foods contribution into the future of the USA
Children are our future. Their health, education and wellbeing should be the nation's number-one priority. Do you agree? Now see what Kraft Foods has to contribute with.
What exactly does Kool-Aid Man "bursting through the walls" bring to our children's homes? "Oh, yeah!"  Today it is Cherry and Grape Kool-Aid Bursts, six 6.75 FL OZ (200 mL) bottles; net 40.5 FL OZ (1.2 L) for only $0.99 a pack. Well, this is what you pay for 3 gallons (12 L!) of good quality filtered water at Walmart store. Let us ask the red-faced mascot a few questions.
DyeDiet: Hey, Kool-Aid Man, wait a minute. Tell us what it is in your drinks that make them 10 times more valuable than pure water.
Kool-Aid Man: Well, I have something cool for you, little American boys and girls. Here ya go! Look what is in our livestock feeder: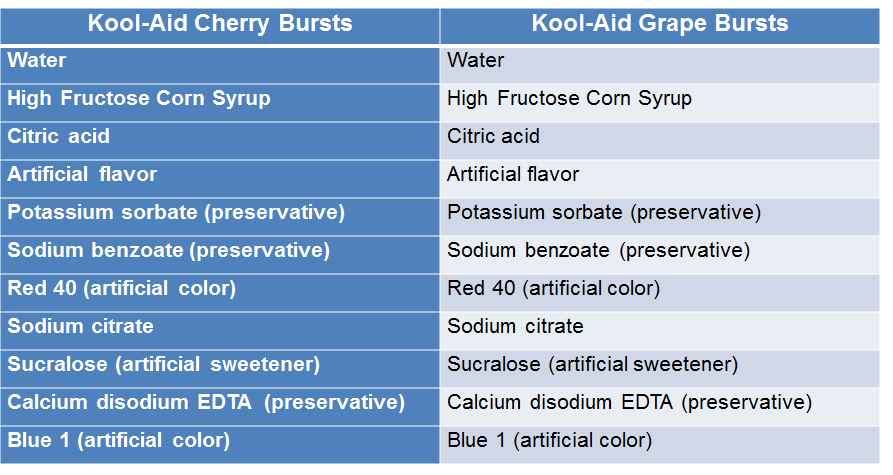 Yummy! Isn't it?
DyeDiet: No, this list of chemicals does not seem appetizing to me. Wait, I don't see the cherries and grapes. Where are they?
Kool-Aid Man: Oh, man, don't be so naive… we eat them ourselves.
DyeDiet: But what about American children?  Are there any natural leftovers in your drink for them?
Kool-Aid Man: Well, we see the children as a market (see Food marketing to children and youth ). We offer them cute cards to cut out and collect instead.
DyeDiet: Listen, the ingredients of your "cherry" and "grape" are absolutely identical. Is there any difference?
Kool-Aid Man: Well, let me tell you how it works. We play a game with our customers. We call it "We're kool, you're fool."  To fool children and their parents about cherries we mix benzaldehyde and acetophenone, the artificial flavors, with 42 mg of Red 40 and a tiny bit of Blue 1 in every bottle. To make them think of grapes we add different artificial flavor, methyl anthranilate, 1/10 the amount of Red 40 and 14-fold the amount of Blue 1. While methyl anthranilate (see  Acute Toxicity of Methyl Anthranilate) is also a bird repellent (see Methyl anthranilate as a repellent) we don't hesitate to feed it to YOUR children. All that makes big difference in children's health.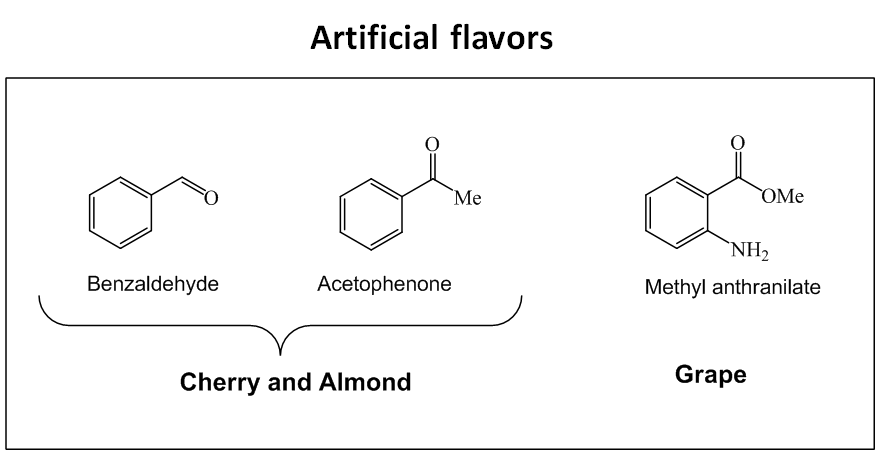 That's it! Simple stupid, isn't it? And they pay well for this too!
DyeDiet: Get lost, red-faced mascot!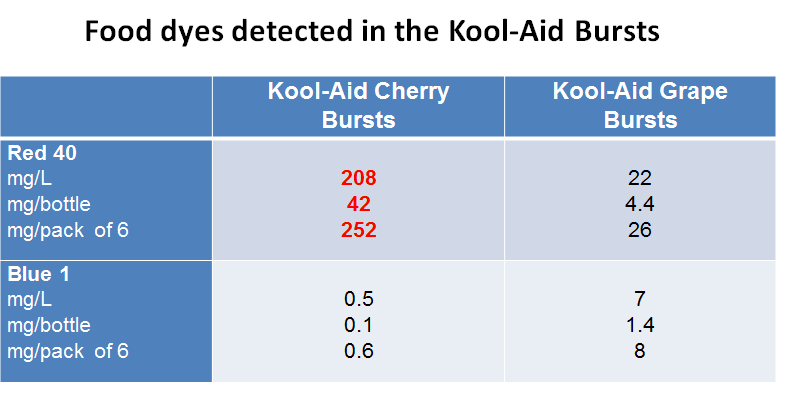 Look, people, this is not funny at all. While the most of the above chemicals have low acute toxicity (grams per kilo of the body weight) no one can tell you what are the long-term health effects associated with their regular consumption. Look at the US health stats.  According to the US Department of Health and Human Services report:
"Between 1997–1999 and 2007–2009, the percentage of children with respondent-reported food allergies increased from 3% to 5%, and the percentage with skin allergies increased from 7% to 11%. The prevalence of reported skin allergies among children was twice as high as that of food allergies. Children with food allergies were more likely to have asthma and other allergies"
Why should we allow the food industry to use our children as the laboratory animals? Read the CSPI report Diet, ADHD and Behavior.
This sweetened water with a bunch of wasteful chemicals has only TWO nutrients: water and HFCS. And the latter is one of the most troublesome nutrients. Sucralose is a low calory artificial sweetener (see A Role of Sweet Taste), a chlorinated sugar with unknown long-term health effects. Kool-Aid fans and fooled buyers get incredibly high foreign additive health risk, DDFI = 45/7 ~ 6.4 and the approaching to zero nutritional value, DDNF = 7/56 ~ 0.1. A product is a food as much as it is nutritional. This one is not.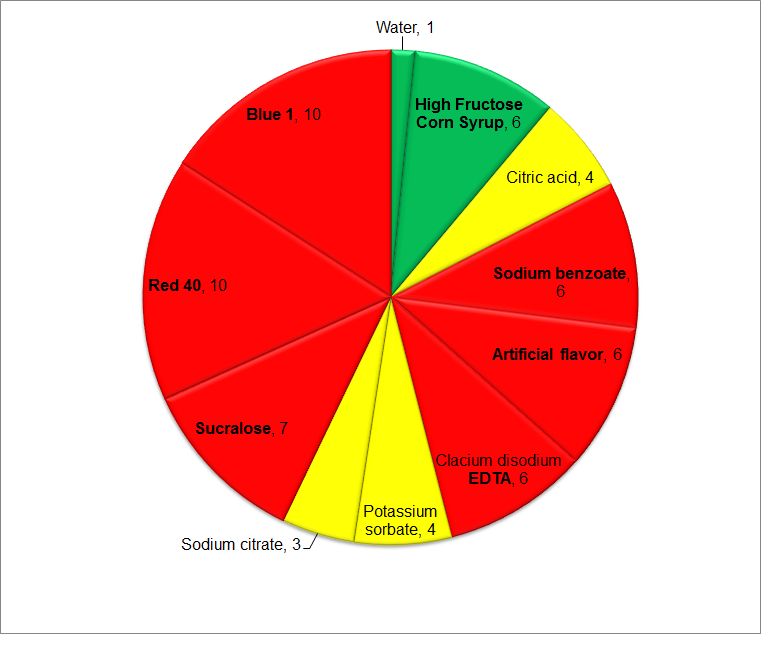 There is only one reason I can see to explain why there are over a million of the Kool-Aid likers on Facebook: They simply have NO idea of WHAT exactly they swallow. Kool-Aid Bursts should be priced way below the price of the filtered water ($1/3 gallons) because it must be purified before the consumption. Not only are Kool-Aid Bursts anti-nutritional products targeted on children, their very presence in the stores is shameful for the food manufacturer and humiliating for the American public.
Let us vote the Kool-Aid Bursts (and the like) out of the stores by not buying them!
Category: Food Dyes Exposure, Food Terrorism, Soft drinks