No, people, this is NOT a fun at all. I thought Kool-Aid  was the only worst fake fruit beverage on the market. Well, if I was the manufacturer of the Fun Pops I couldn't sleep at nights bothering by the thoughts of what adverse health effects my beverage might produce on American public, especially on children, the Future of my Country. But Alamance Foods Inc., seems to be proud to produce their chemically polluted "made in USA" beverage. Now, take a sit and look at the risk "dyegram;" it's all red:
DyeDiet Doesn't Buy It!
On the label you read: "Fruit Flavored Freezable Beverage." And the funny part says: "May or may not contain Grape, Orange, Blue Punch, Pina Colada, Banana, Lemon-Lime, Peach, Watermelon, Cherry, Mango, Green Apple and Strawberry." Didn't they forget listing something? I can help: Fun Pops may not contain a thousand and one other fruits and berries from all over the world! Obviously, those guys at Alamance Foods treat their fellow Americans like complete idiots. Do you see any fruits among the ingredients? No? Neither do I.
So WHAT do those Fun Pops really worth? Not much… It is just water sweetened with High Fructose Corn Syrup (video) contaminated with artificial flavors and colors.
This is another "fruit fraud" to be returned back to the manufacturer! Better consider 3 gallons of filtered water for $1.10 bringing no harm to you and your kids. If you still want to gamble with your health, drink one of those pops and you will take unacceptably high foreign additive risk of DDFI = 57/10 = 5.7 and you will get miserably low nutritional value of DDNF = 10/64 ~ 0.16.
Shame on you, Alamance Foods: Along with Kool-Aid you contribute into destroying the Future of this Country!  See: Food marketing to children and youth overview.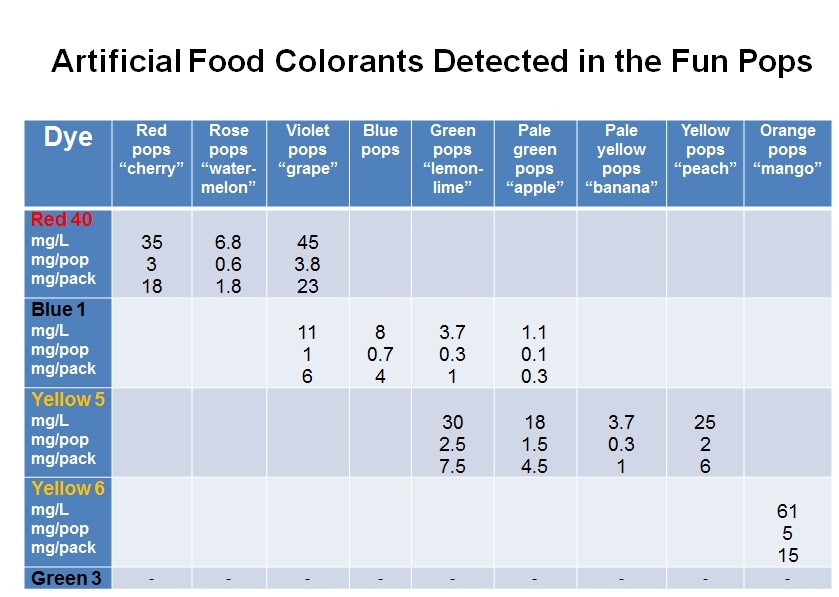 While the amount of the artificial colorants is rather low (90 mg total) why to add them when safer natural alternatives are available? Remember, 20-30 mg may trigger ADHD reaction in sensitive children.
Green 3. According to the Wikipedia, "This substance has been found to have tumorigenic effects in experimental animals, as well as mutagenic effects in both experimental animals and humans. It furthermore risks irritation of eyes, skin, digestive tract, and respiratory tract in its undiluted form."  See Green 3 MSDS (Section 11). For some reason we were unable to detect Green 3 in this particular batch of the Fun Pops but expect to find it in the other one. However its closest relative, Blue 1,  was detected as listed in the ingredients.
Blue 1. As you can see from the Blue 1 MSDS (Section 11) this aniline-derived dye is five times more toxic for rats than Red 40 with LD50 ~ 2 g/Kg. Toxicological studies in animals revealed the following health complications were posed by Blue 1:
Taking into account that there are over 3000 food additives circulating in the US foods and beverages, it is nearly impossible to establish a solid link between a food additive and a health condition except extreme cases when an autopsy clearly points to the issue (read Blue Colon at Autopsy).
So what to recommend? Consider Arizona Fruit Punch or  Xingtea; and, doubt, mineral water you can buy at your local Walmart for $1.50 is much safer and healthier choice.
DyeDiet Recommended
No HFCS, no artificial colors, no calories… It is up to us to resist and stop the "fruit fraud"! I hope this review helps you to make the right choice.
Category: Food Dyes Exposure, Soft drinks