Should candies always be unhealthy?
Majority of American candies is made of sugar, starch, artificial flavors and artificial colors. Skittles, Twizzlers and M&M's are among 25 top-selling sweets in the USA that are loaded with artificial coloring agents and other unwilling chemicals. In the last year 23,178,881.35 pounds of artificial food colors were certified by the FDA, that is 23,178,881.35/314,000,000 ~ 0.074 (33 g) pounds per capita.This is 68% up from 15,722,200.33 pounds certified a decade before in the fiscal year of 2002. Indeed, it's not a big exaggeration to say that all American people are on the dye diet, consisting of unhealthy chemical food surrogates. The question is: Should a candy necessarily be something health-damaging or can it be designed and made as a sweet but healthy product? The answer is positive: Yes. Recently we reported Brookside Dark Chocolate Pomegranate candy as one healthy alternative. Now let me introduce another healthy possibility, Las Trojes Sesame Seed Brittle.

Health benefits of sesame
Sesame has one of the highest oil content of any seed, sometimes exceeding 50 percent compared to 20 percent of oil in soybean. Sesame oil is one of the most stable vegetable oils, with long shelf life, due to the high level of natural antioxidants (sesamin, sesamolin, and sesamol). Sesame seeds are also rich in protein, up to 25 percent by weight. The residue that remains after oil extraction is a protein concentrate that may contain between 35 to 50 percent of protein; it also contains carbohydrates and water-soluble antioxidants.
Not a big surprise that the Dye Diet Calculator indicates that Las Trojes Sesame Seed Brittle is a highest quality product which is made of only two ingredients: sesame seeds and sugar.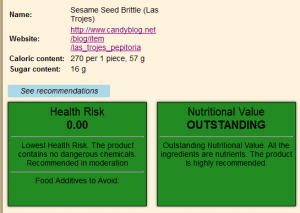 Health Risk = 0.0 (zero) and
Nutritional value = Outstanding
Please note, that zero health risk means that one can eat a product in moderation without compromising health. Of course, it is high in calories – 270 (the same as in M&M's per weight unit), contains not too much sugar – 16 g and 9 g of protein per 1 brittle of 57 g. Beware of that sesame seeds and sesame oil may produce an allergic reaction, including anaphylaxis in some people. Approximately 1% of the population is allergic to sesame-derived food products.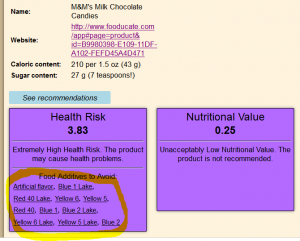 M&M's Milk Chocolate Candies
Health Risk 3.83 (Extremely high)
Nutritional value 0.25 (Unacceptably low)
Calories: 270 (57 g)
As you can see from the calculation result on the left, M&M's candies contain 11 food additives to avoid: An artificial flavor and 10 artificial colors that may trigger allergies, ADHD or cancers. Here is how much dyes you allow into your blood with every M&M's candy.
Skittles Original bite size candies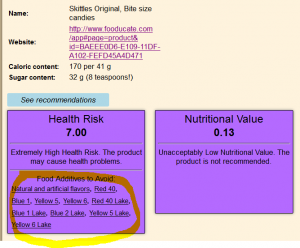 Health Risk 7.0 (Extremely high)
Nutritional value 0.13 (Unacceptably low)
Skittles Original candies have a little lower caloric content, 240 (57 g) but higher ratio of artificial chemicals to a few nutrients. To put it simple, Skittles = M&M's minus milk chocolate. This is why its health risk is even higher and nutritional value is next to nothing. The amounts of colors you consume were detected and published earlier, Skittles: Taste the rainbow of dyes.
From the above examples it is clear that although M&M's candy is a lesser evil, both M&M's and Skittles candies are out of the healthy range and cannot be recommended for consumption by humans, especially by children. Enjoy Las Trojes Sesame Seed Brittle or homemade Sesame Brittle that are perfectly healthy sweet treats.
Category: American diet, Candy and snacks