Hidden azo dyes
In today's America you have to be extremely vigilant to keep your blood stream clear of sneaky artificial colorants and sweeteners. A while ago I was quite surprised to find yellow azo dyes in dried fruits: papaya and mango sold at Walmart stores. Quick thought followed: maybe they inject Red 3 or Red 40 artificial food dyes into watermelons? Now I have stumbled upon them in cellulose-coated CVS Spectravite Senior multivitamin tablets. The colorants couldn't be added for marketing appeals: you don't see the color until, pardon, in a toilet. Too late! So, why they hide potentially damaging azo dyes in the multivitamins for seniors? Honestly, I have no answer. Tell me if you do. Aren't seniors the ones who need a healthiest possible support? Furthermore, about a half of the American adults take vitamin pills hoping to support their health!
Azo dyes are oxidants!
Oxidizing bio-activity of azo compounds is known since long time ago. In laboratory animal experiments they were found to be metabolized to highly carcinogenic benzidines and anilines (see PDF file Azo compounds metabolism). The amounts of azo dyes we have detected in Spectravite were 1.5 mg of Yellow 6 and 1 mg of Red 40 in every tablet. How much is it? Well, compare with the content of natural yellow pigments: 0.3 mg of lycopene and 0.25 mg of lutein.  Hence, you allow in your blood stream doses of the azo dye oxidants 5 – 6 times the amount of lycopene and lutein antioxidants! Note, bright yellow sign "With Lycopene" is exposed on front of the label but Yellow 6 and Red 40 are not!
Combined amount of these colorants per 100 tablets is 250 mg. According to CSPI report dosages of 20 mg of the colorants may trigger ADHD or allergic reaction in sensitive individuals (see Diet, ADHD and Behavior). In addition, there is also food colorant Blue 1 in the multivitamin but its amount is too low to be accurately detected with our equipment (see what happens when it's too high and too late: Blue colon at autopsy). Is this what you want for some $8.80 a bottle?
The problem is further aggravated by the fact that about 30% of multivitamins on the market don't even have nutrients claimed in label. From the other hand, there is no need for most people to take vitamin supplements and some may even be linked to a higher risk of dying, according to a recent study.
A better alternative. While it's nearly impossible to dig out vitamins without azo dyes here is at least one brand I found at a local CVS store: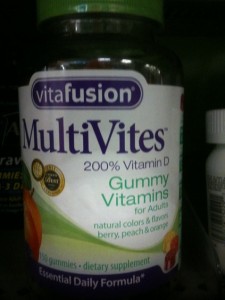 VitaFusion MultiVites gummy vitamins for adults with natural colors and flavors for $11.40. Enjoy your healthy choice!
Category: Food Dyes Exposure, Supplements