According to Livestrong.com finding a healthy snack in your local grocery store can be challenging. There is a good a rule suggested: in general, the less processed the snack, the healthier it is. Yes, I agree but sometimes this is not enough. Dried fruits are the least processed food which retains most of the nutritional value of fresh fruits. Their nutritional value, rich taste and natural resistance to spoilage made dried fruits popularly accepted as a healthy food for millennia. I have never thought until recently that food manufacturers may downgrade dried fruits by addition of synthetic azo dye food colorants (See Feingold Association's report  Behavior, Learning and Health).
Let's take a look at the Fruit Mix products of Waymouth Farms, Inc. On their website they state: "At Waymouth Farms, we use innovative combinations of natural flavors and fresh ingredients to create delicious, high-quality snacks." Really?

In my opinion, you do not have to invent "innovative combinations" to deliver high quality dried fruits. But here you go, one of the Waymouth Farms "innovations" is added Yellow 5 (Tartrazine) and Yellow 6 artificial colors (azo dyes) to their "fresh" papaya and mango. This is quite misleading for the consumers and unfriendly trick. Now let's see how much.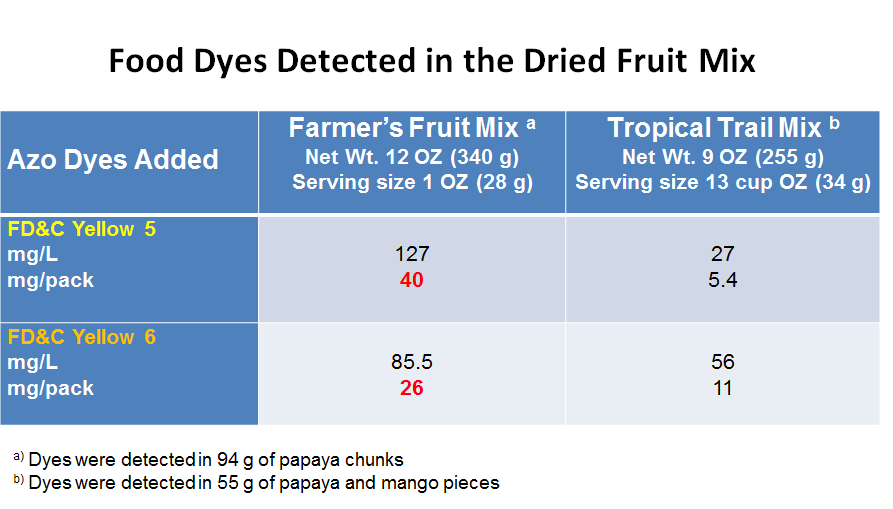 Papaya chunks were sorted out of the fruit mix and analyzed separately. As you see from the chart, the concentration of Yellow 5 detected in 94 g of papaya chunks of the Farmer's Fruit Mix turned to be about the same as we have found in 312 g of dried papaya of SunTree earlier and the detected amount of Yellow 6 was about a half of that found before.
Combined amount of Yellow 5 and Yellow 6 was 66 mg per container. Papaya and mango (55 g) of the Tropical Trail Mix were found significantly lower in the dyes content: some 16 mg per container combined. We have not detected the food dyes in the rest of the fruits.
To avoid exposure to the artificial food dyes you can repeat the above manual sorting procedure and eat the rest. However, better way would be to carefully read ingredient lists  before buying. Another solution is to order dried fruits online. For example, Oh! Nuts is a reliable vendor.
Category: Candy and snacks, Dried fruit, Food Dyes Exposure