Dr Pepper cherry is a soft drink with only TWO nutrients: carbonated water and High Fructose Corn Syrup (HFCS) that constitute for 98% of the content.  The rest 2% are unnecessary and potentially harmful chemicals like sodium benzoate (see Southampton University ADHD studies), phosphoric acid (rust converter) and an artificial color Red 40, number one food colorant in the USA (see CSPI report Food Dyes: A Rainbow of Risks). Of course, you get NO cherries, except those you can see on the label. Let's take a look inside.
DyeDiet DOESN'T BUY IT!
Most of the risk diagram is red due to the presence of five bio-chemically foreign food additives. Yellow segments represent risk that you take with benign food additives which in general are of low acute toxicity.  However, it is good to keep in mind, that, for instance, caffeine  is 4.5 times more toxic (LD50 ~ 200 mg/kg; see Caffeine MSDS, Section 11) than morphine (LD50 ~ 900 mg/kg) (see Introduction to Food Toxicology, page 9). Even caramel coloring may not be as innocent as it seems to be.
So with Dr Peper cherry instead of proper hydration you get very high risk of DDFI = 36/8 ~ 4.5 and very low nutritional value of DDNF = 8/53 ~ 0.15.
Because there are no real fruits in both Dr Pepper cherry and previously reviewed Crash strawberry, their actual compositions are about the same. Imagine, cherry = strawberry!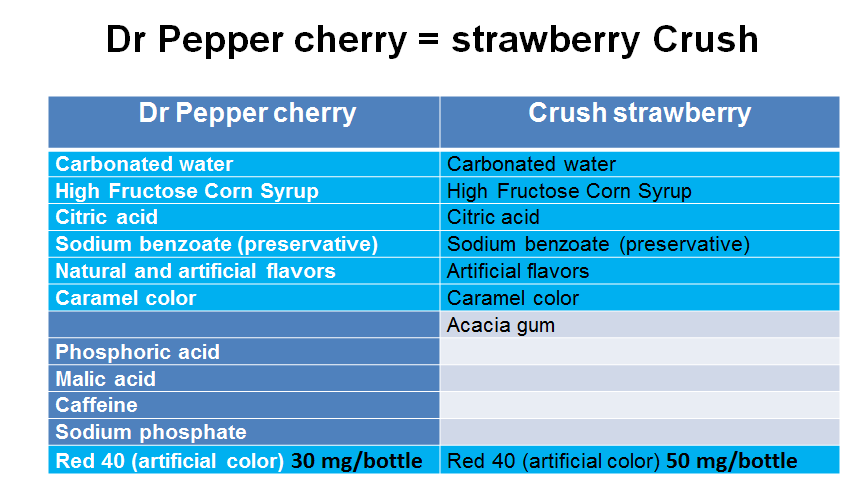 As you can see, to concoct their "cherry" for you they have used almost half amount Red 40 added to mimic strawberry. What make the two tastes different are perhaps artificial flavors. However acetophenone may help to mimic both cherry and strawberry. So please don't be fooled by the "fruit fraud". Here is much healthier alternative to any sodas:
This mineral water which you can find at Wal-Mart stores is an excellent thirst quencher. No sugars, no artificial colors.  Hydrate yourself right! Stop the "fruit fraud"!
Category: Food Dyes Exposure, Soft drinks