Watch for sneaky food dyes
Most of us see cereal grains as a healthy food and this is about right. Indeed, "in their natural form (as in whole grain), they are a rich source of vitamins, minerals, carbohydrates, fats, oils, and protein. However, when refined by the removal of the bran and germ, the remaining endosperm is mostly carbohydrate and lacks the majority of the other nutrients," in accord to Wikipedia.
If you choose to follow the DyeDiet concept of getting rid of foreign food additives in your and your children's diet you will need, at least, to avoid food dyes. Let us take a look at two cereal brands from General Mills, Lucky Charms and Cheerios both heavily marketed to children.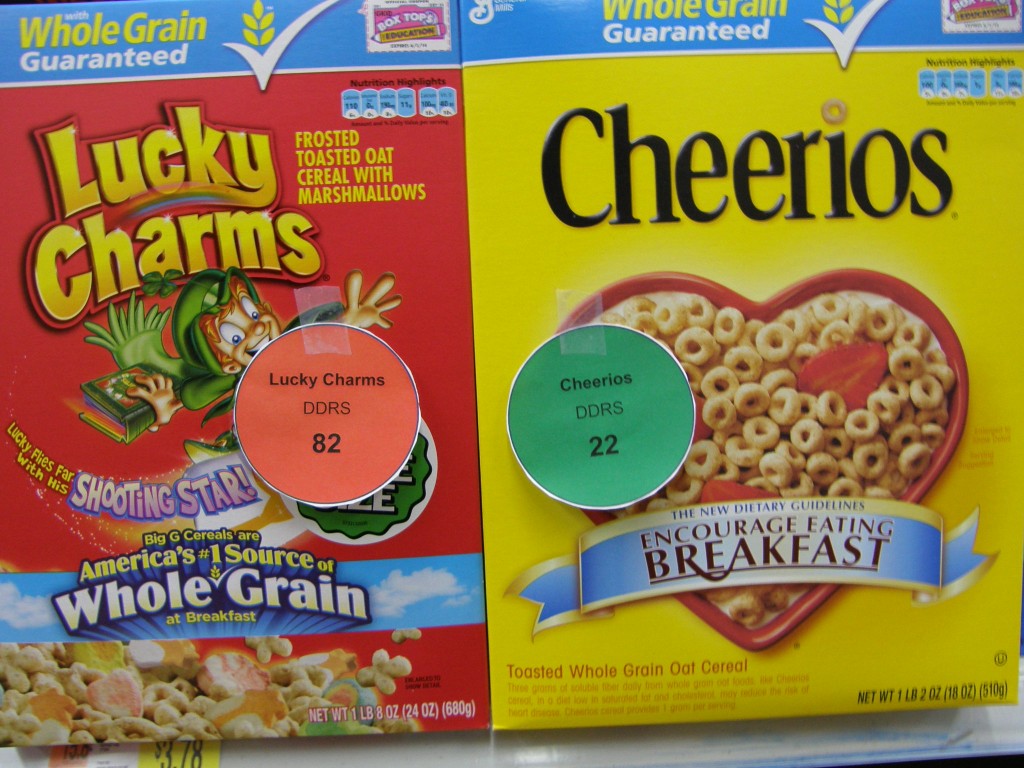 On the manufacturer's website it says "The kid's brand with adult appeal… made with whole grain, Lucky Charms is fortified with 12 vitamins and minerals, and is a good source of calcium." True, but Lucky Charms is a good source of the food dyes too! (See CSPI report Food Dyes: A Rainbow of Risks). Their marshmallows contain four colors and another "color added" to the grains itself.
Lucky Charms  Risk Diagram, DDRS ~
82
The DyeDiet Risk Score (DDRS) of 82 with so much of the foreign additives signified by the red color on the diagram (which I call the DyeDiet "Dyegram") tells me enough that I don't want my children to "enjoy" the Lucky Charms! Indeed, a ratio of foreign to nutritional additives risks, DDFI is pretty high, 49/20 = 2.2
Cheerios Risk Diagram, DDRS ~ 22
There is a better, less risky alternative from General Mills you can find next on the same Walmart cereal aisle. Look for Cheerios, DDRS ~ 22 and DDFI is zero, 0/15 = 0.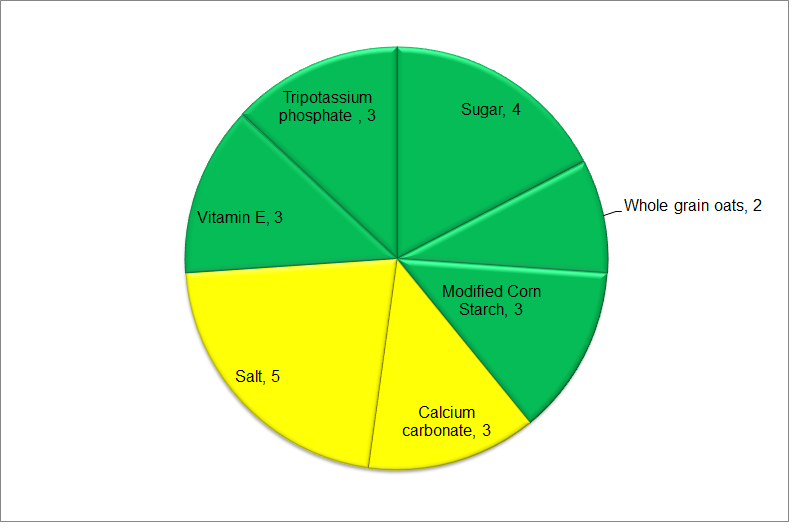 That is the product we can enjoy eating ourselves and sharing with our lovely kids without fearing ADHD complications! (See CSPI report Diet_ADHD and Behavior). It is worth noting, that both products are indeed fortified with a variety of vitamins and Vitamin E added "To preserve freshness".
What we have learned from the above comparison is:
The same manufacturer, General Mills, produces unhealthy and healthy products at the same time
If they can use Vitamin E "To preserve freshness" instead of sulfur dioxide which you can see in Twizzlers ingredients, why don't they?
A healthier product is waiting for you right next to a less healthy choice often on the same shelf.
Lucky Charms vs Cheerios comparison chart
Additives and Nutrients
Lucky Charms
Cheerios

Colors

added

Yellow 5, Yellow 6, Blue 1 and Red 40

none
Calories per 1 cup (28 g)
110
100
Sugars, weight %
41
3.5
Protein, weight %
7.4
11
Walmart price per 1 LB
$2.98
$3.11(a
DyeDiet Risk Score  (DDRS)

82

22
DyeDiet Foreign Impact  (DDFI)

49

/

22

= 2.2

0

Recommendation

NO

Yes
a) Re-calculated from the original price of $3.50 per 18 OZ (510 g).
As you can see from the chart, surprisingly, the product loaded with more foreign and other food additives is even a little CHEAPER!  Yes, once again, it does look very right that "Food and beverage marketing practices, geared to children and youth, are out of balance with recommended healthful diets, and contribute to an environment that puts their health at risk." (See an overview Food marketing to children and youth).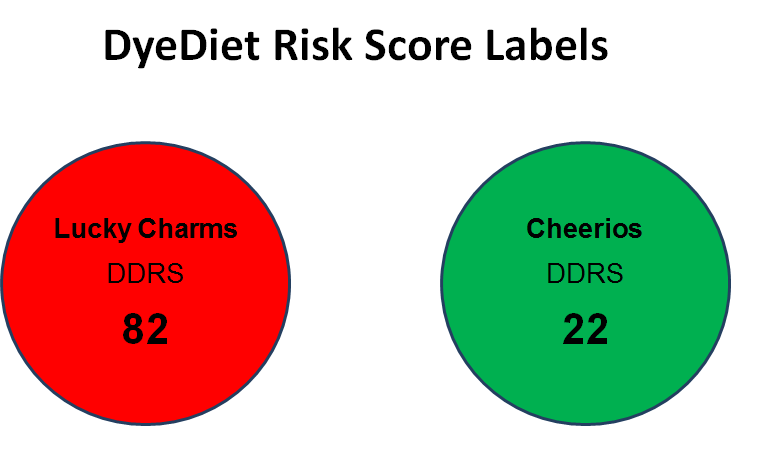 The DyeDiet is not interested in volunteering to participate in the nationwide experiment being quietly running by the US food industry just to find out whither there are links between escalated incidents of cancers, ADHD, allergies, autism and other health conditions and certain food additives. The DyeDiet concept is to simply avoid any foods with foreign additives in it. With the DyeDiet information and analysis YOUR choices for you and your children are easy to make.
Category: Cereals