Rainbow of risks
I was not really planning another post about Twizzlers (see previous Twizzlers: Strawberry twists). But after seeing how misleading the Twizzlers Rainbow label is I could not afford to wait to report to you about it. When Twizzlers Strawberry misleads us only once, Twizzlers Rainbow does this six times! Yes, you can read on the container decorated with the nice pictures and words:
Low Fat Snack  TWIZZLERS Twists  Rainbow
strawberry, orange, lemonade, watermelon, blue raspberry, grape
 Artificially flavored   Net WT 12.4 oz (351 g)
Well, yes, it is a "low fat snack". But that is basically it: low fat sugar and starch. Looking at the list of ingredients I cannot get myself to believe the rest of the statement. Please realize, there are absolutely no real strawberry, no real orange, no real lemonade, no real watermelon, no real blue raspberry and no real grape in these twists. So what is there instead? More dyes and artificial flavors. Look at the list for yourself:
In fact, the list of ingredients is almost identical to that of Twizzlers Strawberry except carnauba wax and three more artificial colors: aniline dye Blue 1 and two azo-dyes, Yellow 6 and Yellow 5 are added. Guess what these additives do, make the snack fruity or more colorful?  No doubt, they add no nutritional value. More colors only mean more health risks involved. Oh, I almost forgot to mention "sulfur dioxide to maintain freshness". Freshness of WHAT, corn syrup!? Or maybe bleached wheat or sugar? Neither palm oil nor glycerin mono-stearate and carnauba wax are going to get rancid because they are saturated compounds. So what freshness was on the designer's and manufacturer's mind, the rainbow one? Yes, there is a rainbow of risks according to the 2010 compendium on food dyes by Center for Science in the Public Interest (CSPI) "Food Dyes: A Rainbow of Risks".
Let me estimate the DyeDiet Risk Score (DDRS) for the "fresh" Twizzlers and make a comparison with an alternative, Gerber's Graduates fruit twists from the baby food aisle. Yes, baby food is the only food category where I have not yet found FDA certified dyes and other foreign additives. Tell me if why know why.
Risk

Dia

gram for Twizzlers Rainbow: DDRS ~

96
By definition DDRS is a sum of the DyeDiet Risk Factors (DDRF) of every ingredient. Explanation of why certain DDRF value is assigned to some foreign additives is given below. For the information on toxicity and DDRF of Red 40, Blue 1, Yellow 5, Yellow 6 and other dyes, please see post "Frosted Sugar Cookies".
This is a highly toxic acidic gas which "may be fatal if inhaled. Material is extremely destructive to the tissue of the mucous membranes and upper respiratory tract" (see Sulfur dioxide MSDS). In another MSDS it says with regard to the sulfur dioxide: "Sulfur dioxide: inhalation rat LC50: 2520 ppm/1 hour. It has been investigated as a tumorigen, mutagen and reproductive effector" (Section 11). In other words, only 0.2% of sulfur dioxide in air is extremely dangerous. From my own experience of handling sulfur dioxide I know very well how painfully suffocating even minor contact with it can be. But I do not believe that sulfur dioxide may physically be present in a food product like Twizzlers Rainbow twists. My guess is that it has been used to treat the stuff in one of the manufacturing steps.
Therefore its DDRF is 8.
"A mineral oil or liquid petroleum is a liquid by-product of the distillation of petroleum to produce gasoline and other petroleum based products from crude oil". I do not welcome these hydrocarbons in my body. They are good for machines, for my truck maybe, not for me.  Chemically they are not as bad as azo-dyes but they are completely foreign to human beings. Toxicological information on mineral oil you can get from MSDS of Mineral Oil, look for the Section 11.
DDRF of mineral oil is 6.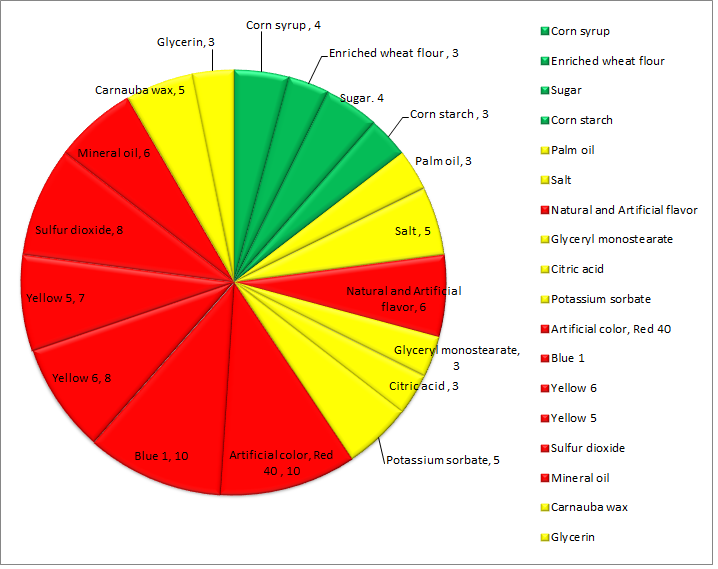 Twizzlers Rainbow vs Graduates Fruit twists NUTRITION comparison
Twizzlers nutrients are presented by 3% of protein and 77% of carbohydrates 43% of which are sugars. Please note those are percentages of the product weight. Do not confuse them for the Percent Daily Values based on 2000 calorie diet. It is unclear from the Nutrition Facts what the rest 34% of carbs are.  I can only assume that it is starch from "enriched wheat flour" (see the dyegram below). These nutrients are major constituents of the Graduated Fruit twists too with sugars predominate but the difference is that they do not contain 11 "red" (foreign) and "yellow" (benign) additives of Twizzlers, 20% or 70g of the whole container. This allows estimating possible overall amount of the dyes in the container: 70 g/11 = 6.3 g (1.8%, that is "less than 2 %") or 8 g/lb.
Gerber's Graduates fruit twists made of processed apples, cherries, strawberries, blueberries and lemons, contain some 80% of carbohydrates 70% of which are sugars. From the Nutrition Facts it is not clear what constitutes for the rest 30%. Based on the ingredients list one can only assume assume that 10% is pectin and 20% are formed by fiber, ascorbic acid and vegetable and fruit colors. Yes, this ratio of carbohydrates to fibers would be similar to the Sun-Made raisins and that is what most of the dried fruits and berries are. Carbs include mostly glucose (DDRF 3), fructose (DDRF 4) and sucrose (DDRF 4). With pectin (DDRF 2) and Vitamin C (DDRF 2) added Graduates DDRS forms 3 + 4 + 4 + 2 + 2 = 15.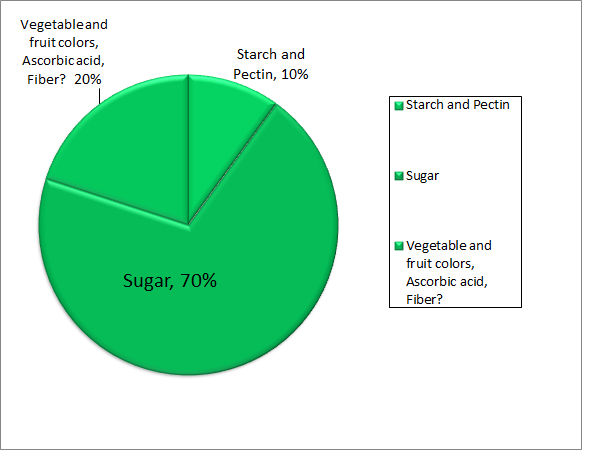 Please note that while both products are called "fruit twists" their true values are very different.
TWIZZLERS

Rainbow twists

Graduates

 Fruit twists

Dyes per 1 lb
~

8

g

?
none
Price per 1 lb
$2.17
$22.30 a
Wal-Mart aisle
Candies
Baby food
DyeDiet Risk Score b
96
15
Stated value
Low fat strawberry, orange, lemonade, watermelon, blue raspberry, grape twists
Fruit twists from apples, cherries, strawberries, blueberries and lemons
True value
Starch and sugar colored with multiply dyes
Fruit twists fromapples, cherries, strawberries, blueberries and lemons
Recommendation

NO

YES
 a)  Calculated from the original price of $2.46 for 50 g container
b) Risk Score is explained in the previous and "Food and Risk" posts
Another major difference is the much higher price of the Graduates twists, almost $22/lb (!). Treat your sweet baby to them IF YOU CAN AFFORD IT instead of extruded Twizzlers chemical twists for a few bucks per mile! Indeed, on the container it proudly reads: "Every year there are million miles of Twizzlers Twists produced." Enough to reach "from the Earth to the moon and back again… five times." Which real fruit product could compete with this astronomic waste! Of course Graduates twists are not an economic alternative at all but they have what our body needs. I hope unaffordable nutritious food is not yet a general trend. I wonder what dictates that unreal price for a pack of abundant dried fruits. I think it is greed. Maybe you have another answer?
For an affordable healthy alternative you may want to look at "Natura Valley Crunchy Granola Bars, Oats'n Honey," for instance, for $4/lb with NO additives. But that's not fruit twists. I will write about this product later.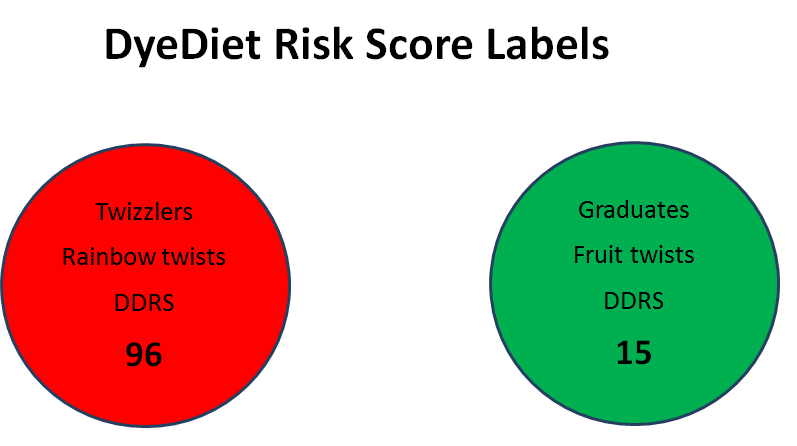 So my point is: Why take unnecessary chances? Of course, what you decide is up to you. Which risk to take and which food to choose should be based on your personal situation. You do have a choice even if it is not necessarily an economic one.
Category: Candy and snacks