St. Patrick's Day

special food risks
I have already had posted an article on Lofthouse cookies for St. Valentine's Day. At that time the frosted sugar cookies looked rose, now they are green, of course, but both Nutrition Facts and the long lists of forty two ingredients are essentially identical.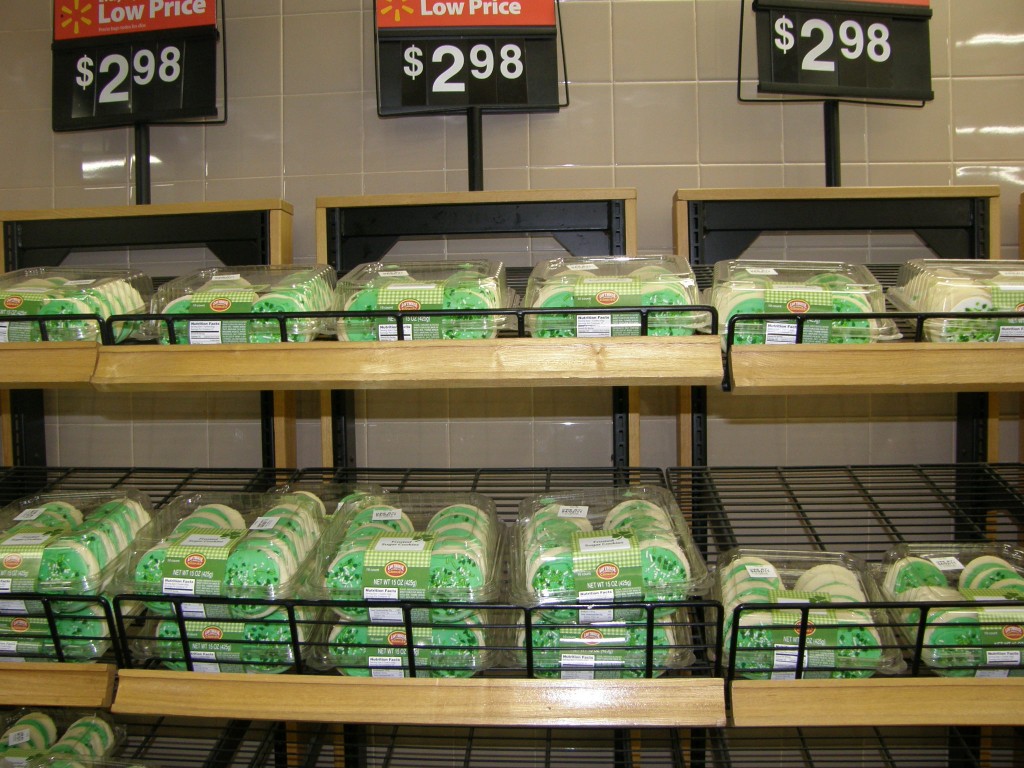 First I assumed that to paint frosting in green they would use only a combination of Yellow 5 or Yellow 6 and Blue 1 dyes. Wrong! In fact, in the ingredients list you can see all the artificial colors available:
Yellow 5 lake, Blue 1 lake, Blue1, Blue 2, Blue 2 lake, Red 3, Red 40, Red 40 lake, Yellow 5, Yellow 6, Yellow 6 lake and titanium dioxide.
Plus plant-derived annatto color on the top! But, ironically, I was unable to find anything that would suggest a red dye additive on the top or inside of the cookies; not a crumble, not even a darker spot. So, did they actually add the three red dyes, and, if yes, then WHY and where the dyes are?? Don't get me wrong; the less food dyes we eat the better. But is what we read in the ingredient list is always what we eat? I would expect the manufacturer to answer these questions.
With 14 foreign (red segments), 13 benign (yellow) and 15 nutritional additives (green) the DyeDiet Risk Score of the cookies is accordingly high.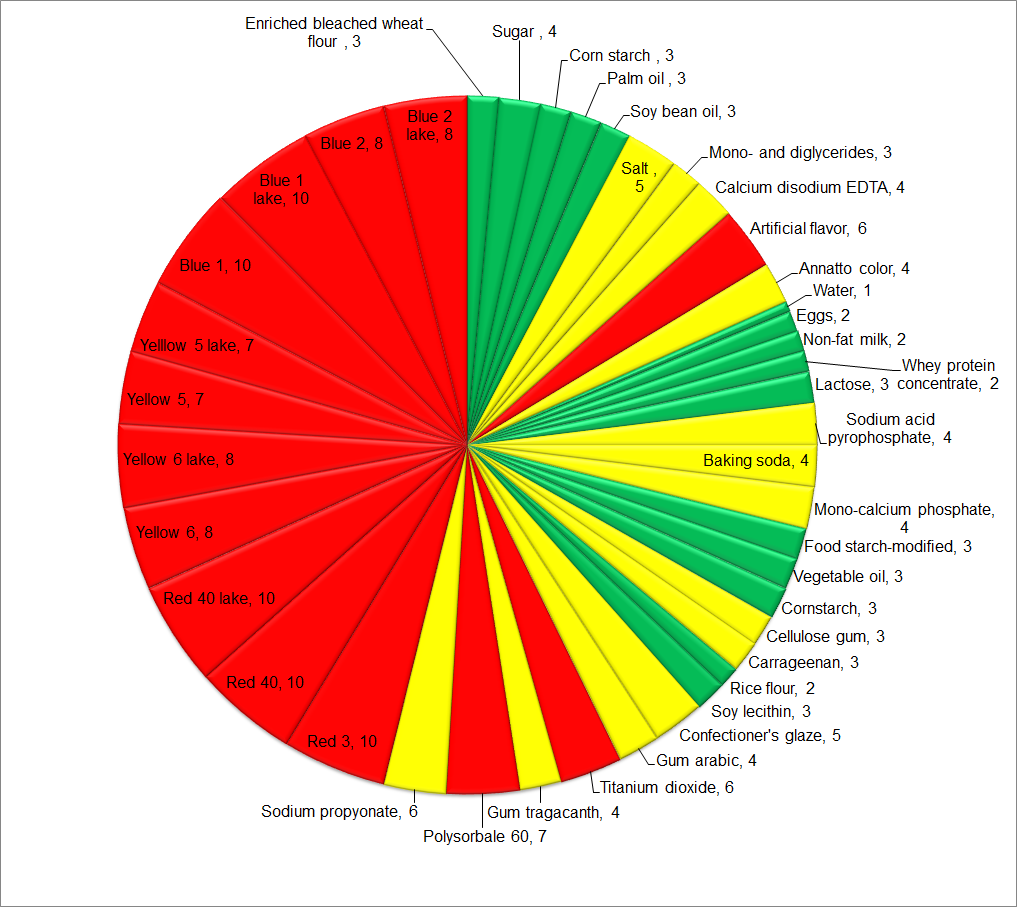 Polysorbate 60 is a synthetic emulsifier with very low toxicity by itself (Polysorbale 60 MSDS). While it is listed as "safe" with CSPI, it may contain some very toxic impurities like 1,4-dioxane and ethylene oxide so Skin Deep classified Polysorbale 60 as "moderate to high hazard."
However, the good news is that there is significantly less risky alternative with DDRS of only ~ 40 waiting for your attention at Walmart. I will tell you more, it is remarkably cheaper! Please see the comparison chart below.
SUGAR COOKIES: no colors added
For the obvious reason these cookies are not green, but they are much "greener" than the former ones in a sense of their chemical friendliness to a human's nature.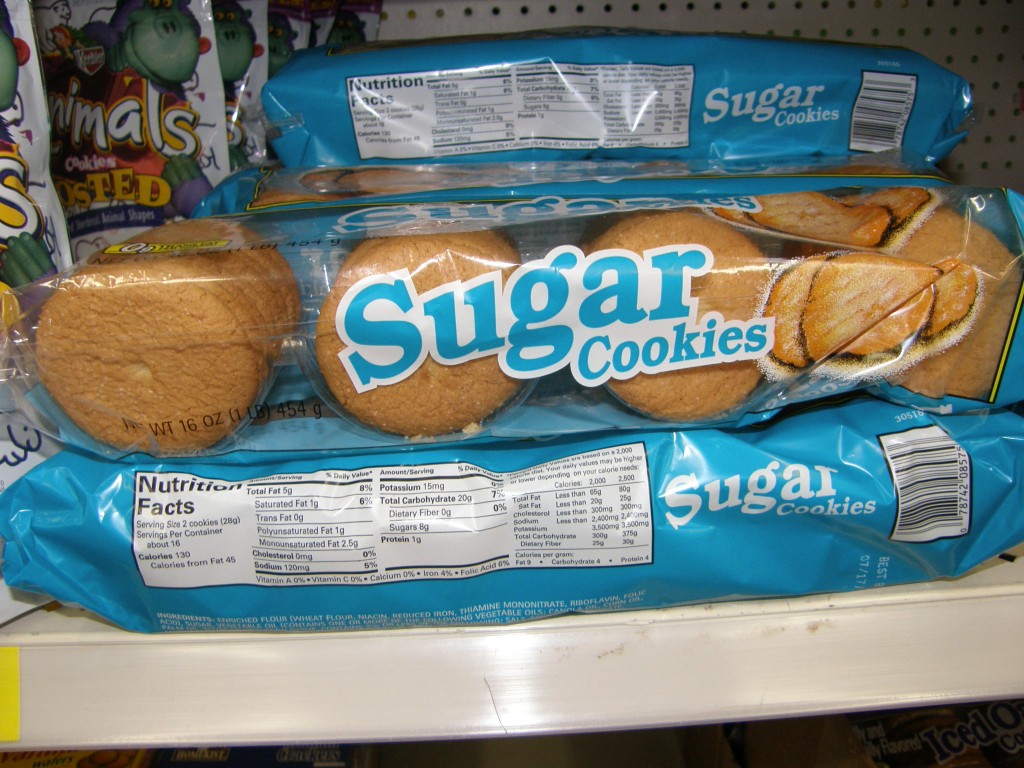 Sugar cookies Risk Score Diagram: DDRS ~ 40
The low risk comes from only 1 foreign (red segment), 4 benign (yellow) and 5 nutritional additives (green). I would gladly assign green the DyeDiet Risk Score Label (see below) to this product if the manufacturer has replaced the artificial flavor with a natural.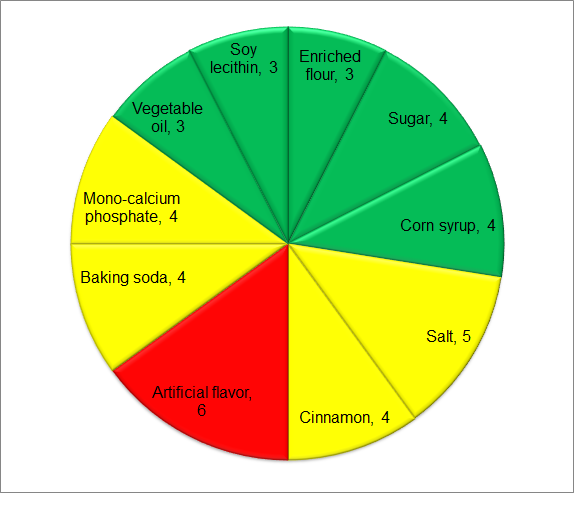 Who produces these sugar cookies seems to be a mystery, however.  On the container it reads: "Manufactured for: South Street Bakery, P.O. Box 32368, Charlotte, NC 28232." Based on this I assume they may be somehow related to the Lance, Inc.
Sugar cookies nutrition and risk comparison
Additives and Nutrients
Lofthouse frosted sugar cookies
Sugar Cookies
Food

Dyes

Yellow 5 lake, Blue 1 lake, Blue1, Blue 2, Blue 2 lake, Red 3, Red 40, Red 40 lake, Yellow 5, Yellow 6, Yellow 6 lake, titanium dioxide
none
Fat, weight %
16
18
Sugars, weight %
42
29
Sodium, weight %
0.3
0.4
Walmart price per 1 LB
$2.98
$1.16

Dye

Diet

Risk Score  (DDRS)

208

40

Recommendation

NO

Yes

,

 in moderation
The DyeDiet Risk Score Labels
This is how I would like these products to be seen at Walmart stores: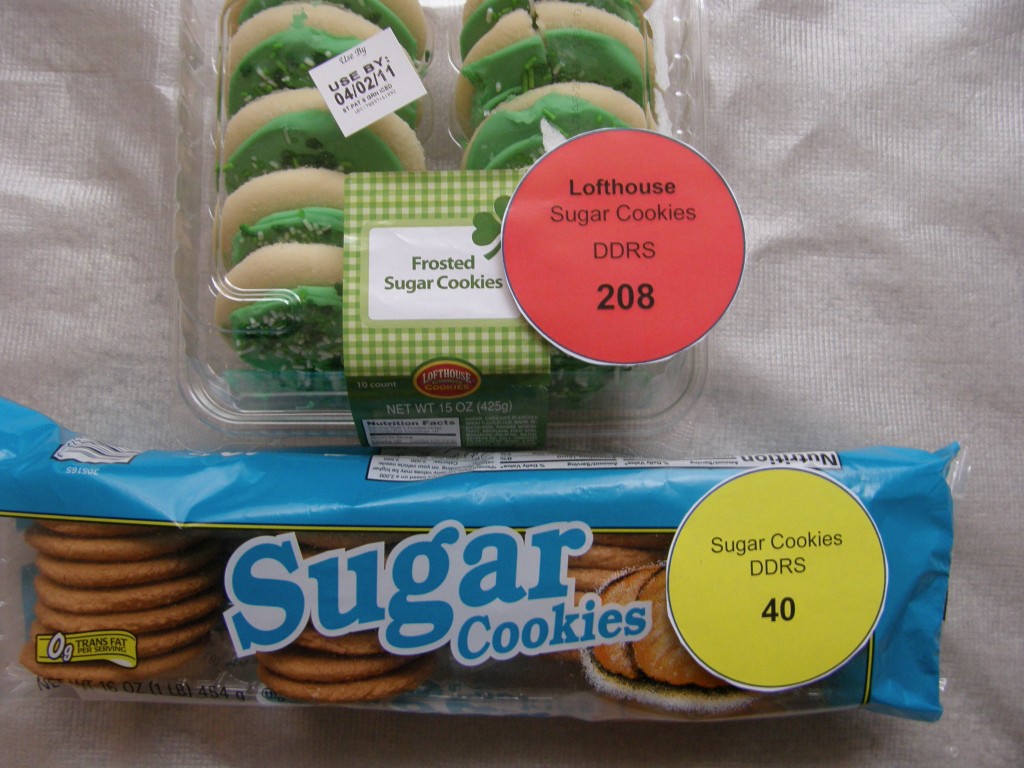 In conclusion, seriously, what is a benefit of paying more than a double price for the cookies with 42 – 10 = 32 additional chemicals that may pose health risks for you or your loved ones? With the DyeDiet analysis you can make your right choices easier. Have a pleasant St. Patrick's Day!
Category: Baked goods, Cookies