Why do we color fruit?
Whenever I see artificial colors added to fruit a question pops up in my mind: Why? I can understand the logic of attempting to mimic nature where there are no actual fruit present, like in Twizzlers Rainbow twists. But I don't remember my mom or grandma ever adding a pinch of  p-dimethylaminoazobenzene or FD&C azo-dyes to "improve" blueberry or cherry pie filling! Who expects berries, reduced to jam, to look as they looked when they were fresh? Who expects fish in the fish-soup flipping its tail like the one just caught? I know that food manufacturers add colors for commercial reasons, mainly to "mask natural variations in color" and to make a product look more appealing for quicker sales. But as consumers we do not care about their sales! What we do care about is what the nutrients are left for us in the food we buy. They say that colored food is exactly what consumers prefer to buy. Really?  Well, let me ask my readers:
Do YOU really want nutritious fruits and berries to be degraded by addition of potentially harmful food dyes? Is that what you really want for you and your children?
Food colors and ADHD in children
Possible connection between Attention Deficit Hyperactivity Disorder in children and food additives has been discussed for decades. Recent research led by Professor of Psychology Jim Stevenson of the University of Southampton's Schools of Psychology and Medicine has revealed a link between hyperactivity in children and certain food additives:
"We now have clear evidence that mixtures of certain food colors and benzoate preservative can adversely influence the behavior of children. There is some previous evidence that some children with behavioral disorders could benefit from the removal of certain food colors from their diet. We have now shown that for a large group of children in the general population, consumption of certain mixtures of artificial food colors and benzoate preservative can influence their hyperactive behavior."
As the result of the research "a significant part of the UK food industry is already moving away from the use of artificial food colors in responding to consumer demand (EFSA Board opinion). Is the US food market still a "safe harbor" for experimenting with food dyes? Please read this article: "The Truth About Food (Dyes)" by Nancy Cordes and the COMMENTS therein and see if you agree or disagree.
Please look also at what warnings and alerts about food colors (Food Dyes: Rainbow of Risks) and other additives Center for Science in the Public Interest (CSPI) keeps sending to the US public for the four decades.
Anyway, I do not like the idea of the food industry running a clinical trial on the connection between ADHD and the food colors by having millions of US children and adults exposed to those foreign food additives for many years. The DyeDiet concept is to avoid them entirely.
BLUEBERRY BRAIDS:

Red 40

and Blue 1
I was not too surprised to find Red 40 and Blue 1 dyes added into the Blueberry Braids from the BAKERY of Walmart. Try to see the dyes (highlighted) in the list of ingredients.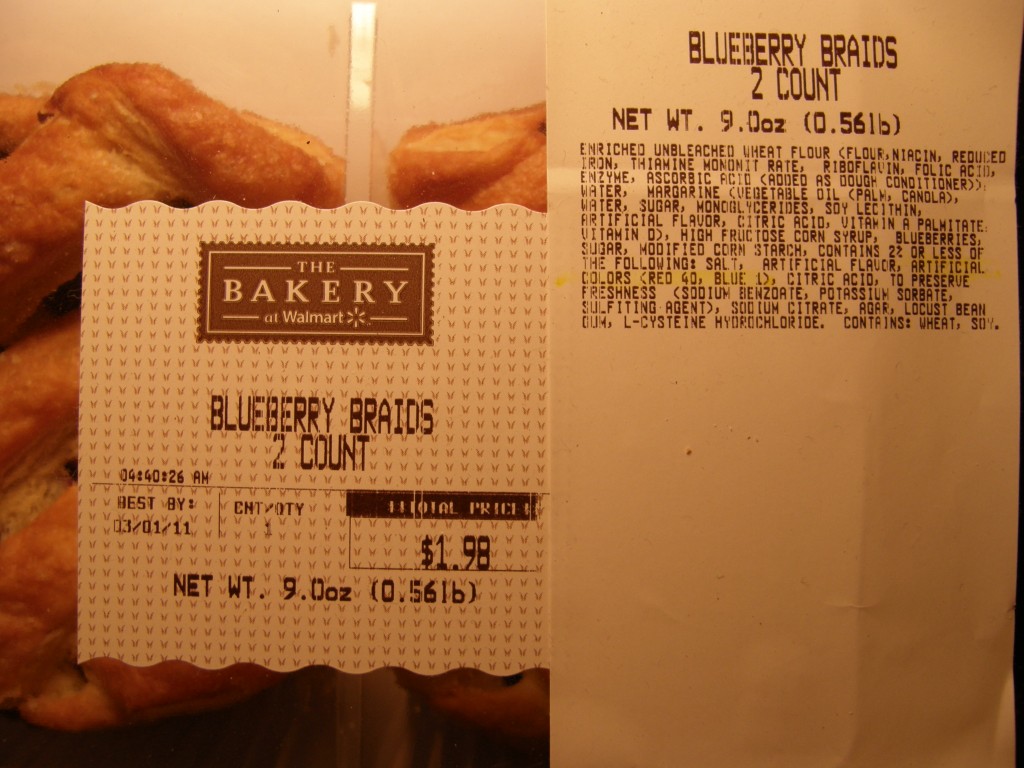 Risk Score Diagram: DDRS ~ 85
The DyeDiet Rsik Score comes from 5 foreign (red segments), 3 benign (yellow) and 10 nutritional ingredients (green).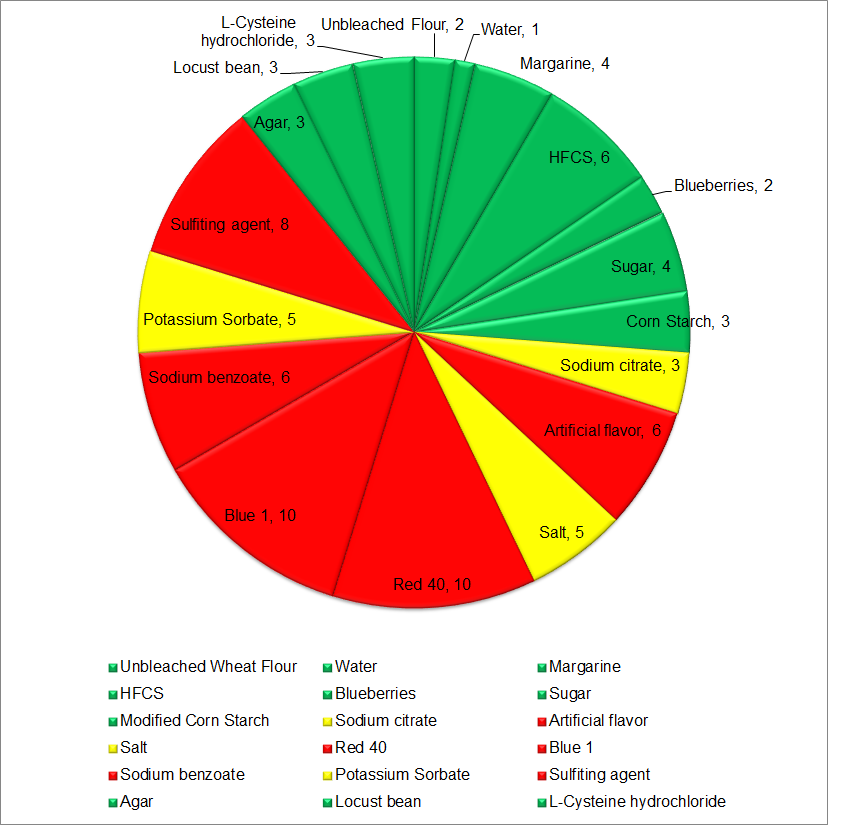 The two azo-dyes are added to the Apple Braids in an attempt to "improve" apple filling.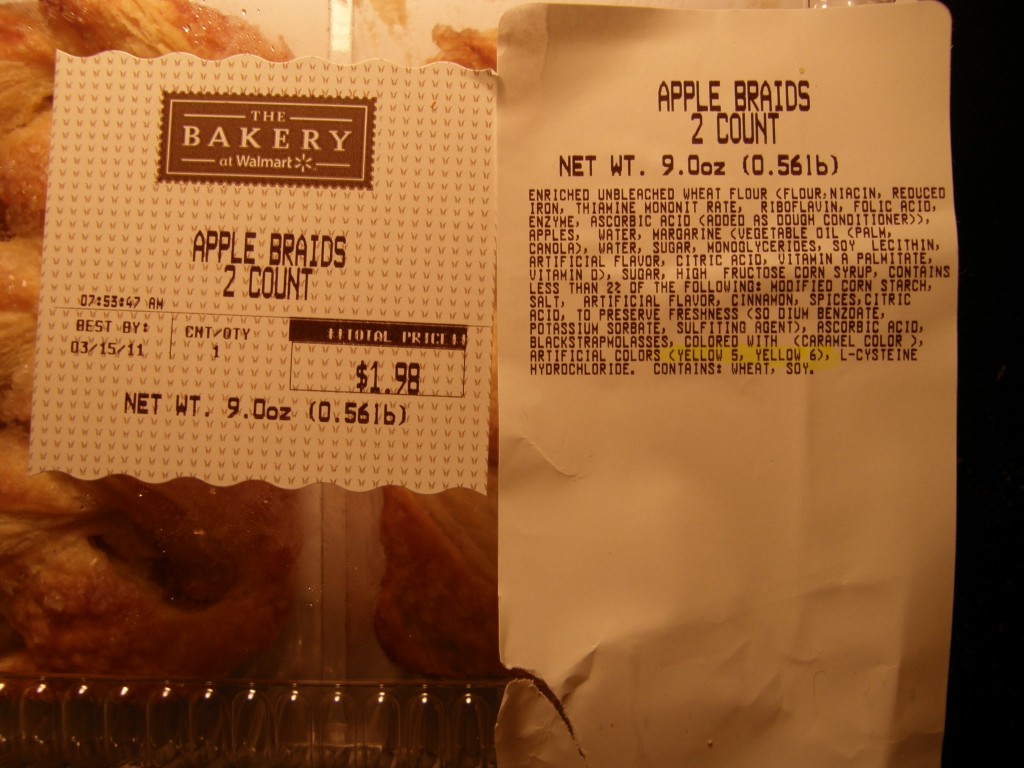 Risk Score Diagram: DDRS ~ 91
The DyeDiet Rsik Score comes from 5 foreign (red segments), 4 benign (yellow) and 12 nutritional ingredients (green).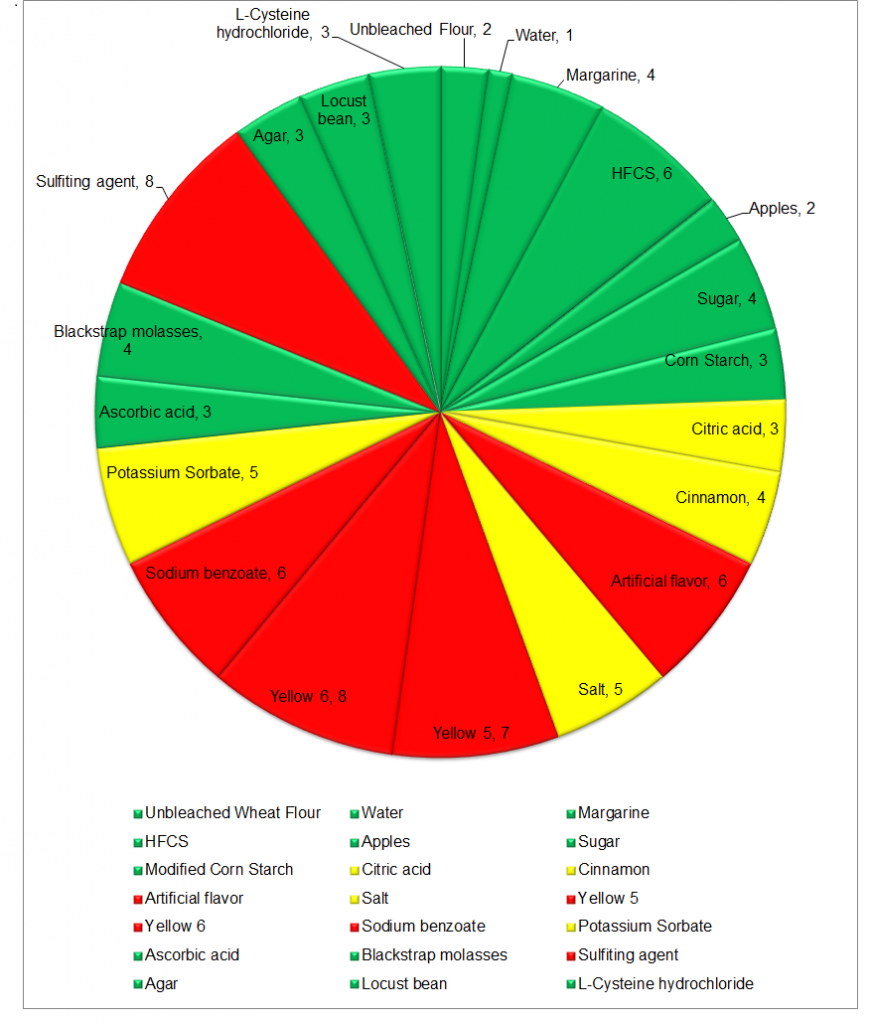 RASPBERRY BRAIDS:

Red 40

, Blue 1, Yellow 5 and Yellow 6
This product, with the combination of four dyes, is a champion in the category! Once again, why choose to add yellow azo-dyes and blue aniline-derived dye to raspberries which are, if I remember correctly, naturally red, let alone the question about why to color natural fruit in the first place?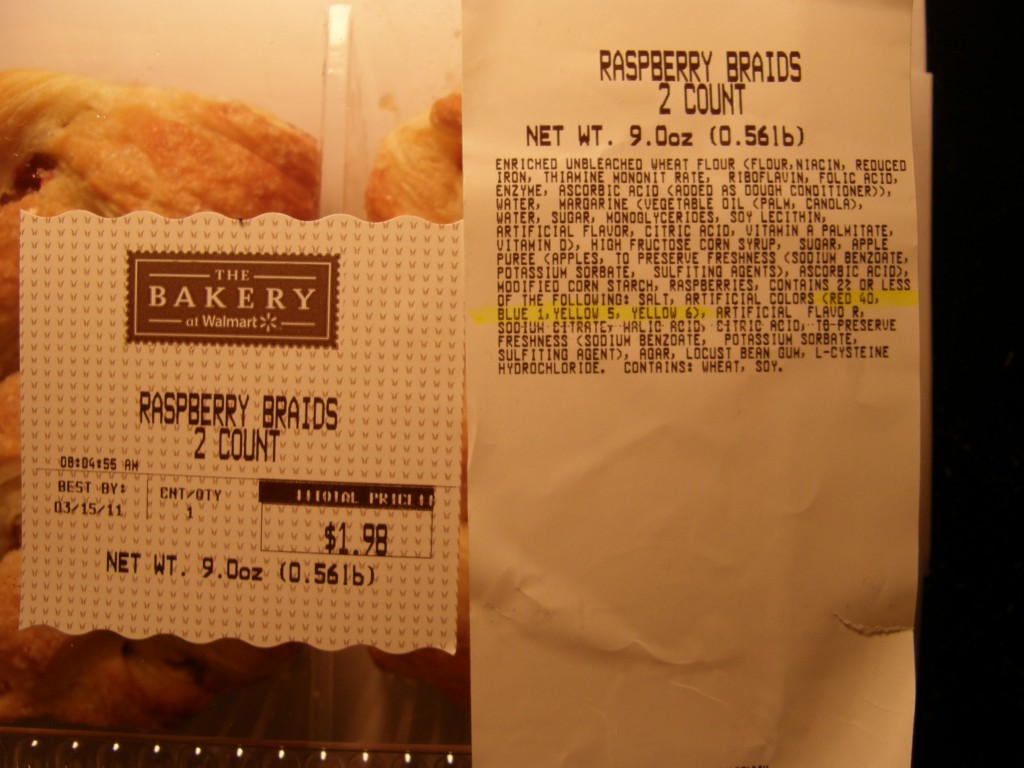 Risk Score Diagram: DDRS ~ 103 (!)
The DyeDiet Rsik Score comes from 7 foreign (red segments), 3 benign (yellow) and 11 nutritional ingredients (green).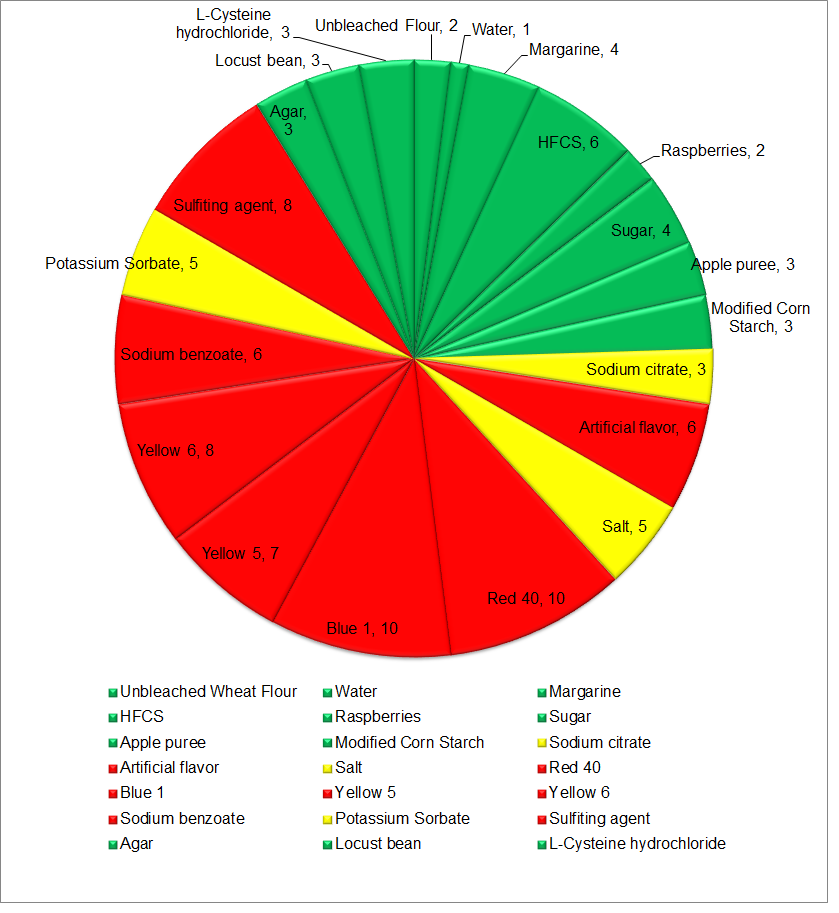 CHERRY BRAIDS: no colors added
Here is the good news, at last! Look at the Cherry Braids, with all the same ingredients but cherries in place of blueberries, there are NO colors added at all!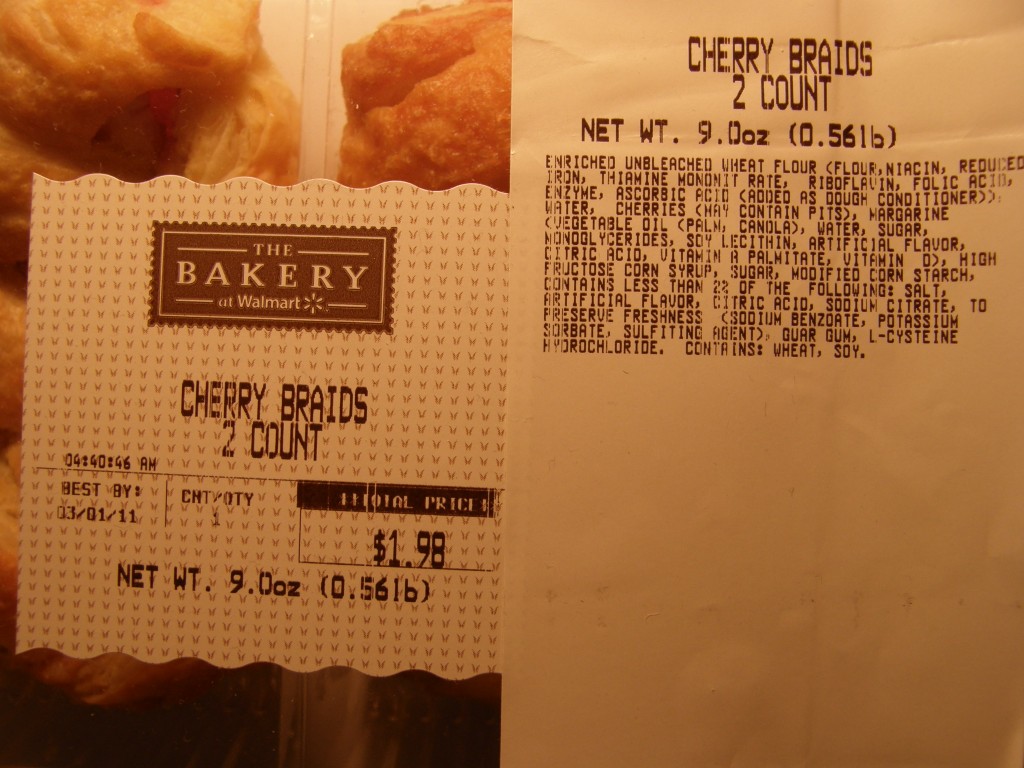 Risk Score Diagram: DDRS ~ 68
This turns to be the least risky product with the DyeDiet Rsik Score coming from 3 foreign (red segments), 4 benign (yellow) and 10 nutritional ingredients (green).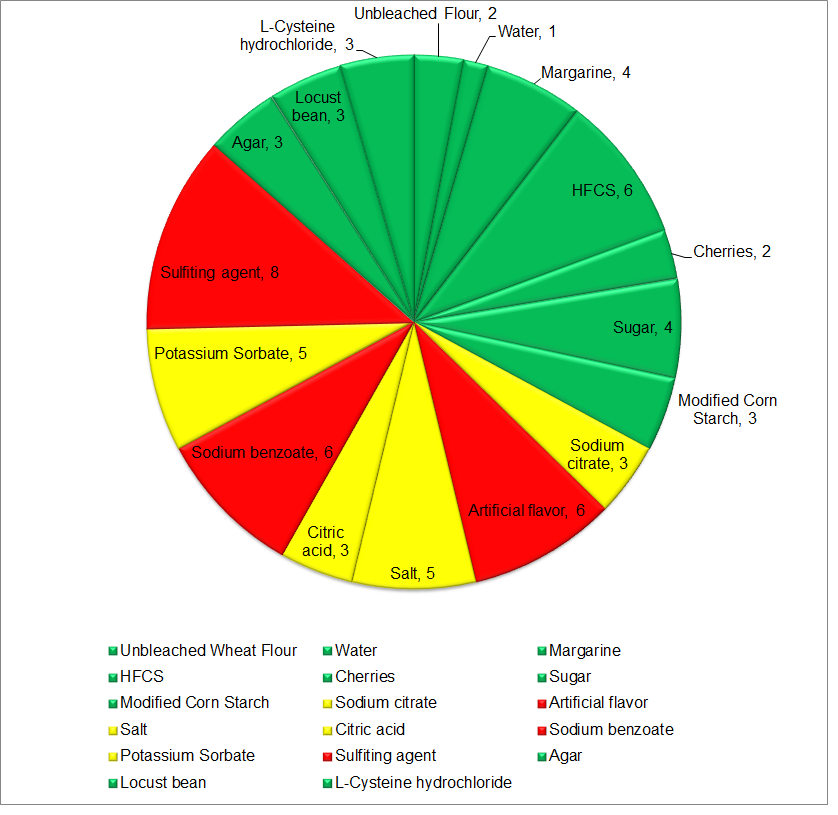 I was about to start thinking that blueberries, apples and raspberries lose their natural colors in the process of cooking whereas cherries perfectly retain it. What a disappointment it was for me to find that the two dyes were added to Cherry Turnovers!
CHERRY TURNOVER:

Red 40

and Blue 1
What?? This looks confusing to me. They do NOT add colors into the Cherry Braids but they do ADD colors to the Cherry Turnovers! What is wrong with the cherries in Turnovers? I thought they would use the same cherry filling for both products.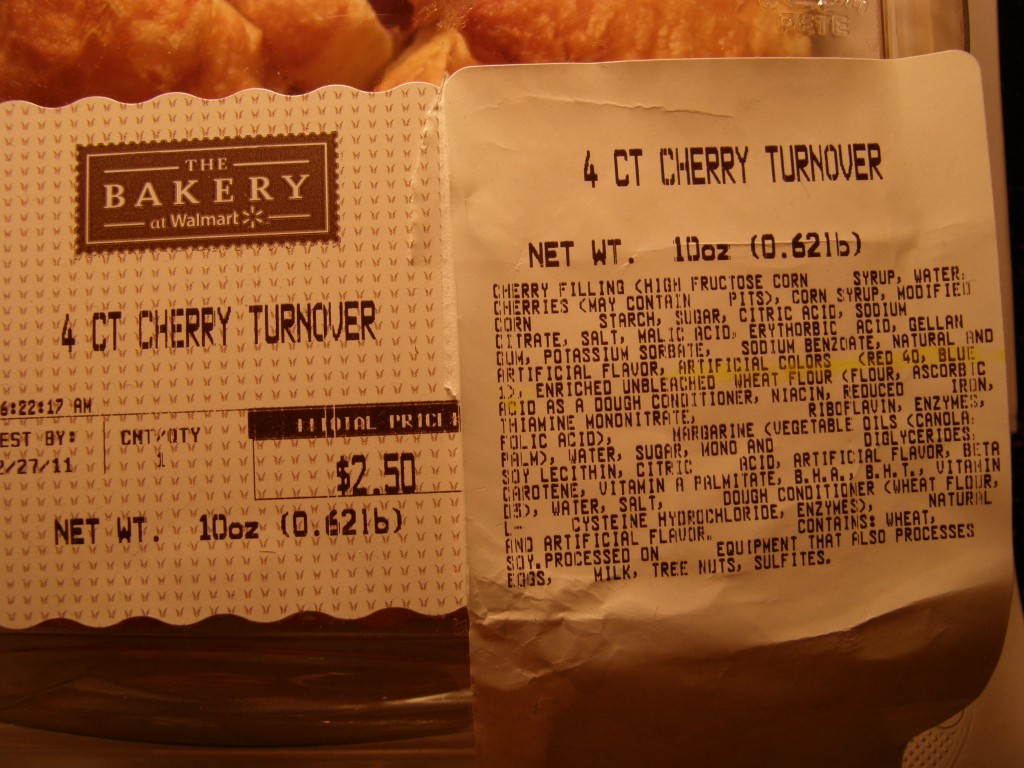 I wonder what drives The BAKERY of Walmart in making their decision to add or not to add dyes to their baked goods. I hope not the product's shape! Let The BAKERY of Walmart to answer the question.
Risk Score Diagram: DDRS ~ 94
The DyeDiet Rsik Score comes from 5 foreign (red segments), 6 benign (yellow) and only 9 nutritional ingredients (green).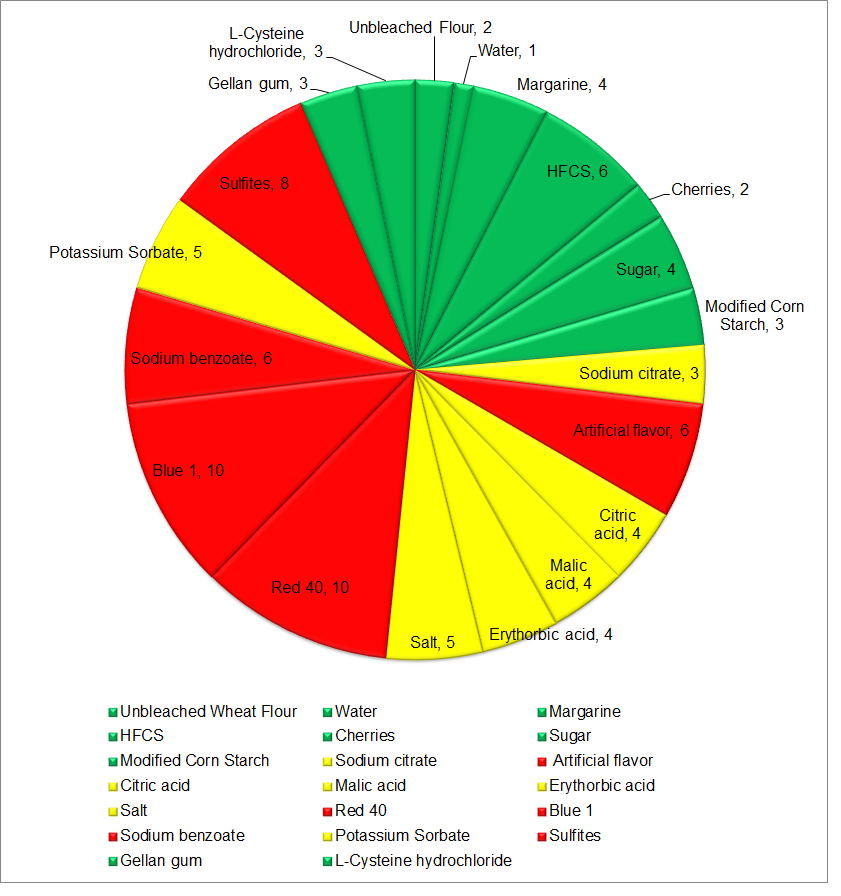 The Walmart braids comparison chart
Please note that, as the Southampton studies established (see above), it is mixtures of the food dyes and sodium or potassium benzoate is what especially badly affects children's nervous system.
Additives of concern
Blueberry Braids
Apple Braids
Raspberry Braids
Cherry Braids
Cherry Turnover
Food Dyes
Red 40 and Blue 1
Yellow 5 and Yellow 6
Red 40, Blue 1, Yellow 5 and Yellow 6
none
Red 40 and Blue 1
Sodium Benzoate
+
+
+
+
+
DyeDiet Risk Score  (DDRS)

85

91

103

68

94

Recommendation

NO

NO

NO

Yes,

in moderation

NO
While Cherry Braids still contain potentially dangerous (allergic, etc.) Sodium Benzoate, Sulfiting Agent and an Artificial Flavor (see red segments on its Risk Diagram above) they are certainly LESS RISKY for you and your kids!
Dye

Diet

Risk Score Labels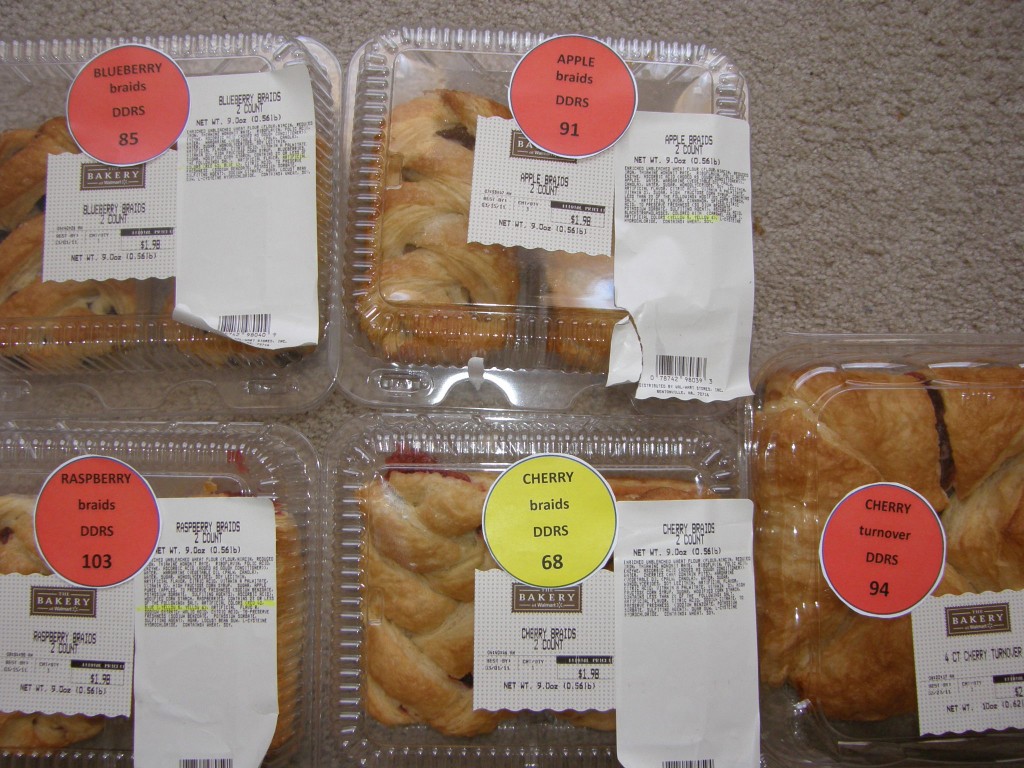 That is the way how these braids should look on Walmart shelves!
I hope this report has demonstrated that while you see too many products containing food colors, you can also discover next to them very similar products that have no food dyes added at all. The DyeDiet will continue to keep an eye on the food industry practices and report the results to you in order to help you with making less risky food choices!
Category: Baked goods