Twisted story
Most likely you know what Twizzlers is, don't you? Of course, it is a popular brand of fruit-flavored candy in the United States and Canada, often called a "licorice candy". On the container it reads:
Low Fat Snack. TWIZZLERS Twists.  Strawberry artificially flavored.
Net WT 16 oz (1 LB) 453 g
Seems harmless, right? However the twisted content of the pack has absolutely nothing to do with strawberries and licorice. Look at the list of ingredients for yourself:
Let me estimate the DyeDiet Risk Score (DDRS) and make a comparison with an alternative, Sun-Made Raisins.
Risk
Dia

gram for Twizzlers: DDRS ~

69

Numbers you see on the Dyegram are Risk Factors (DDRF) assigned to each food additive and the segment size is proportional to the DDRF value. Sum of all the DDRFs gives the DyeDiet Risk Score (DDRS) of the whole product. Red color corresponds to FOREIGN and yellow to BENIGN food additives. Green color was chosen for NUTRIENTS (please see the previous post "Food and Risk" for more details). While salt (sodium chloride) has nutrition value it was assigned RF 5 because of its known high potential for abuse. So Twizzlers DDRS = 69 with red risk predominate, a lot of yellow and small portion of green risk coming from a few nutrients: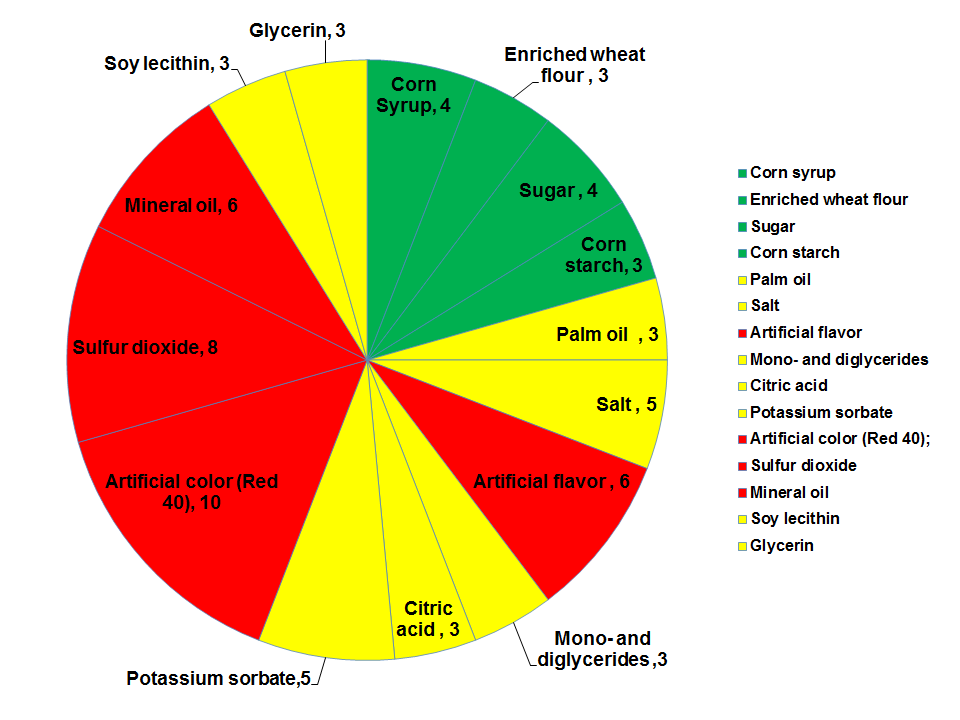 Do you still want to take chances by allowing azo-dye Red 40, mineral oil, and mysterious "artificial flavor" into your blood stream, your heart and your brain? I am not one who does. When I am drinking a mug of Sam Adams at least I know what exactly the risks are. But what do we know about what azo-dyes do to our body?
According to the Center for Science in the Public Interest (CSPI), FD&C Red 40 is the most widely used food dye. MSDS (Material Safety Data Sheet) for Allura Red AC (another name of Red 40) is available here Red 40 MSDS. Toxicological Information obtained on laboratory animals is given in Section 11 of the MSDS and indicates that Red 40 may produce the following effects:
While toxic doses are rather high (5 – 10 g/Kg, means low toxicity), Section 11 says that "To the best of our knowledge, the chemical, physical and toxicological properties have not been thoroughly investigated".  Why not? I thought that any chemical broadly used in the food industry has been through a scrutiny of careful long-term studies assuring its safety for the public health like they do for medicines. Let us see what the FDA has to say, from the FDA website, the article "How Safe are Color Additives?":"FDA regulates color additives used in the United States. This includes those used in food (and dietary supplements), drugs, cosmetics, and medical devices. These color additives (except coal-tar hair dyes) are subject by law to approval by the agency and must be used only in compliance with the approved uses, specifications, and restrictions. In the approval process, FDA evaluates safety data to ensure that a color additive is safe for its intended purposes. Color additives that FDA has found to cause cancer in animals or humans may not be used in FDA-regulated products marketed in the United States." End of the quote.
This sounds not bad but, honestly, I do not like the entire idea of bringing any foreign chemicals into my blood stream for whatever reason unless it is a life-saving drug I must take to support my life. Any medicine we take has its therapeutic value balanced against the known toxicities. I wonder how much we know of the toxicities of artificial colors in food and if there is a chance that we are somehow causing ourselves harm?
How Much of
Red 40

Do We Eat?

This is hard question. Food manufacturers are not required to disclose the amount of food colorants they put into our food.  Specifically for Red 40 dye, FDA instructions allow for only 85% purity and a vague definition of the amount used in food:

Ҥ 74.340  FD&C Red No. 40. Total color not less than 85.0 percent.

(c) Uses and restrictions. FD&C Red No. 40 may be safely used for coloring foods (including dietary supplements) generally in amounts consistent with good manufacturing practice except that it may not be used to color foods for which standards of identity have been promulgated under section 401 of the act unless added color is authorized by such standards." End of the quote.

Please note that FDA requires highest possible purity for a drug substance with all the impurities that exceed 0.1% identified and tested.  So, the color in our artificially colored food comes from only 85% of the dye additive itself and the rest 15% are some other "bonus" chemical strangers. Based on the Nutrition Facts for Twizzlers, below I have made an estimation of how much of the Red 40 every 1 LB (453 g) container may contain.
First, it follows that 80% (362 g) of Twizzlers are sugars and flour in 19:17 ratio and the rest forms 20% (91 g) including some "2% or less" of mineral oil, an azo-dye Red 40 along with fat and other chemicals, totaling 11 additives
Secondly, roughly 20/11 = 1.8% of each of the 11 additives are in the container
Finally, 453 x 0.018 ~ 8 g of the azo-dye Red 40 is in each 1lb container of Twizzlers. This is less than 2%.
Let us hope that the actual content of Red 40 is lower. In comparison with an average daily drug dosage of 0.8-1.2 g (e.g. for Advil) the amount of 8 g of the azo-dye per container of candies is huge! Consider how many full packs of Twizzlers are eaten in movie theatres in this country. Besides being entertained many moviegoers are getting something extra they may not aware of. Why wouldn't you consider taking a pack of raisins instead?
Twizzlers vs SUN-MADE Raisins comparison
Raisins contain some 77% of sugars as ~ 1:1 mixture of fructose (DDRF 4) and glucose (DDRF 3)  plus a little of protein (RF 2), some fiber and antioxidants. Therefore raisin's DDRS estimation is 4 + 3 + 2 = 9, all green.
TWIZZLERS
Sun-Made Raisins
Estimated azo-dye

Red 40

per 1 lb
~

8 g

(?)
none
Price per 1 lb
$1.68
$1.91
Wal-Mart aisle
Candies
Around canned fruits
DyeDiet Risk Score a

69

9

Stated value
Low fat strawberry twists
Raisins
True value
Starch and sugar colored with Red 40
Raisins
Recommendation

NO

YES
       a) Risk Score is explained above and in the previous post (Food and Risk)
Yes, Twizzlers is a "Low fat snack" but not low risk! With that number of risky chemical additives in Twizzlers it seems to me safer to be chewing our garden hose which is "non- fat".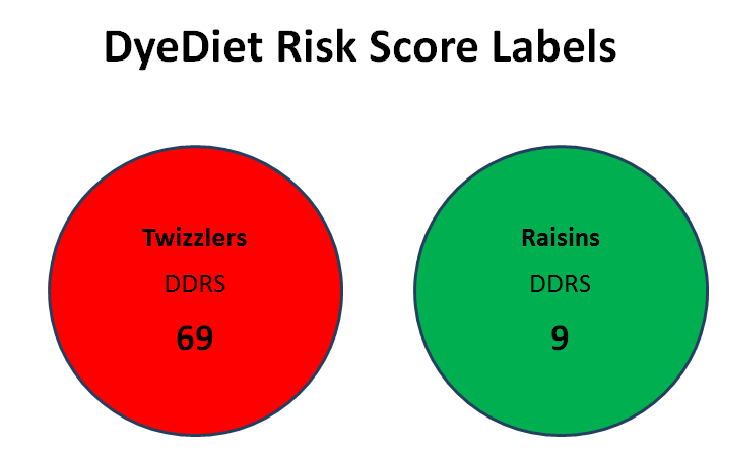 Hope this is simple enough. Similar traffic light risk rating is on the rise in UK food market. Now, it is your informed choice which risk to take and which product to avoid.
Health risks of artificial food coloring
As of June 30, 2010 The Center for Science in the Public Interest (CSPI) says food dyes pose a number of risks to the American public and is calling on the Food and Drug Administration (FDA) to ban three of the most commonly used dyes: Red 40, Yellow 5 and Yellow 6.  A new CSPI report says those dyes contain known carcinogens and contaminants that unnecessarily increase the risks of cancer, hyperactivity in children and allergic reactions.
"These synthetic chemicals do absolutely nothing to improve the nutritional quality or safety of foods, but trigger behavior problems in children and, possibly, cancer in anybody," said CSPI executive director Michael Jacobson, co-author of the report. "The Food and Drug Administration should ban dyes, which would force industry to color foods with real food ingredients, not toxic petrochemicals."
The FDA has not read the report yet an agency spokesperson said. "We appreciate the report from CSPI and look forward to reviewing it. We take our commitment to protecting children seriously".
Please see an excellent compendium on FD&C dyes by CSPI "Food Dyes: A Rainbow of Risks" for details.
More on
Red 40
Category: Candy and snacks