In America, Red 40 is the most-widely used dye, which is capable of inducing immune-system tumors in laboratory animals. The dye causes allergic reactions in a small number of consumers and may trigger hyperactivity in children. CSPI warns that considering the safety questions Red 40 should be excluded from foods unless and until new tests clearly demonstrate its safety.
In Europe, Red 40 is not recommended for consumption by children. It is banned in Denmark, Belgium, France and Switzerland. In the United States, 9 certified colorants are approved for use in food and broader spectrum of 35 colorants are approved for use in drugs.
Contrary to Europe, combined consumption of artificial food colorants, including Red 40, is on a steady growth in America. According to the FDA reports 12,418,450.57 pounds of FD&C colorants were certified in the year 2000 and staggering 20,866,071.50 pounds in 2011 indicating some 8.5 million pounds increase over the last decade. Divided by today's USA population of 313,245,024 it translates to 0.067 pound or 0.067 x 454 g = 30 g per capita including newborn babies. Read the CSPI report: Food Dyes: A Rainbow of Risks.
DyeDiet Doesn't Buy It!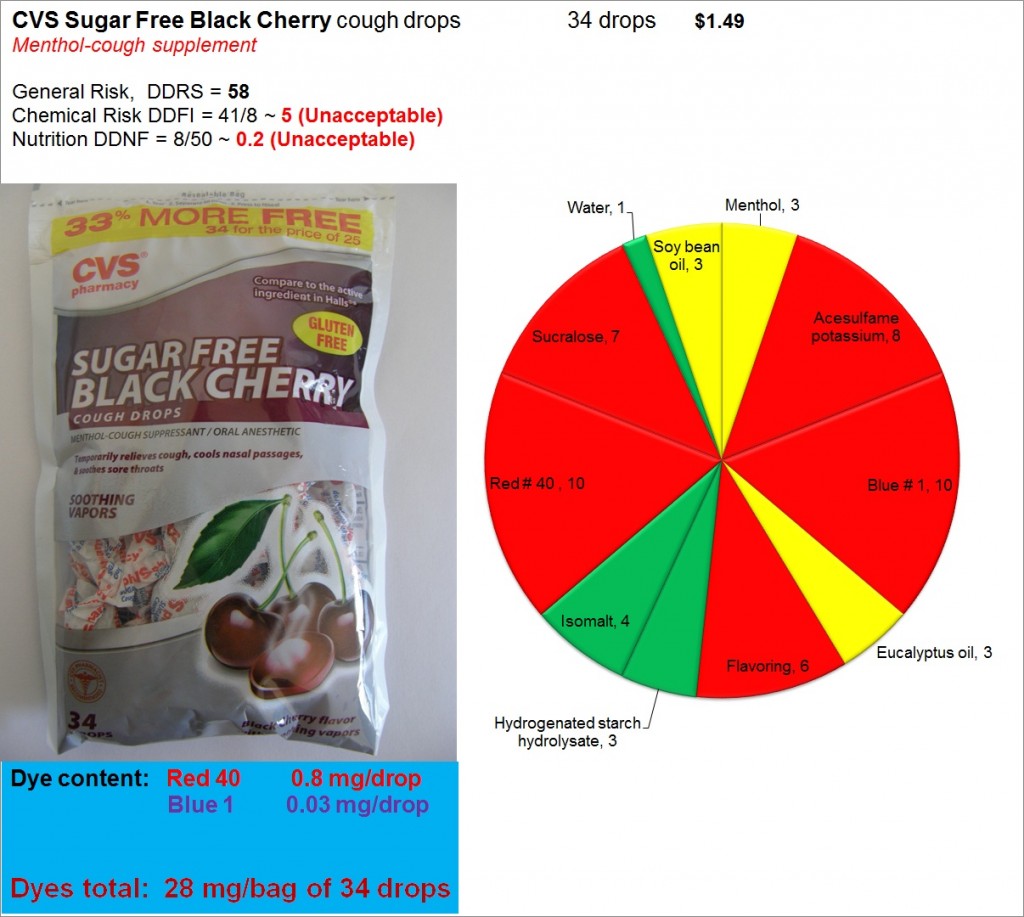 I am not sure how well the cough drops will help you to relieve cough and soothe sore throat, as CVS Pharmacy promises, but with every piece of the Sugar Free Black Cherry cough drops you will be exposed to unacceptably high chemical risk of DDFI = 41/8 ~ 5 and you will get negligible nutrition value of DDNF = 8/50 ~ 0.2. Not only is this because of 0.8 mg of Red 40 and 0.03 mg of Blue 1 in every drop but also because of the two artificial flavor and two sweeteners with unknown long term health effects (see 5 red segments in the diagram):
Other ingredients are benign and do not add to your health risks (3 green and 3 yellow segments in the diagram).
Menthol is naturally occurring substance found in peppermint and widely used as a cough medicine and to relieve sore throat
Isomalt is another sugar substitute but it is more human friendly than the other two. It doesn't promote tooth decay and may produce some laxative effect.
See the database for the risk factors of more than 250 popular food additives: Risk Factors of Food Additives.
Here is a better alternative: Ricola, a naturally effective herbs-based product of Switzerland for $2.99.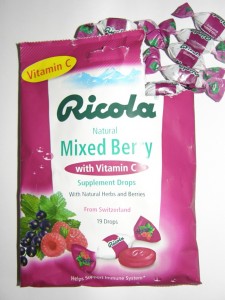 I hope this quick report helps you to make healthier choices for you and your family!
Category: Candy, Cough drops, FDA food regulations, Food Dyes Exposure