Have you ever seen a blue raspberry? Here it is, the "sour-sational raspberry," a soft drink with no raspberries but FD&C Blue #1 aniline food dye in it instead. Look for yourself:
This is another example of the freakish marketing ideas used by the food manufacturers to trick you and your children into buying their wasteful unhealthy products (see Food marketing to children and youth overview). Based on the DyeDiet observations, a great majority of the soft drinks and candies you can buy in the US market under different fruity names are essentially the same: high fructose corn syrup (HFCS), modified cornstarch, artificial flavors and dyes. This creates an illusion of the diversity where in reality the consumers left with only a few choices. While HFCS is certainly a nutrient, its presence everywhere from beverages, candies, baking goods to ketchups and mayonnaises, may easily lead to overconsumption and, as the result, to a chronic intoxication characterized by a number of health conditions. Also, beware of the genetically modified corn issues (see Genetically miodified food ingredients).
Tum-E Yummies, fruit flavored drinks designed for children and their parents, is manufactured by the BYB Brands, Inc. and distributed through the Coca-Cola Bottling network, according to the Wikipedia. Now take a look at the diagrams below to see how alike they are. High health risk and low nutritional value  (see DyeDiet Food Risk and Nutrition Explained) is what you and your children typically get with this kind of products.
Sour-sational Raspberry Risk Score, DDRS ~

82
Foreign additive risk DDFI = 47/14 ~ 3.3. Nutritional value DDNF = 14/68 ~ 0.2.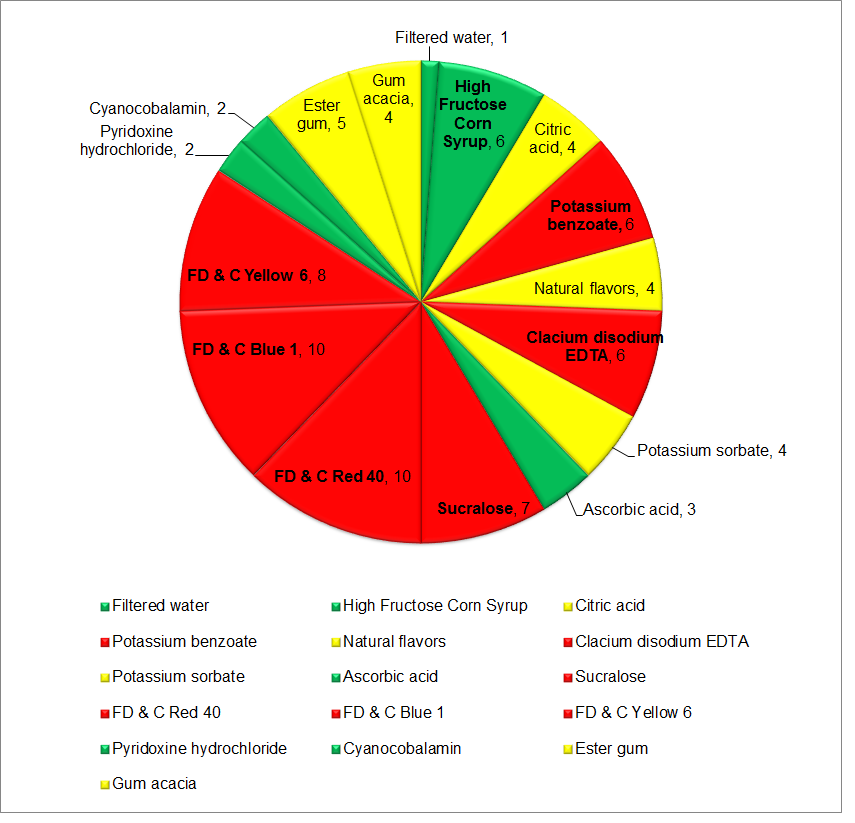 Curiously, azo dyes FD&C Red #40 and FD&C Yellow # 6 are in the ingredients list but they were not detected by the DyeDiet in this beverage. The questions should be answered: What else is listed but NOT added to this concoction? Or what is added but NOT listed? The DyeDiet will inform the FDA about the sloppy labeling and/or manufacturing practices of the BYB Brands, Inc. Remember, these beverages are DESIGNED for your children!
Fruitabulous Punch Risk Score, DDRS ~

76
Foreign additive risk DDFI = 45/14 ~ 3.2. Nutritional value DDNF = 14/62 ~ 0.2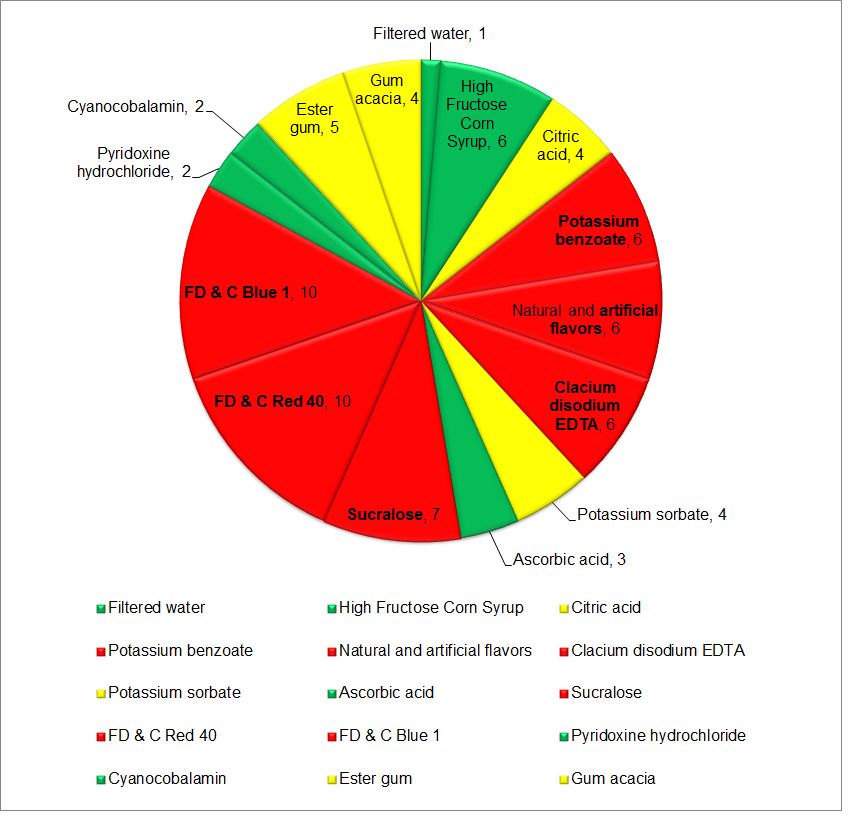 Again, FD&C Blue #1 food dye is listed in the beverage list of ingredients but NONE of it was detected by the DyeDiet. Perhaps it is good that there is one artificial color (see link between behavior and artificial colors) less in the actual drink but such careless manufacturing practices should be the subject for an investigation by the FDA.
Very Berry Blue Risk Score, DDRS ~

66
Foreign additive risk DDFI = 35/14 ~ 2.5. Nutritional value DDNF = 14/52 ~ 0.3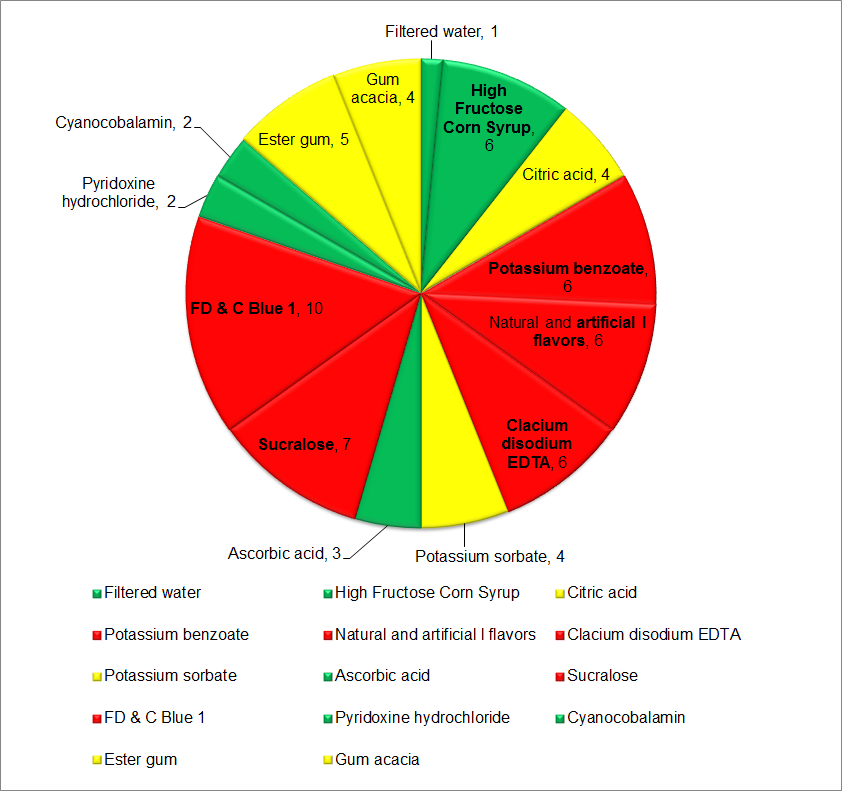 In this case FD&C Blue #1 food dye is listed and found by the DyeDiet in the beverage. I wish BYB Brands, Inc. has put natural blueberry to the "berry blue" but the manufacturer does not care. We should take care of our children!
For the better control of the food dyes which may be accountable for the ADHD syndrome (see Diet_ADHD and Behavior ) development in children (see Southampton University ADHD studies), see the amounts of the food dyes the DyeDiet has detected in the above drinks.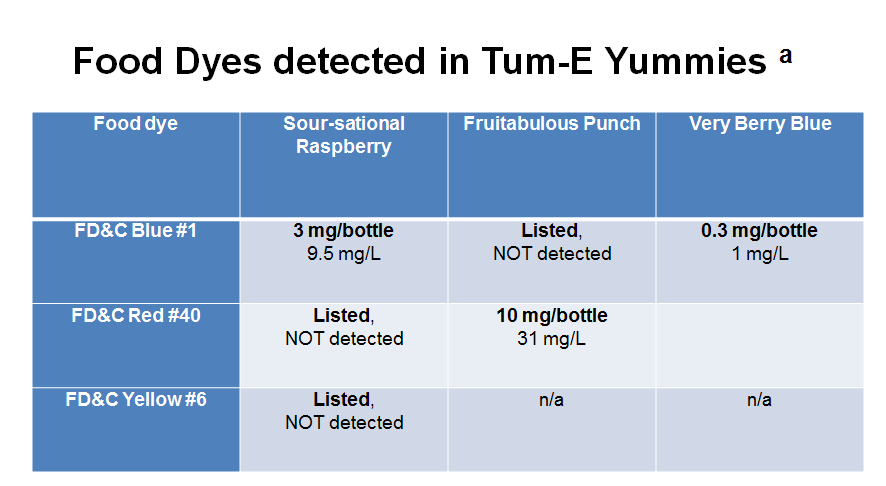 a Concentrations were calculated based on  Beer-Lambert Law application to our spectrophotometry studies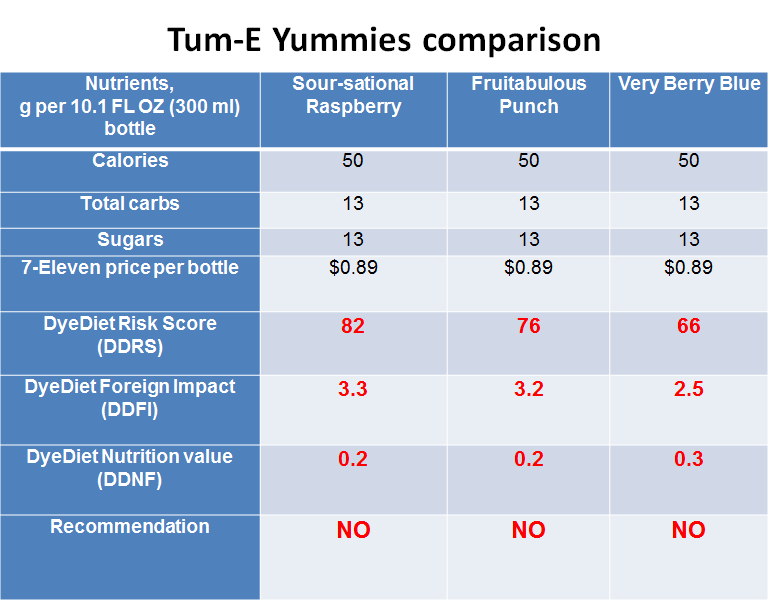 As many times before, a better choice is often waiting for you nearby or on the next aisle. SmartWater and VitaminWater of Glaceau are much healthier alternatives you can buy at a local convenience store. Make your informed healthy choice!
Category: Food Terrorism, Soft drinks