Ruffles, Pringles and Terra chips: Risk and Nutrition
Chips belong to a snack food category which is often considered as a junk food because of generally low nutritional value.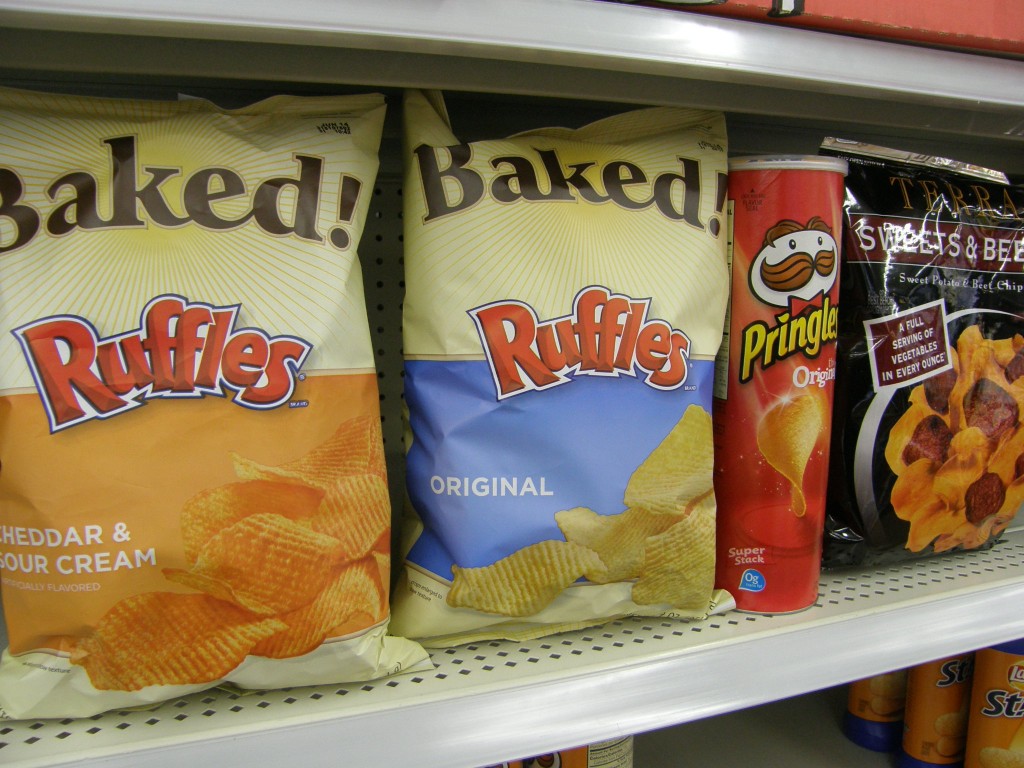 Ruffles Cheddar & Sour Cream Health Risk Score, DDRS ~ 94
Health risks of this Frito-Lay, Inc. product come from 5 foreign additives (red segments, 36), 8 benign (yellow segments, 26) and 13 nutritional additives (green segments, 32). Because of four food dyes and one artificial flavor this product's Foreign Additive Impact, DDFI is 36/32 ~ 1.1 which is pretty high for a potato snack.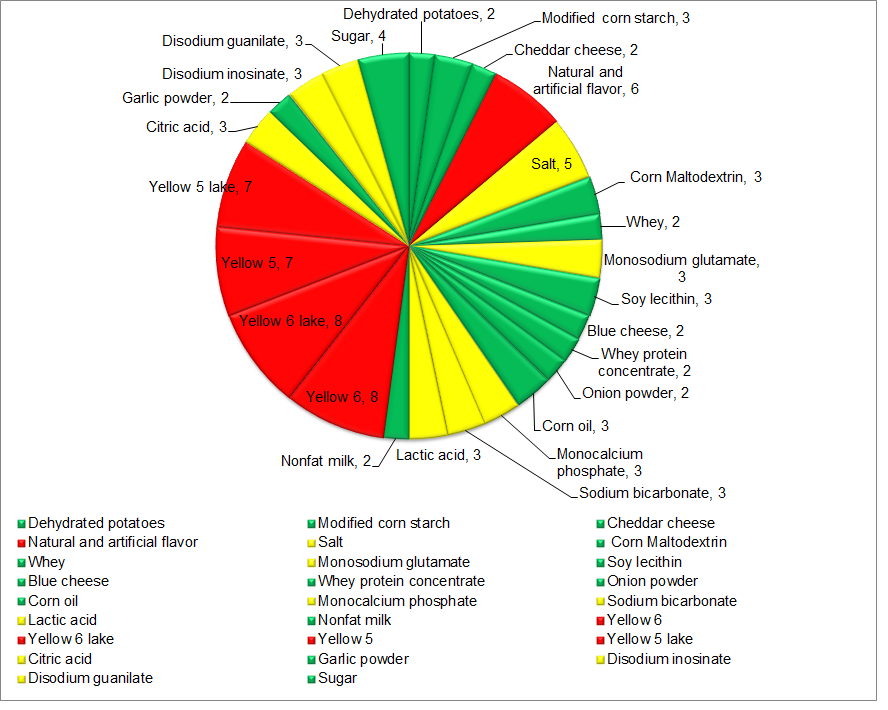 Accordingly, it's nutrition value is therefore very low, DDNF = 32/63 ~ 0.5.
Ruffles Original Health Risk Score, DDRS ~ 29
Original Ruffles is another good illustration of the fact that a safer product, often of the same brand, is waiting for you on the same shelf. No food dyes, no artificial flavors. And low fat! Look at a friendlier image of the green-yellow risk score diagram: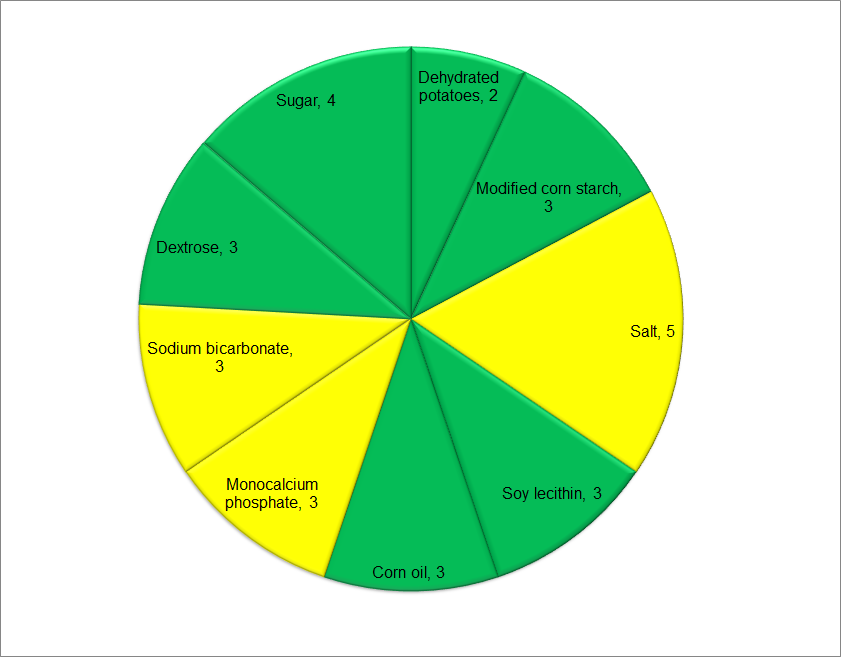 A significantly lower risk comes from 3 benign (yellow, 11), 6 nutritional ingredients (green, 18) and no foreign additives. It's DDFI = 0 and nutrition factor is higher, DDNF ~ 1.6.
Pringles Original Health Risk Score, DDRS ~ 23
Well, this Procter & Gamble's snack is a good source of… fat including some of the saturated one. However do not be afraid the word "fat" too much. No matter how scary it may sound fats still are nutrients. Our body needs them to rebuild millions of cells we lose per second. We make fats "bad" to us by overeating of fat foods. Eating in moderation will prevent you from taking "fat" risks.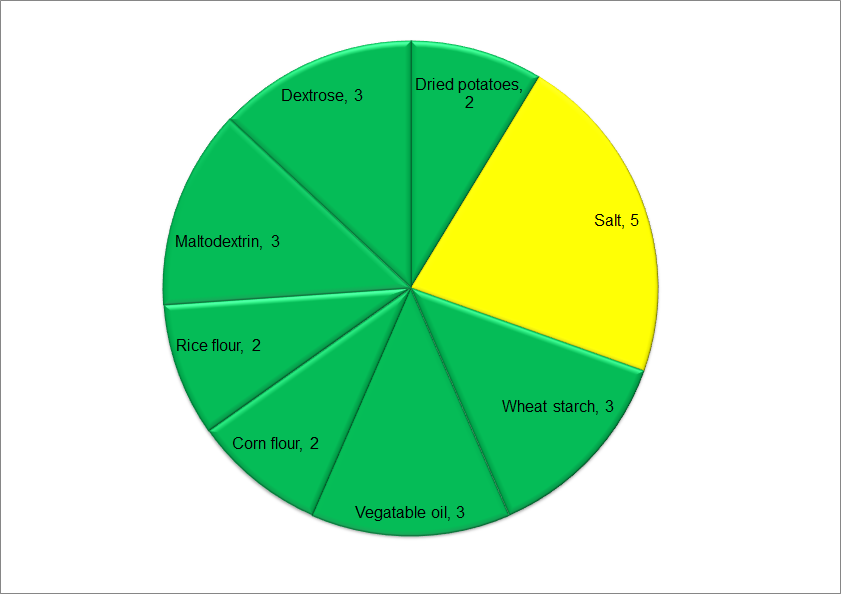 With a table salt as the only benign additive (yellow segment, 5), 7 nutritional ingredients (green, 18), DDFI = 0 and high nutrition factor DDNF = 18/5 ~ 3.6 Pringles potato crisps could win a nutrition championship if not outperformed by Terra Sweets and Beets.
Terra Sweets & Beets Health Risk Score, DDRS ~ 10
Terra Sweets & Beets of Terra Chips comes with sweet potatoes, beets and vegetable oil, not even salt and sugar are added! Consider this: they put 22 more ingredients to make risky Cheddar & Sour Cream Ruffles.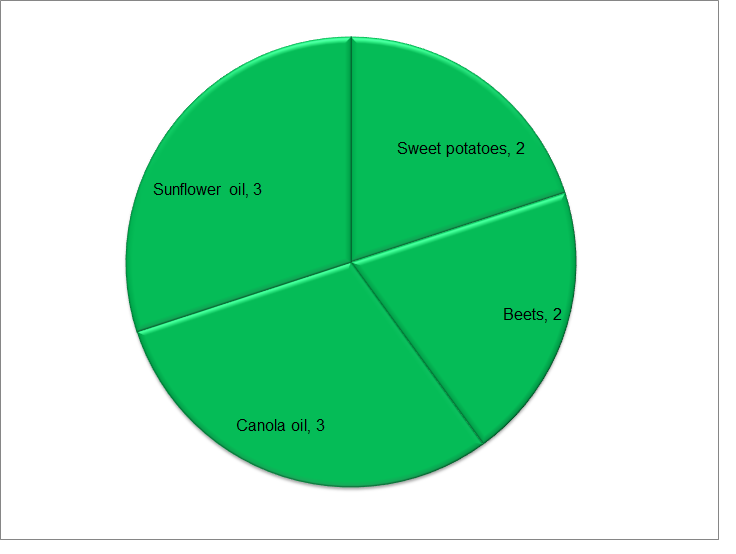 Please do not be misled by the larger size of the segments. Their sizes have nothing to do with the amount of ingredients in the product. Remember, those are the DyeDiet Risk Factors.  So Terra Sweets & Beets is the safest product of the four if consumed in moderation. Just watch your sodium intake!
Potato chips comparison chart
Nutrients, g per 1 OZ (28 g)
Raffles Cheddar & Sour Cream
Raffles Original
Pringles Original
TERRA Sweets & Beets
Calories
120
120
150
160
Total fat
3.5
3
9
10
Saturated fat
0.5
0
2.5
1 g
Total carbs
21
21
15
16
Sugars
2
2
1
8
Walmart price per container
$3.58 a
$3.58 a
$1.50 b
$2.58 c

Dye

Diet Risk Score  (DDRS)

94

29

23

10

Dye

Diet Foreign Impact  (DDFI)

1.1

0

0

0

Dye

Diet Nutrition Factor  (DDNF)

0.5

1.6

3.6

10

Recommendation

No

Yes

Yes

Yes
a) 9 OZ, 255.1 g; b) 6.41 OZ, 182 g; c) 6 OZ, 170 g container.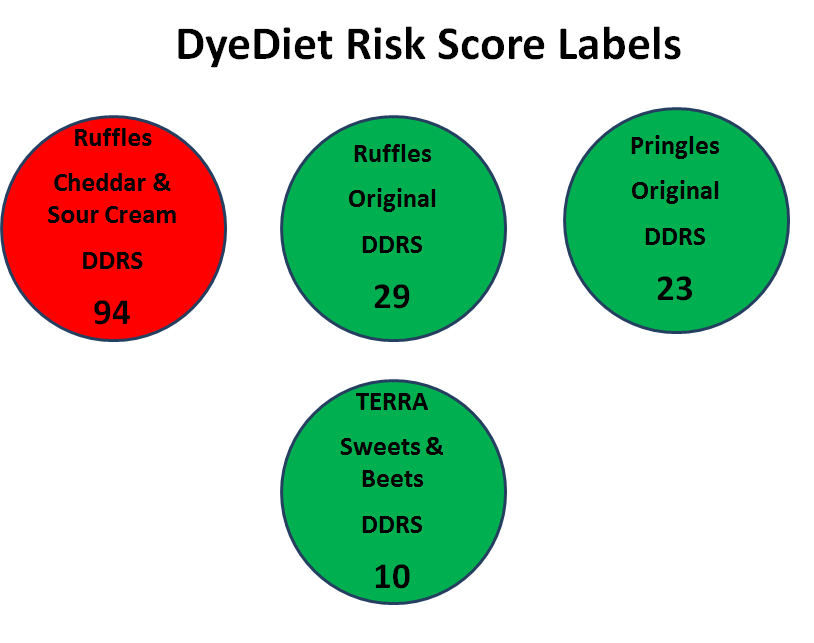 In conclusion, you may have noticed that there is a general trend:
The shorter is a list of ingredients, the safer and more nutritional is the product.
So keep this in mind, make your informed choice and enjoy less risky food!
Category: Chips