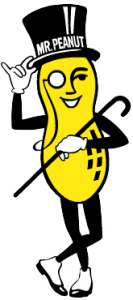 Everybody knows Planters, an American snack food offered to you by Kraft Foods. As many other seemingly healthy products, this one has its own chemical ingredients that have no place in your healthy diet. I personally have no reason to trust the one-eyed mascot – Mr. Peanut and Kraft Foods altogether. Instead, I do read ingredients before letting anything into my blood. Let's see if you are comfortable with what they feed you with a pack of Planters Sweet & Nutty Trail Mix.
Can a nutritious product be health damaging in the same time? Oh, yeah, if some toxic ingredients are added into a composition of nutrients.  Planters Trail Mix, Sweet & Nutty is made of 28 ingredients four of which are potentially dangerous (artificial colors) and one (soy) is a potential GMO threat. It gives you three teaspoons of sugar and 4 g of protein per serving of 3 Tbsp (28 g). Please see the Dye Diet Calculator result on the picture – both Health Risk (0.56) and Nutritional Value (1.05) are moderate. The product is NOT recommended based on its Health Risk but it is acceptable based on the Nutritional Value. A final decision is yours. You can see the actual result by typing in "planters" into the product line.
Fooducate approach assigns lowered grade of Yellow C to the Planters Trail Mix, citing 3 teaspoons of sugar, artificial colorants, and high processing.
CONCLUSION: Based on the two agreeable assessments I personally do not recommend Planters Trail Mix, Sweet & Nutty snack for human consumption, especially for children. Who wants slow developing chronic intoxication?
 A better choice: Trader Joe's
 Replacement recommendations? Here it is, for instance, Trader Joe's Salty, Sweet and Nutty Trek Mix. It contains only 11 ingredients (remember the empirical rule: "The less ingredient number the better!") gives you three times less sugar, 5 g protein and (rejoice!) none of GMO ingredients!
Accordingly, in the Fooducate approach this snack gets descent green B- rating and the Dye Diet Calculator indicates zero Health Risk with whooping Nutritional Value of 4.0 units. Yes, Trader Joe's is the right place to look for human friendly foods.
Indeed, habit of reading labels may help preventing your chronic intoxication by giving the control of your health over into your hands. Stay on the healthy tracks!
Category: American diet, Fruit snacks, Genetically Modified Food (GMO)