Honey is one of the healthiest naturally sweet products known since ancient times of at least 8000 years ago for its joyful taste, aroma, and health benefits, right? To make one pound of honey, the bees in the colony must visit 2 million flowers and fly over 55,000 miles; it requires the lifetime work of approximately 768 bees. According to the FDA, honey bees made more than 148 million pounds of honey last year. With the cost of honey at a record high at about $1.73 per pound, that's a value of over $256 million. It looks seemingly straightforward how everybody can benefit from this gift of our Mother Nature: Just carefully take out excess of the natural honey from beehive and sell it as is. No, you are wrong! In the present global pseudo economy driven by the principle of profit maximization everything becomes increasingly lifeless absurdity where a healthy society is not the goal.
Where your honey comes from?
United States consume more honey than any other country in the world: We consume about 400 million pounds of honey a year. Almost half of that amount is used in production cereals, bread, cookies, bars, and all kinds of other processed food. Some 60 to 70 percent of the honey is imported from Argentina, Mexico, Brazil, Canada, and other trading partners. After U.S. beekeepers accused Chinese companies of selling their honey at artificially low prices, in 2001 the U.S. government imposed high import duties that tripled the price of Chinese honey. Since then, little honey enters from China legally. See much more many numbers on this Honey Fact Sheet (PDF file).
Most of the honey is fake
According to testing done exclusively for Food Safety News, more than three-fourths of the honey sold in U.S. grocery stores (some 76%) isn't exactly what the bees produce. The report shows that the pollen frequently has been filtered out of products labeled "honey" by means of ultrafiltration. Pollen, the microscopic particles often called "bee bread," is the bees' main source of protein. Pollen also provides the bees with fatty acids, minerals, and vitamins. The protein in pollen is necessary for hive growth and young bee development. Not only the removal of pollen would make the nectar flunk the quality standards set by most of the world's food safety agencies, but it would make it impossible to determine an origin of the product.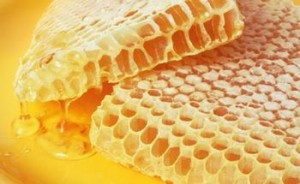 The story started when Texas A&M University Professor Vaughn Bryant concluded that buyers of honey might not be getting what they pay for. The anthropology professor and a melissopalynologist (someone who studies the pollen in honey) have had tested honey samples from grocery and big box stores, farmers markets, and natural food and drug stores around the country and found some 76 percent of the honey being sold has all of the pollen filtered out, according to Food Safety News, which sponsored the study. The FDA doesn't require pollen in honey sold in the U.S., Bryant says, so importers are free to remove it. "This makes it possible for some companies to buy cheap honey with no pollen and there are no clues to know where it comes from," he asserts.
Last April PR Newswire reported that three domestic honey producers – Adee Honey Farms, Bill Rhodes Honey Company, LLC, and Hackenberg Apiaries – filed a class action complaint this week in the U.S. District Court for the Northern District of Illinois. The Adee complaint follows on the nearly five-year "Honeygate" investigation led by the U.S. Immigration and Customs Enforcement investigative arm of the U.S. Department of Homeland Security and the investigation of the honey producers' own lawyers. The Honeygate investigation focused on a massive conspiracy through which participants transshipped Chinese honey through other countries, fraudulently disguised the transshipped honey's Chinese origin, and then illegally imported that honey into the United States in order to avoid paying U.S. antidumping duties.  The United States Department of Commerce began imposing antidumping duties against Chinese honey after it had determined that honey imported from China was being sold at less than fair market value and injuring the domestic honey industry. Please read also the detailed story: The Honey Launderers: Uncovering the Largest Food Fraud in U.S. History reported by Bloomberg Businessweek on September 19, 2013.
How to buy real honey?
Well, the best way to pay for a genuine bee-produced delicacy is to buy it directly from a beekeeper. The raw honey should not look perfectly clear; it should look slightly turbid due to presence of pollen which, by the way, may facilitate crystallization of glucose especially if honey kept in a colder room. Nothing is wrong with a crystallized honey: it is its natural state after being kept for a while.
If necessary, the crystallized honey can be melted by careful warming to some 40oC (110 F) for a few hours but beware, some delicate vital components of raw honey such as enzymes (a kind of proteins, diastase, for instance) may be reduced or destroyed in the process.
If you are going to buy packaged honey from big retailers like Costco or other groceries, look for a raw unfiltered honey. Some descent sorts of honey may be source-certified what is indicated by True Source Honey stamp on the label. Real honey often produces a pleasant tender aroma and unforgettable distinct flavor, not just mere overwhelming sweetness typical for forged products. Not only some fake honeys are ultrafiltered, watered and diluted with corn syrup or HFCS, they may contain harmful artificial sweeteners. From the other hand, beware of possible side effects of consuming raw honey.
So, buy real honey at your local Farmers Markets, support your health and local beekeepers!
Category: American diet, Healthy diet