I have recently come across with Clamato – tomato cocktail from concentrate, the original version. The colorful label depicting natural tomato, lime and celery made me suspicious about the content and prompted me to find out what exactly the cocktail is and whether the label is misleading consumers into believe that the cocktail is a healthy tomato-based drink. Let's see how Clamato Original is rated against V8 Original juice in three different approaches.
Clamato, the Original, 34% juice

V8 100% vegetable juice

Water, tomato concentrate, HFCS + clam broth + MSG + Red 40

Water, tomato concentrate + vegetable concentrates + flavoring

CONTAINS:

33% sodium and

1 g protein; fiber

CONTAINS:

9 – 20% potassium

14% sodium and

1 g protein; fiber

DyeDiet: HR = 0.48; NV = 0.66

red

DyeDiet: HR = 0.00; NV = 2.33

green

Fooducate:    

Yellow C-

Fooducate:    

Green B

ShopWell:      

Red 35

ShopWell:     

Green 86
As you can see from the chart, this time rating results are more or less uniform. All three approaches give green approval to V8 Original and Clamato Original cocktail is not rated high. The Dye Diet Calculator indicates moderate Health Risk = 0.48 and low Nutritional Value = 0.66 red. Both DyeDiet and ShopWell results are clear disapproval – red colors and low nutritional values. Result from Foodicate, as it often happened before, raises eyebrows again: Despite three red warnings and the indication about added MSG, Clamato gets descent Yellow C- rating.
Anyway, the net result is this. Clamato Original tomato cocktail is water with some 30% tomato concentrate, sweetened with HFCS, artificially flavored with MSG and artificially colored with toxic azo dye Red 40 (read PDF file Food Dyes: A Rainbow of Risks). Indeed, why do you need adding artificial dyes if tomatoes are real? Dried clam broth is added to bring more flavors and some protein to otherwise watery liquid. So, Clamato has very little to do with real tomato. That's all.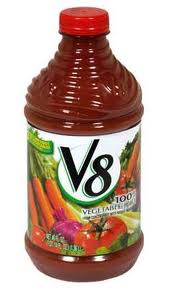 Although not all V8 drinks are equally healthy, certainly, V8 Original 100% Vegetable Juice is an excellent choice bringing you some protein and 10 times more potassium than Gatorade. But nothing can compete with the fresh homegrown tomatoes.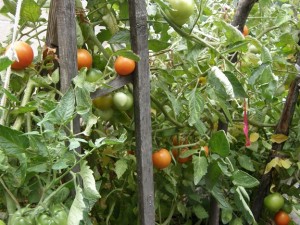 It is easy; you can plant them on your backyard as we do and enjoy amazing health benefits of real tomatoes for months! Again, in short: Clamato is just a shame.
Category: American diet, Juices, Soft drinks