Isn't it a good idea to add some spicy flavor to soup or pasta? Yes, but I would not recommend to do so with Knorr Tomato Bouillon with Chicken Flavor cubes produced by Unilever in Mexico for American consumers. Why? For the two reasons:
Is this really "a quick way to enhance your recipes with the flavors of chicken, onion, parsley and spices?" Also with MSG, hydrogenated beef fat (a source of trans fat), 6 mg of Yellow 6 and 4 mg of Red 40 added to your meal. Although tomato powder and turmeric are listed among the ingredients, their ridiculous amounts are obviously not enough to give natural color to your meal. Therefore azo dyes do the artificial coloring job.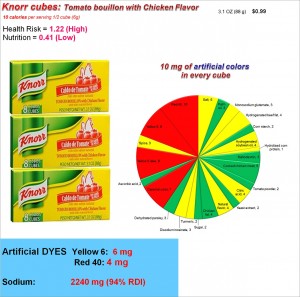 The Dye Diet Calculator indicates that Knorr Tomato Bouillon with Chicken Flavor cubes come with high Health Risk of 1.22 and low nutritional value of 0.41.
From the other hand, on the United Kingdom product's website it says: "Knorr stock cubes are made with carefully selected herbs and spices to enhance the natural flavor of your fresh ingredients. They are the secret seasoning ingredient that Michelin starred chef Marco Pierre White uses in the kitchen." For British consumers the cubes come with no artificial preservatives, no MSG, no artificial colors.
Again, as for many other products, American version is loaded with unwilling chemicals whereas European version of the product is "clean." Beware of foods imported from China too: As Natural News has reported, food from China is frequently found to contain alarming levels of heavy metals (arsenic, cadmium, lead, mercury) and other contaminants. Not everything from China is bad, but in their own lab tests Natural News discovered how frequently products from China are contaminated with metals, chemical solvents and pesticide residues.
As always, best solution comes from nature – I cook "cage-free chicken," add my own tomatoes grown on my backyard, add some onion, some brown rice, potato, turmeric and garlic salt. The real tomato chicken bouillon is way healthier than fake stuff from Knorr.
Category: American diet, Dye Diet Calculator