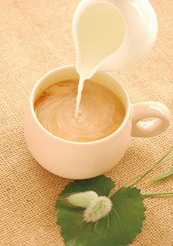 Milk tea is a beverage obtained by mixing green or black tea with milk. Therefore milk tea offers a combination of beneficial health effects that come with catechin antioxidants and L-theanine of tea and protein and calcium of milk if you are not lactose intolerant. The addition of milk reduces astringent and bitter flavor of tea, partly because the proteins of milk bind to some of the bitter catechins. Milk tea can be prepared in a variety of ways so you may experiment and choose the one you like better. A few popular and simple versions are listed below.
This one is really milky tea. To one quart (approximately one liter) of hot milk 70 – 80°C add 3 – 4 teaspoons of dry tea. Allow to brew for 15-20 min then drain and enjoy the drink
Add small amount of milk (cold or warm) to a glass of freshly brewing tea
Pour boiling water into a mug with a spoonful of dry tea. Allow to brew for 4 – 5 min then add some milk
For British style milk tea, pour 1/3 of warm milk followed by 2/3 of strong brewed tea into preheated mugs. Here is the detailed recipe: The kettle, with fresh water, is brought to a rolling boil. Enough boiling water is swirled around the teapot to warm it and then poured out. Add loose tea leaves, (usually black tea) or tea bags, always added before the boiled water. Fresh boiling water is poured over the tea in the pot and allowed to brew for 2 to 5 minutes while a tea cosy may be placed on the pot to keep the tea warm. If the tea is allowed to brew for too long, for example, more than 10 minutes, it will become "over-steeped", or "stewed", resulting in a very bitter, astringent taste. Milk may be added to the tea cup, the host asking the guest if milk is wanted, although milk may alternatively be added after the tea is poured. More English Milk Tea Recipes.
In a traditional Mongolian beverage suutei tsai, the ingredients are water, milk, tea and salt. It is superior for a dry hot summer; helps to replenish sodium. To effectively refresh your body with milk tea it is often recommended to use green tea. Alternatively, you can use black tea or even make a blend of black and green teas to benefit from positive health effects of the both.
Milk tea for weight loss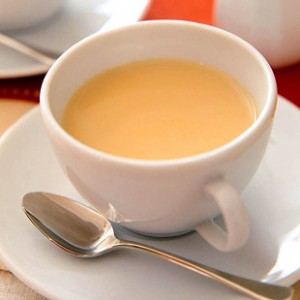 Five to six cups of milk tea containing small amount of low-fat or fat-free milk during the day, one or two days a week, will help you achieving your weight loss goals. To adjust the flavor you can vary the milk and fat content without affecting the process of losing weight too much. Some people prefer a little more milk while the others enjoy the bitterness of tea. Enjoy it hot or cold and don't forget to cut your food intake.
Where the power of this simple recipe a mixture of milk and tea comes from? Tea catechins are known to produce anti-inflammatory, neuroprotective effects, help regulate food intake, and have an affinity for cannabinoid receptors that may reduce pain, nausea and anxiety. A cup of skim milk contains more calcium than one cup of whole milk. Calcium is a mineral found mainly in bones and teeth but is also needed by the body for muscle contraction and relaxation, nervous system function, blood coagulation, and to help maintain a regular heartbeat. Milk is absorbed relatively slowly so it mitigates the impact of caffeine and other components of tea on stomach walls.
Overall, milk tea stimulates the flow of bile, normalizes the urinary system, helps resisting stress, has a beneficial effect on the heart and also acts as a mild laxative and diuretic. With this regard, it is recommended to have enough of pure water in between your milk tea sessions to maintain proper hydration.
Just a couple of glasses of a milk tea during the day will help you to regulate the functioning of many systems of your body and keep you in perfect physical and mental shape.
Category: Healthy diet, RECIPES, Soft drinks, Weight loss