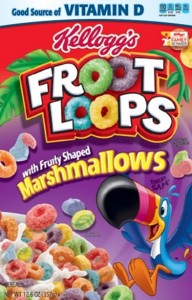 This is a reprint of an important article by Dr. Alan Greene calling for signing the petition asking Kellogg's to eliminate artificial food dyes from fruit snacks intended for American children. Indeed, for instance, Kellogg's Fruit Loops contain four artificial colorants and BHT preservative. Dr. Alan Greene is the Founder of DrGreene.com, the KidsGlyphs iPhone app, and serves on the board of Healthy Child Healthy World. Recent similar petition demanding Kraft to stop using dangerous food dyes in our Mac & Cheese snacks was signed by nearly 290,000 supporters. Please read the below and support Kellogg's petition for the sake of American children.
Ending the use of food dyes is a position I've long supported. That's why I'm thrilled to learn that over 208,000 individuals have told Kellogg's to take artificial food dyes out of fruit snacks. Moms Latham Thomas and Erica Reid paired up with Healthy Child Healthy World to tell make it clear that food dyes weren't welcome in fruit snacks. Parents and pediatricians would have an easier time helping kids make healthy food choices if food dyes were eliminated from foods or labeled, especially foods targeted at kids.
In 2008, the Center for Science in the Public Interest (CSPI) petitioned the FDA to ban the use of Yellow 5 and other artificial food dyes, and to require a label on foods containing artificial dyes in the interim. To support the CSPI petition, I joined a number of distinguished physicians and research scientists to send a letter to the FDA urging them to begin proceedings to end the use of artificial food dyes, which mounting evidence suggests are not safe for our children. We also wrote several members of Congress urging them to investigate this matter and to take action to protect our children from unnecessary harm.
But we didn't get the results we hoped for. That's why I am supporting the food dye petition to Kellogg's, in the hopes that market pressure can help break the status quo of thoughtlessly keeping food dyes in foods.
There is no need for these chemical dyes because excellent natural food colorings exist, and are often already in use in the same products when they are sold in England. In the US, Whole Foods Markets and Trader Joe's have taken a leadership role and already do not sell foods that contain artificial dyes.
Science makes it clear that food dyes are a health risk for children. Researchers at the University of Southampton studied over 1800 3-year-old children, some with and some without ADHD, some with and some without allergies. After initial behavioral testing, all of the children got one week of a diet without any artificial food colorings and without any chemical preservatives.
The children's behavior measurably improved during this week. But was this from the extra attention, from eating more fruits and vegetables, or from the absence of the preservatives and artificial colors? To answer this question, the researchers continued the diet, but gave the children disguised capsules containing either a mixture of artificial colorings, or the preservative benzoate, or nothing – each for a week. The results were published in the June 2004 Archives of Diseases in Childhood. The weeks that children got either the hidden colors or the hidden chemicals, their behavior was substantially worse. This held true whether or not they had been diagnosed with hyperactivity, and whether or not they had tested positive for allergies – good news for parents of 3 year olds everywhere!
Removing artificial colors and preservatives from the diet was dramatically effective at reducing hyperactivity – somewhere between the effectiveness of clonidine and Ritalin, two common ADHD drugs. How much better to support children's mood and behavior with healthy food, than to just turn to drugs! Some children may still need medicine, but with a healthy diet, we may be able to use lower doses. And it seems to me that this diet may be better for all children, whether or not they have behavior problems.
Companies that do business both here and in England have been able to adjust, and have taken voluntary action ahead of legislation. Mars has removed some or all of the artificial dyes from M&M's, Skittles, and Starbursts – but not for American children. Kraft has removed artificial colors from Lunchables – but not for American children. Kellogg's has removed the dyes from their fruit snacks, cereal and Pop-Tarts – but not for American children. A hint, McDonald's uses caramel and strawberries and beet juice to color shakes and syrups in England; they use Yellow 5, Yellow 6, and Red 40 here.
Together we can put artificial dyes in time out! Please take a moment to sign the petition asking Kellogg's to eliminate artificial food dyes from fruit snacks.
Do you try to feed your children a food dye-free diet? 
Category: Food Dyes Exposure, Fruit snacks