This is very easy, takes about 10 minutes. Go to whole foods, natural foods or any Asian store.
Get there 6 oz rice noodles, tamari sauce, tamarind paste (still good without the paste but that is what makes it authentic); get some cilantro, 2 garlic cloves (chopped), broccoli, and 2 tbsp vegetable oil.
Drop the rice noodles in boiling water and boil till soft and flexible (about 5 minutes);
Drain the noodles and rinse with cold water to stop from cooking;
Heat the oil in a pan or a wok;
Fry garlic till light brown, drop in broccoli wait till it cooks through;
Finally drop in the noodles, the tamari sauce and tamarind paste and mix well.
See what a nice food you just created almost in no time and with no efforts: vegetarian Pad Thai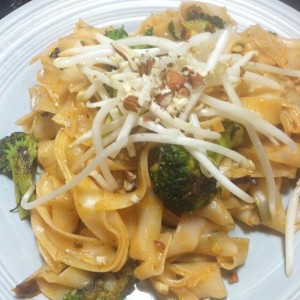 Now enjoy your delicious and healthy homemade Pad Thai meal!
Category: Healthy diet, RECIPES