In the past, before I started paying attention to what is inside, I used to like M & Ms and drink Dr Pepper. But then I have learned that far not everything you see in your grocery store is safe to eat. As a professional chemist, I like manipulating chemicals in the lab, not eating them. I have never seen anywhere else as many laboratory and industrial chemicals added to food as in the United States. This is wrong and very dangerous application of chemistry which we will bitterly regret before too long. Here is an example of Valentine's Day candy decorated by Hershey's and obviously intended to symbolize love but bringing unfriendly chemicals instead.
DyeDiet Doesn't Buy It!
Hershey's Candy Coated Milk Chocolate: Risk, Nutrition and Dye Content
Due to some chocolate and milk presence, you will take only moderate health risk of DDFI = 1.16 but nutritional value of DDNF = 0.69 you receive is low too (below 1.0). You may have fun calculating the numbers yourself by playing with a trial version of the Dye Diet Calculator. Simply type-in a product name in full, introduce the ingredients and then hit "Calculate!" to see and save the result.
Food additives to avoid:
Bottom line. As you can see, Hershey's Candy Coated Milk Chocolate is a composition of 29/43 x 100 ~ 70% sugar by WEIGHT plus some milk and chocolate modified with a bunch of emulsifiers, starches, waxes and artificial flavors. The composition is coated with shellac (confectioner's or resinous glaze) and artificially colored with azo dyes. Seven out of the total 17 ingredients are non- (yellow segments) and anti-nutrients (red segments). The candy which is intended helping you to express your love, may, in fact, bring harm to your loved one. Who would be pleased with this "artificial love"? But here is a solution: Look carefully around or deeper in the shelf and there is a good chance that you dig out Ritter Sport Milk or Dark Chocolate with Hazelnuts and, guess what?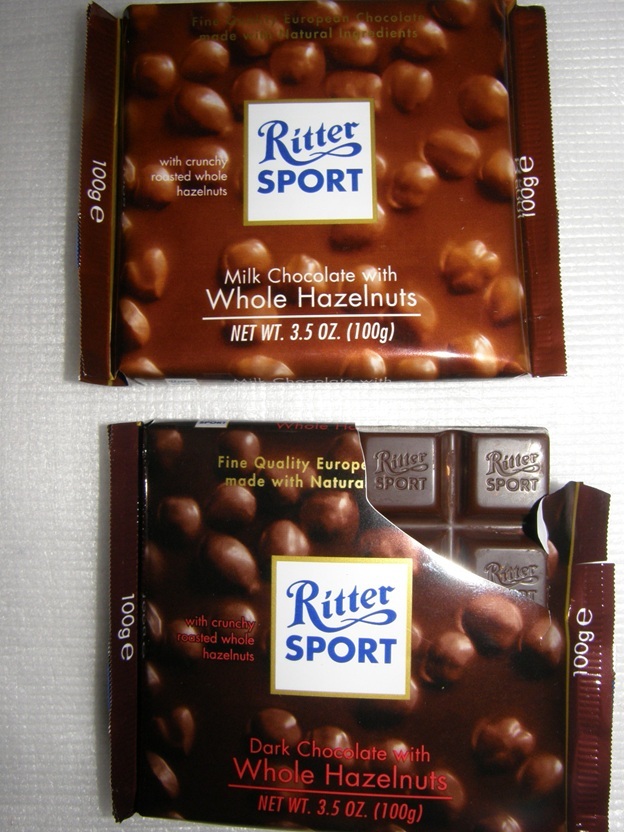 This, made in Germany highest quality delicious chocolate for the same price per weight ($2.50/100 g), comes with vanillin flavor as the only non-nutritional food additive and almost half the amount (40%) of sugar! Enjoy your lovely Valentine's Day!
Category: Candy, Food Dyes Exposure