America has been on increasing nutritional deficiency for some four decades. This can be the core reason for present spiraling national health crisis. From one side, you find sugar in every kind of foods, drinks, seasonings, sauces, etc. From another, artificial sweeteners are offered as a false solution for those who are hooked up on sweets. But this is NOT all. America is the nation which eats so many chemicals as nowhere else in the world. Look at this Great Value Cherry Limeade Drink Mix: This is a handful of chemicals; nothing more than that! There is no cherry and no lime… But it is so popular!
DyeDiet Doesn't Buy It!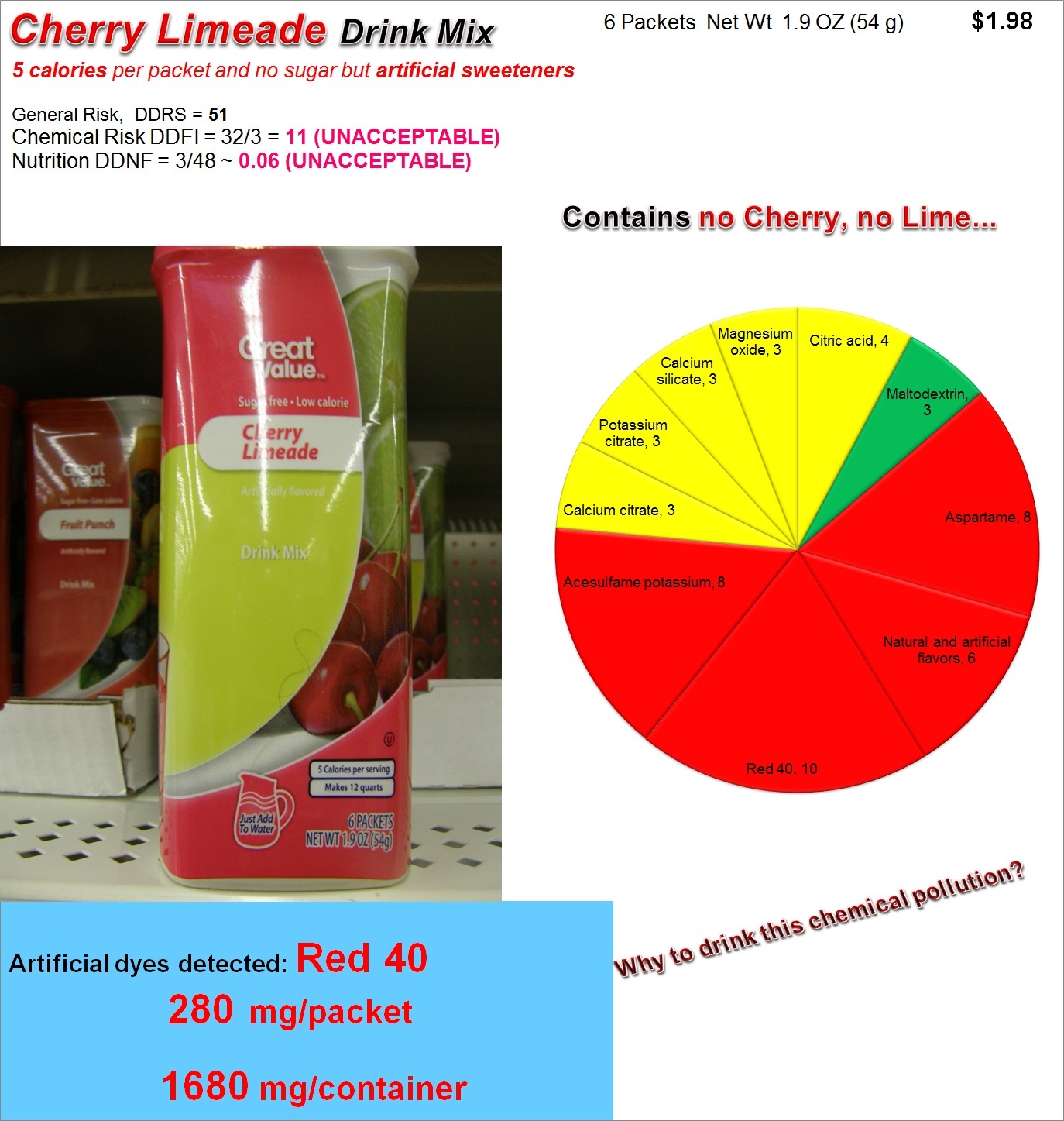 Great Value Cherry Limeade Drink Mix: Risk, Nutrition and Dye Content
Why ridiculous Allergy Warning on the container: "May contain traces of milk…" says nothing about a bunch of CHEMICALS??
 Food additives to avoid:
Red 40  is an artificial red food color. We have detected a whooping amount of

280 mg

of Red 40 in every packet of the Cherry Limeade Drink Mix totaling

1680 mg

in the whole container of six packets. Because every packet is intended to be dissolved in 2 quarts of water, the resulting concentration of the dye will be

140 mg/L

which is rather common for dye content in American soft drinks (See: How Much Dyes Do We Drink?). A recent study found increased levels of hyperactivity and attention deficit hyperactivity disorder (ADHD) in children consuming Red 40 and other chemicals. Based on the study, the UK food agency advises that cutting certain artificial colors (e.g. Red 40, Yellow 5, Yellow 6, etc.) from hyperactive children's diets might have some beneficial effects. In Europe,

Red 40 is not recommended for consumption by children

. It is banned

in Denmark, Belgium, France and Switzerland

, and was also banned in Sweden until the country joined the European Union in 1994
Aspartame, an artificial sweetener with highly controversial history. It was demonstrated to cause brain tumor in laboratory animals.
Acesulfame potassium, is another artificial sweetener added to mitigate unnatural aftertaste of aspartame.

Chemical color of Cherry Limeade: This is Red 40 azo dye…
Other food additives:
Although some of these industrial chemicals occur in nature it is very unnatural for a human to eat these pure chemicals. Great Value (WHAT A SARCASM!!) Cherry Limeade Drink Mix: gives you UNACCEPTABLY high health risk of DDFI = 32/3 = 11 coming with the chemicals and essentially ZERO nutritional value: DDNF = 3/48 ~ 0.06.  Why to drink this chemical pollution, why?
 Why feeding people with counterfeit foods is not a crime?
Why counterfeiting money IS a crime and counterfeiting food is NOT? Oh, maybe this is because counterfeit money hurt Wall Street and counterfeit foods hurt Main Street? Or, if Federal Reserve counterfeits money (also read this: Federal Reserve: Counterfeiting Machine) and this is NOT a crime, then perhaps that is why COUNTERFEITING FOOD is NOT a crime either! But this is what destroys the Nation's health: Imagine, a mom buying this ridiculous mixture of chemicals for her lovely children hoping to make a fruity beverage for them… (Please watch this VIDEO: Food Dyes and Behavior: A Different View). Why to sell chemicals to ignorant population under pretense of fruity drinks is not a crime? Is this just because they are not dying a minute after? Is slow chronic poisoning allowed in the "free country"? (Read: A fast-food, sugar fiasco).
Bottom line. Great Value Cherry Limeade Drink Mix is a terrible chemical hazard which no one should sell or buy. Not to mention, it should never be used to make a "drink" for children. Consider Sparkling Concord Grape instead for the same price, by the way!
Category: Food Dyes Exposure, Food Terrorism, Soft drinks