Sadly, in the strictly profit-driven economy morality is voluntary. Yes, morality is a free choice which not every manufacturer has to follow. For this reason we see this pathetic bright-red Sunkist Strawberry soda containing no strawberry being sold in the market. So what is in it? Well, there is nothing exciting to say the list. All you have is water sweetened with high fructose corn syrup (HFCS) colored with artificial color Red 40 and flavored with artificial flavors. Frankly saying, this is a swill for complete ignorant and desperate slaves. I can imagine how the manufacturer, Dr Pepper Snapple Group, is quietly mocking on those who keep buying the stuff. There is no way that Dr Pepper Snapple people are proud of Sunkist. But they certainly can be proud of the profit. So, if you do pay respect to yourself, please do not touch Sunkist soda… Below are more reasons why.
DyeDiet Doesn't Buy It!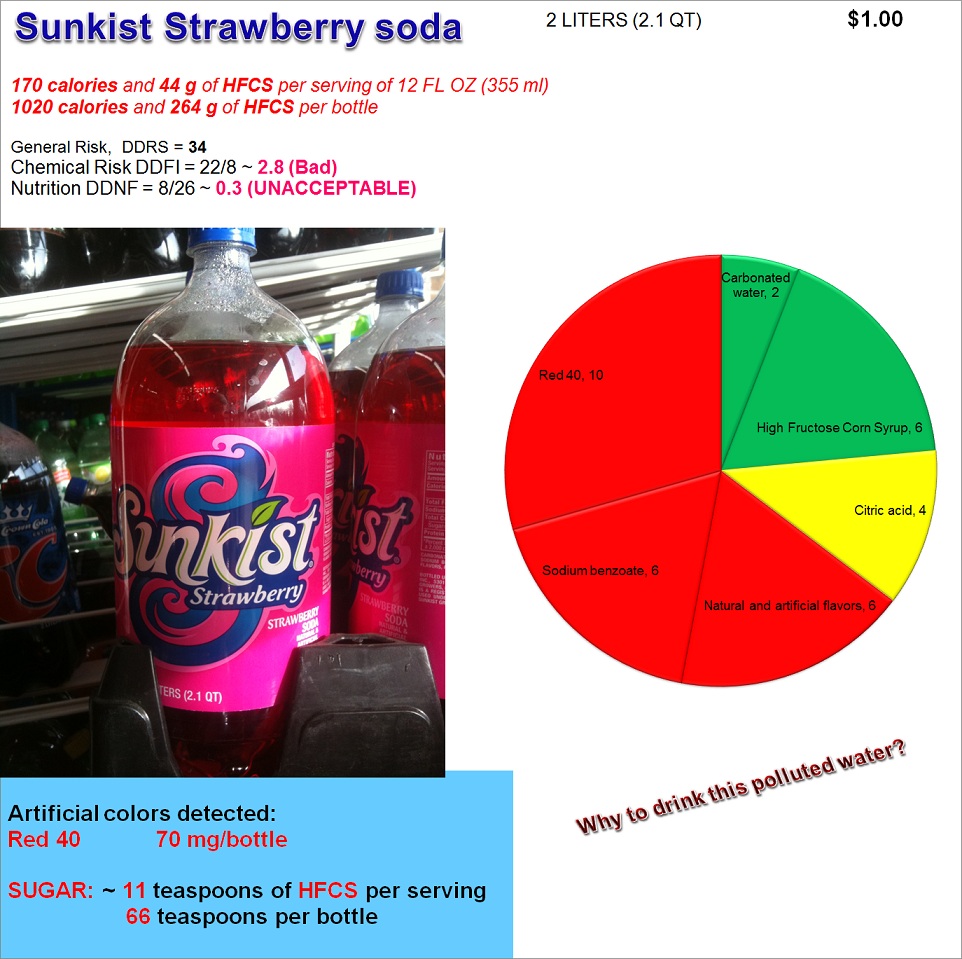 Sunkist Strawberry soda: Risk, Nutrition and Dye Content
It is not a big surprise that the DyeDiet diagram is more than a half-red. This means that you waste your money, you waste your health and your time when you buy Sunkist Strawberry soda which gives you high chemical risk of DDFI = 22/8 ~ 2.8 and essentially no nutritional compensation: DDNF = 8/26 ~ 0.3.  Why to drink this chemically polluted water? I do not drink it. And you try hard to give a clear answer to yourself if you do.
Bottom line. Sunkist Strawberry soda is another artificially colored and flavored water which contains no strawberry or anything else that could be of use for the human's body. What you get is 66 teaspoons of sugar contaminated with a few chemicals. Honestly, plain tap water would be less damaging for your health than Sunkist Strawberry swill. Drink pure plain water. Hydrate Yourself Straight! Have a Merry Christmas!
Category: Food Dyes Exposure, Food Terrorism, Soft drinks