Yes, you can run a profitable business in food industry by making nutritious products which do not contain any suspicious food additives. Blue Bunny's Naturally Frozen Yogurt is a good illustration of this statement. Look at the DyeDiet risk and nutrition diagram for the yogurt: it's nicely green and contains no red segments:
DyeDiet RECOMMENDED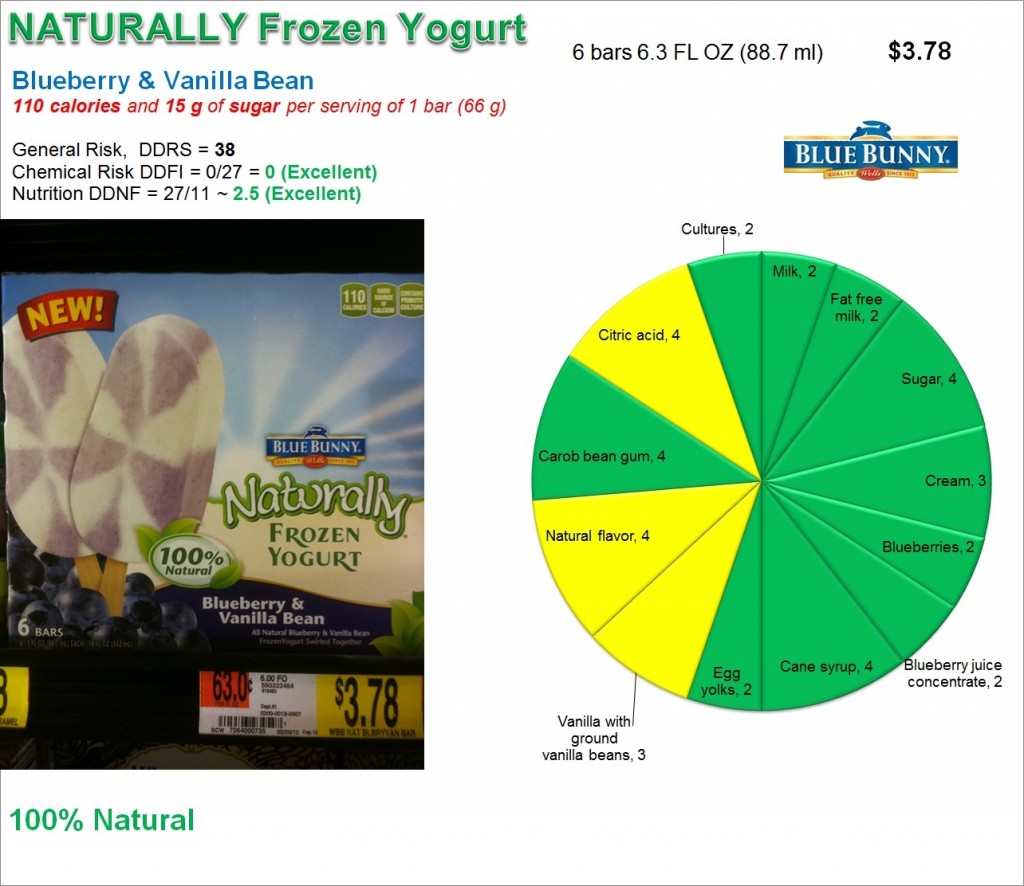 Accordingly, there is NO chemical risk associated with having Blue Bunny Naturally Frozen Yogurt eaten in moderation: DDFI = 0/27 = 0 and you will get descent nutritional load of DDNF = 27/11 ~ 2.5.  Thankfully, taking into account a new (stupid!) trend, you will get no vitamins B this time! Yes, you will get them anyway from eating cereals, bleached flour breads and drinking energy and zero calorie beverages.
The company's website openly provides you with the Nutrition Guide where you can find caloric, sugar, fat content and all the ingredients for your product. However this particular version, Blueberry & Vanilla Bean, is not yet listed there probably because this is a brand new product. You can read on the box: "Blue Bunny Naturally treats provide a balance of taste and nutrition to support a healthier lifestyle. 100% natural ingredients for a naturally, pure indulgent taste you can feel good about eating anytime. Our products are made with only the finest, quality ingredients that you can trust to be 100% natural."  Well, I have eaten three packages of the Naturally Frozen Yogurt (NOTE: not at once!) and, let me tell you, it was delicious experience! Again, look at the "green" diagram above and you will have to agree that the product is healthy.
Bottom line. So, yes, you can trust the Blue Bunny Naturally Frozen Yogurt! It is tasty, nutritious and, by the way, contains not too much sugar per every bar: ~ 4 teaspoons only! A small bottle of Coca-Cola offers 14 teaspoons of sugar! Simply do not indulge yourself or your children too often. Enjoy your sweet dreams!
Category: DyeDiet RECOMMENDED, Frozen bars, Ice cream