In my opinion, Lofthouse Cookies stacked at every Walmart store belong to the "food terrorism" category in America. Different only in colors of icing they are always made of dozens of non-nutritional and toxic ingredients. Make no mistake, your Oreo cookie is also highly processed composition of refined macronutrients  and food additives, but at least there are no toxic chemicals added. In today's American food market, this is enough to be scored as a positive example. Look at the risk diagram: No red segments! So, I can carefully recommend Oreo cookies as a treat.
DyeDiet RECOMMENDED

Oreo Cookies: Risk and Nutrition
Accordingly, you will take ZERO chemical risk, DDFI = 0/25 = 0 and good nutritional value of DDNF = 25/15 ~ 1.7. Of course, a mixture of stripped flour, refined sugar, modified starch and some cellulose for fiber cannot deliver as adequate nutritional value as a nature-balanced whole grain product does, even if pressed into the decorated disks. Please also don't be misled by the picture on the label: there is no milk or a dairy ingredient in the cookie. But on the bright side, you get some anti-oxidants from cocoa and chocolate. A serving of 3 cookies (34 g) contain:
25 g carbohydrates (starch and 14 g sugar and HFCS);
7 g fat;
1 g protein and
1 g fiber.
You often hear from everywhere: HFCS is bad, sugar is toxic (video), and fat is bad and so on. So what the hell is good then? How about toxicity of proteins and vitamin poisoning? Let me tell you, they are bad for you too if YOU have no proper control over your eating habits and tend to overeat all the time. Not to worry; keep in mind the fundamental rule of toxicology: absolutely EVERYTHING is toxic if eaten too much. So here is a secret diet tool I want to freely share with you:
Eat Less!
A low sugar alternative. Two servings of 6 pieces (32 g) of Back to Nature Organic Stoneground Wheat Crackers will take $2.98 from you and will give you:
140 calories
22 g carbohydrates (from flour; only  2 g of sugar);
5 g fat;
2 g protein and
less than 1 g fiber.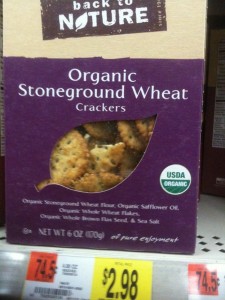 It is up to you, of course, what kind of cookies you do prefer but please note, the greener the DyeDiet diagram the safer is the product for you to eat. Good shopping and healthy eating!
Category: Baked goods, Cookies, DyeDiet RECOMMENDED