According to the Wikipedia: "Dr Thunder is a brand of soft drink produced for Wal-Mart stores. Dr Thunder was originally called "Southern Lightning," but the name was changed to reflect its similarities to Dr Pepper." Recently, Pepsi and Coca-Cola agreed to remove alleged carcinogen from their caramel coloring.

Yeah… This is just another your family "doctor" from Walmart "clinic." Happy you! To better see what he is, imagine a doctor with huge 2 L syringe filled up with a solution of phosphoric acid, 230 g of high fructose corn syrup (HFCS, watch video), 110 mg of artificial colorant Red 40 (read PDF document Food Dyes: A Rainbow of Risks, p. 29) and few other chemicals including unspecified amount of caffeine. Ready for injection? Would you turn your back to the damn "doctor" for only $0.84? I wouldn't do this. Here is why.
DyeDiet Doesn't Buy It!
Dr Thunder cherry: Risk, Nutrition and Dye Content
The injection consists of 5 foreign food additives (red segments), 3 benign additives (yellow segments) and only 2 nutrients (green segments). By drinking this stuff you allow half-pound of sugar and all those chemicals into your blood.

Listen to your body: billions of the living cells of your Kingdom beg their King on their knees not to flood them with this pollution. If you do it anyway, then do NOT expect your Kingdom to stay in peace for too long before the rebellion. Another previously reviewed "doctor," Dr Pepper cherry, gives you the same crap with a little lower Red 40 content (50 mg/L) and 65 mg of caffeine per 20 FL OZ bottle. Looks like Coca-Cola cherry is the least hostile among these fake cherry liquids. It doesn't contain Red 40 and gives you less caffeine, 57 mg per 20 FL OZ bottle.
Please keep in mind, that the diet version of Dr Thunder is no better because instead of sugar you will get an untold dosage of Aspartame, an artificial sweetener with possible health damaging long-term effects.
Bottom line. Why to take unnecessary risks with the concoctions from self-proclaimed "doctors" who doesn't give a damn about you and your family? Indeed, you will take unacceptable chemical risk  of DDFI = 36/8 ~ 4.5 with nothing in return: it comes with essentially zero nutritional value, DDNF = 8/50 = 0.16. Of course, 3 gallons of filtered Culligan water from Walmart for mere $1.11 is way better choice! You also may choose mineral water for $1.50 a bottle: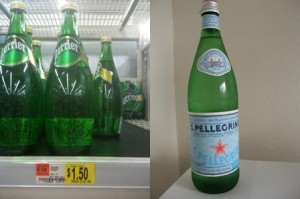 Also, here is a database (PDF file) of 250 most popular food additives in America and their risk factors: Risk Factors of Food Additives. I hope this review helps to make well-informed less risky choices for you and your loved ones. Hydrate yourself right!
Category: Food Dyes Exposure, Soft drinks