Mt. Olive Pickle Company's Sandwich Stuffers; Kosher Dill. Let's see what is inside. There is no dill weed added to these yellow pickles. No dill – No deal! See below why.
DyeDiet DOESN'T BUY IT!
Based on the ingredients list (see the DyeDiet "Dyegram" above) anti-nutritional risk of DDFI = 20/3 ~ 6.7 (very high!) comes from 3 biochemically foreign additives (red segments):
Accordingly, nutritional value is close to ZERO with DDNF = 3/36 ~ 0.08, that is < 0.1. If only Mt. Olive Company would care about the consumer's health as much as our grandma they could easily eliminate all of the strange anti-nutrients (red) and most of the benign additives (yellow segments). This would also lead to improvement in quality. WHY SHOULD WE SWAP OUR HEALTH FOR THEIR INFINITE SHELF-LIFE? Take a look what risk and nutrition of imaginary "grandma" pickles would be: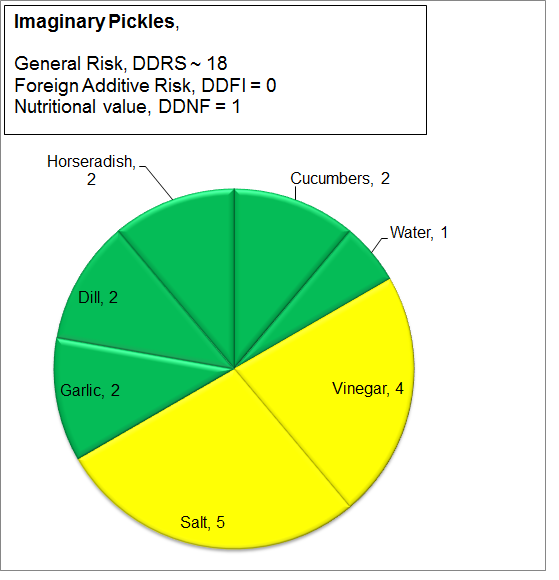 That is what we used to enjoy long time ago when we were kids. Nowadays it is hard to find anything better than these pickles from Kraft Foods at Walmart store: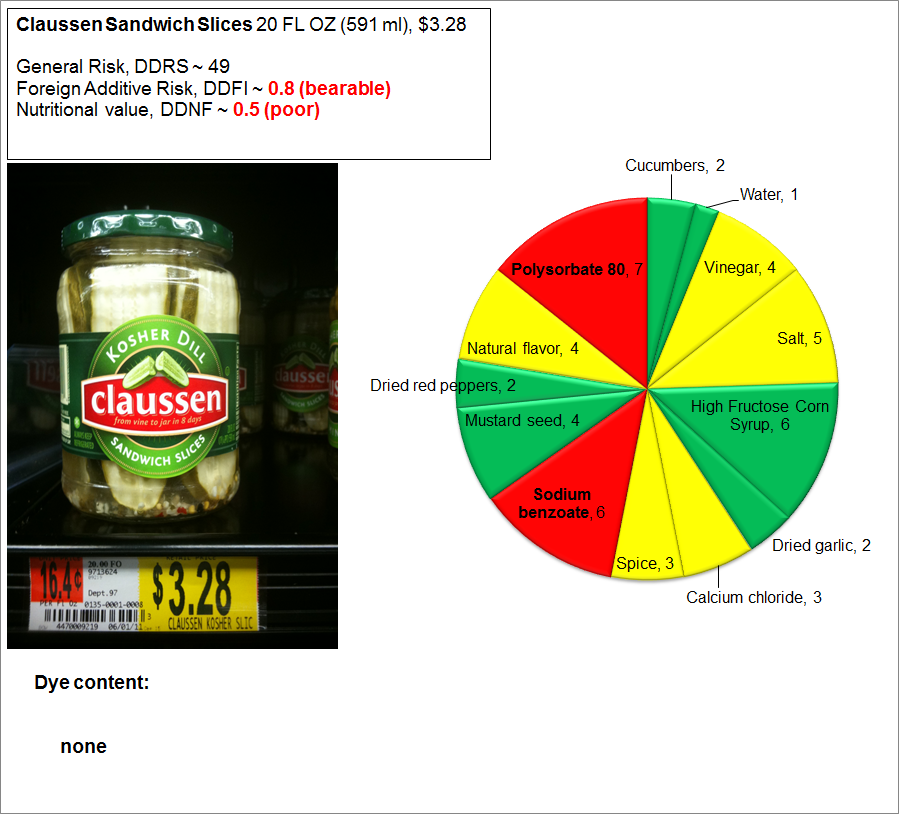 While this deal is far from ideal, Claussen pickles are less harmful of the two. Note how so little efforts of adding more nutrients and saving the artificial color for dying textile (read Azo dyes in textile products) has made so big improvements in the risk and nutritional values. Overconsumption of High Fructose Corn Syrup (HFCS) may, of course, lead to a number of health problems (watch video). However let me remind you that HFCS is still a nutrient and it is up to us, consumers, to control how much we eat it. Its content in the Claussen pickles is only "2% or less." Make your informed free choice!
Category: Canned food, Food Dyes Exposure, Pickles