More food, less food additives!
I keep having a feeling that food in the United States is the most saturated with too many chemical additives. Recently, I was quite surprised to find out that Kellogg's Nutri-Grain cereal bars sold in the US are stuffed with Red 40, Yellow 6 and Blue 1 dyes, whereas the same brand bars sold in the UK are colored with beets, paprika and annatto instead! Why do we keep choosing to eat risky food dyes when British successfully spit them out? From this example I have learned that the food industry can cope with making naturally colored products to satisfy growing public demand for healthier food. The same is true for the other chemical additives.
In a previous post the DyeDiet has recommended color-free Gatorade Ice Punch rather than Gatorade Fruit Punch "enhanced" with Red 40. You have a less risky choice within the reach of your hand: the same brand, in the same store, even sitting on the same aisle! Doritos tortilla chips brand is another astonishing example of how two closely related products from the same brand can be so substantially different in potential health risks. Let's take a look at Doritos Nacho Cheese and Toasted Corn chips.  On the containers you can read:
       DORITOS Nacho Cheese                                                          DORITOS Toasted Corn
Flavored Tortilla Chips                                                             Tortilla Chips
          Net WT. 12 OZ (340.2 g)                                                     Net WT. 12 OZ (340.2 g)
The only significant difference between the two is that the former is "flavored" and the latter is not. Unfortunately for us, "flavored" often means more additives are present in a food. From the ingredients lists comparison I figured that Nacho Cheese's flavor is made by addition of 31 more ingredients to the basic 3 of Toasted Corn!
Let us estimate the DyeDiet Risk Score (DDRS) for the both products. The DyeDiet Risk Score (DDRS) simply is a sum of the DyeDiet Risk Factors (DDRF) assigned to every ingredient based on its chemical structure and known health effects in humans or animals.
Doritos Nacho Cheese Risk Diagram, DDRS ~ 110
Four of 34 ingredients are foreign additives: three artificial colors (azo-dyes) and the mysterious "natural and artificial" flavor (red segments):
Red 40; DDRF

10

 

Yellow 5; DDRF

7

Yellow 6; DDRF

8

Natural and artificial flavor; DDRF

6
The rest are 9 benign (yellow segments) and 21 nutritional ingredients (e.g. proteins and sugars – green segments) contributing with low DDRF 2 – 4 to pull up overall DDRS to 110 units. Here is the complete list: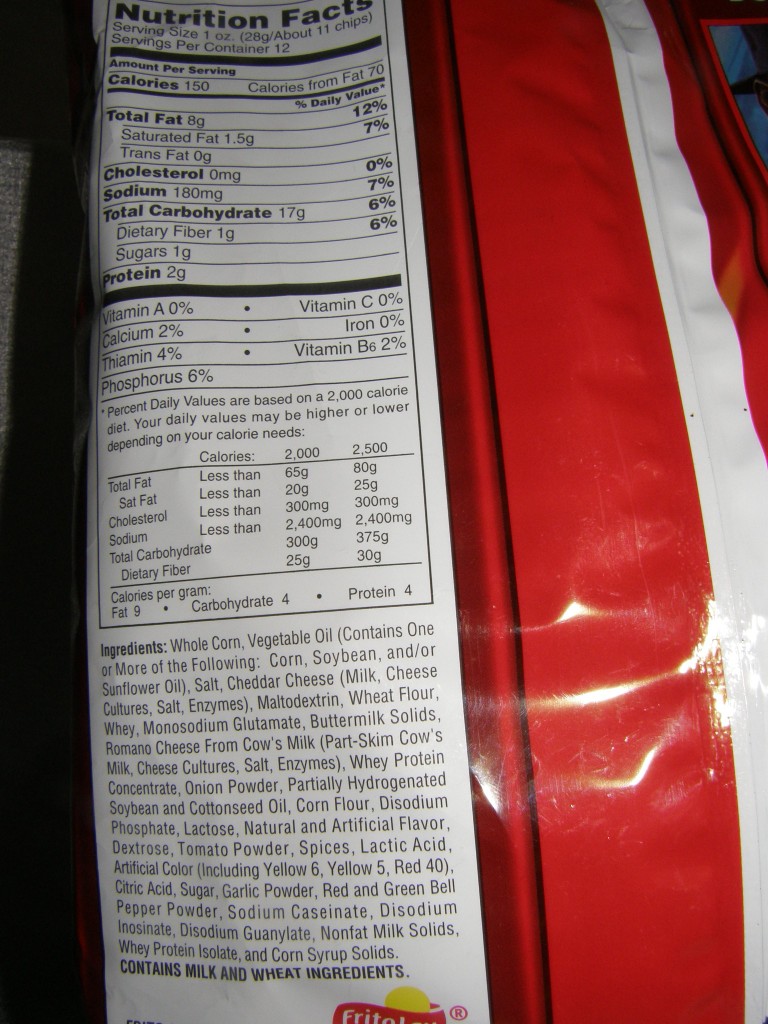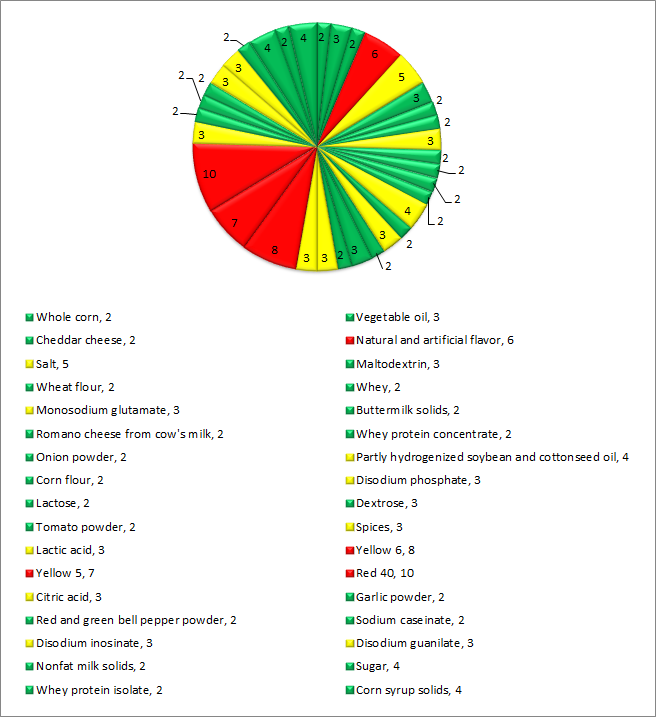 As you can see from the dyegram,
FOREIGN additives contribute with

31

unit
BENIGN additives add 30 units and
NUTRITIONAL additives and ingredients form 49 DDRS units.
Many flavoring additives like cheddar cheese (DDRF 2), onion powder (DDRF 2), tomato powder (DDRF 2), red and green bell pepper powder (DDRF 2) are, in fact, nutritious. So why is another questionable chemical ("natural and artificial flavor" with a DDRF 6) added to the bouquet of legitimate natural flavors? What is the necessity for three potential trouble-making food dyes (DDRF 25) to be added along with "red and green peppers"? Honestly, do YOU, the consumer, really want them all in your mouth?
Obviously, elimination of most of the risky foreign additives would reduce the overall DDRS to 79 without any loss in nutrition or appeal so that Nacho Cheese chips could easily be turned to a safer version.
I can foresee a possible situation when a product may have 100 nutritional additives of DDRF 2 each. Yes, DDRS will be 200. But the dyegram color will be all green. This would mean that the risk with the "all-green-risk" product is if you overeat. MODERATION is always the Golden Rule to follow.
Doritos Toasted Corn Risk Diagram, DDRS ~ 10
This is an excellent illustration of how elimination of the both foreign AND benign additives may, in fact, lead to a healthier product! The funny-looking dyegram has only three segments where yellow is salt (DDRF 5) responsible for the half of overall health risk, DDRS 10.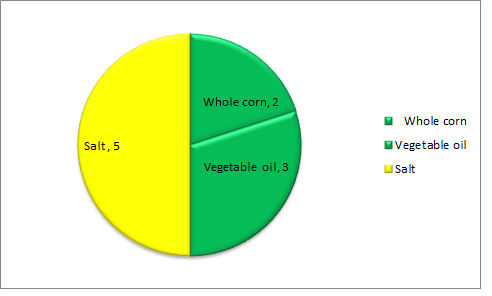 Please don't be misled about the amount of salt added by seeing how much space it occupies in the dyegram. Remember – this is a risk diagram, not by weight. What it tells you is that the overall low DDRS 10 which is half whole corn (DDRF 2) and vegetable oil (DDRF 3) and in the other half salt (DDRF 5). So enjoy the Toasted Corn chips! Just watch your sodium intake, please! Keep in mind that three servings, which are ~ 40 chips, give you 15% of your daily sodium.
How much additives are in Doritos Nacho Cheese chips?
Let me try to estimate. Serving sizes of both types of chips are the same, 28 g, 12 servings per 340.2 g bag. By addition of the weights of the nutrients taken from Nutrition Facts (note, 120 mg of sodium corresponds to ~ 305 mg of salt) and multiplying the result by 12, I got 27.3 x 12 = 327.6 g of nutrients for Doritos Toasted Corn composed of whole corn (carbohydrates + protein), vegetable oil (fat) and salt (sodium). So what is the missing 340.2 g – 327.6 g = 12.6? I cannot say… Can the manufacturer?
A similar calculation for Doritos Nacho Chips gives 340.2 g – 329.5 g = 10.7 g of the missing weight that cannot be filled by the 31"flavoring" additives because 21 of them are nutrients contributing to the Nutrition Facts and hence should be excluded. I do not believe that the remaining 10 additives, including three dyes, are filling the gap. This would mean roughly 12 g / 10 ~ 1.2 g of each per bag! No, it doesn't seem likely to be that much. Perhaps 1 g of all three dyes per container? It's hard to figure out without chemical analyses.
Doritos Nacho Cheese vs Doritos Toasted Corn chart
Doritos

Nacho Cheese

flavored tortilla chips

Doritos

Toasted Corn

tortilla chips

Azo-dyes

per 12 OZ
               ~  

1 g

?
none
Price per 12 OZ
$2.50
$2.50
Wal-Mart aisle
Chips
Chips
DyeDiet Risk Score

110

10
Stated value
Flavored tortilla chips
Tortilla chips
True value
Flavored tortilla chips colored with azo-dyes
Tortilla chips
Recommendation

NO

YES
I do hope that the information and estimates I have given in this and the previous posts convinces us that contrary to popular opinion, not all foods you see in a store are equally safe just because it is there. With an informed consumer there is nothing unrealistic in the idea of increasing the proportion of healthy foods in our diet by understanding food risks and making choices free of "additives."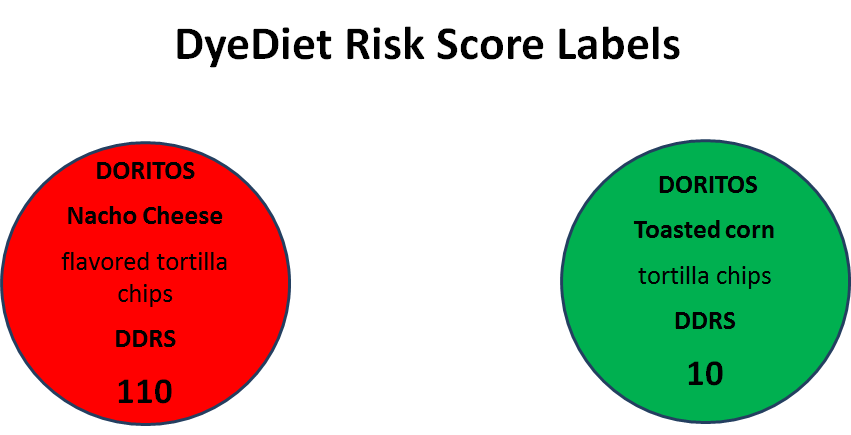 With this information in mind, if you choose, just move your hand and reach for the less risky corn chips on the same Walmart aisle. However, most importantly, the freedom of choice is always YOURS!
Category: Chips